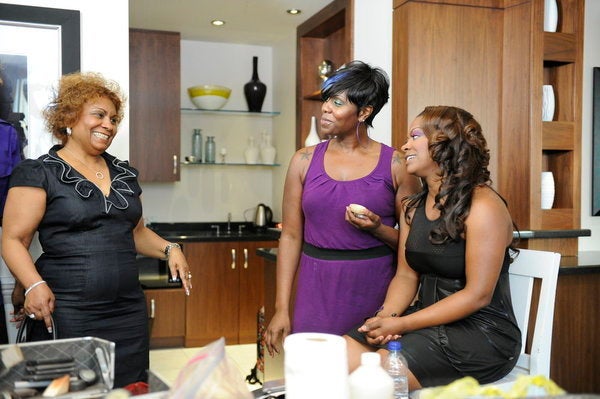 But real housewife of Atlanta Kandi Burruss' mom, Joyce Jones, says it was Oprah who actually taught her one of the most important lessons she's learned about dating over the age of 50: being vigilant about her increased risk for HIV and AIDS.
"Oprah had a segment on her program about women over 40, in the 45-year range, that had contracted HIV, and they were saying that women at that particular age were one of the largest groups contracting the disease, especially black women," Jones says.
Jones believes it's a product of a "don't ask, don't tell" mentality that many boomers have adopted. "I really feel like people don't want to know, if they like somebody that well," she says. "The young kids get so involved and so in love, and women my age, some of them are so desperate that they don't want to know."
Older men, she says, discount the risk they're facing (and posing) by having unprotected sex, since pregnancy is considerably less a factor. "Speaking as an older woman and talking with other women, men that age feel like they don't have to use condoms and women feel like they're safe, especially if it's a well-kept man. They just automatically assume the looks make them okay," Jones says.
The danger, she believes, lies with men her age having sex with younger women, who in turn are having sex with younger men, who are quite possibly having sex with other men, creating a chain of partners that puts women like her at risk.
Lisa Jeffers and Mary DiBartolo, who co-authored the MEDSURG study, point to ageism and social stigmas for the spike in incidence and as the reason that HIV and other STDs aren't on health care providers' radar.
"Unfortunately, the common misconception still persists that people over 50 are no longer sexually active," they wrote. "As a result, health care providers often do not discuss risky sexual behaviors and STD prevention with middle-aged and older adults."

Other experts blame boomers' more liberal sexual attitudes, high divorce rates and an increased use of online dating services, like the one that Jones has joined to find a mate. Though she says she's had many men interested in meeting her, none have fit the bill just yet, but when the time comes, she believes an HIV test is a must.

Calling all HuffPost superfans!
Sign up for membership to become a founding member and help shape HuffPost's next chapter