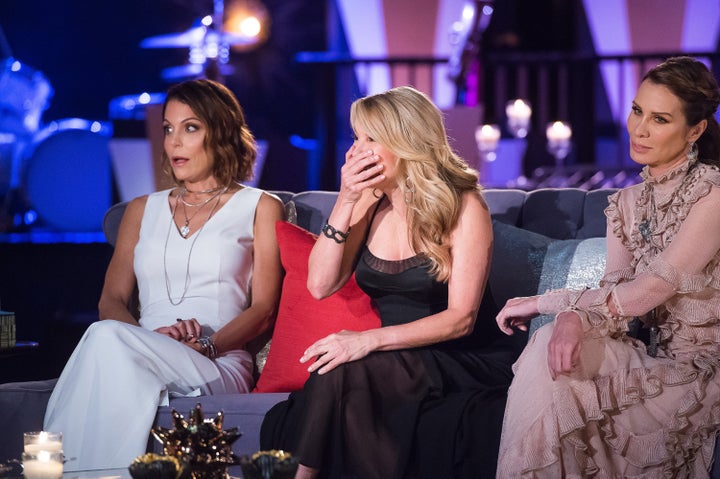 If Donald Trump had a "Real Housewives" tagline fit for basic cable ("Grab 'em by the pussy" probably wouldn't fly at Bravo), it would no doubt take inspiration from Orange County housewife Vicki Gunvalson's current mantra:
Maybe change "judge" to tweet, but you get the idea.
On Wednesday night, Andy Cohen reportedly tweeted and later deleted how each of the installments across the country would be voting come Nov. 8, according to Us Weekly.
"NJ are trump," he reportedly wrote. "I so don't care it's all good. I think all the RHOC are trumpies and gd knows how else. All the RHOA and RHONY are HRC. Most of BH too. I ..."

The "Watch What Happens Live" host later followed up the alleged tweets with another message possibly aimed at some pro-Trump housewives ― Cohen is famously #WithHer ― that should provide some fodder for many reunions to come.
In an emailed statement to The Huffington Post, a representative for Teresa Giudice of 'Real Housewives of New Jersey" fame explained that because of conditions stemming from the reality star's recent release from prison, she would not partake in this election. That being said, it appears as if Giudice does have a soft spot for Trump.
"Because Teresa remains on supervised release from the Court, she is precluded from voting in this year's election," the statement reads. "I do know that she has watched both of the presidential debates and was fond of her time working with Donald Trump and his children while she was involved with the 'Celebrity Apprentice,' however, she has not publicly endorsed either candidate."
Hmm, we can only imagine why Giudice and Trump might get along well ...
As for the other housewives, Lisa Vanderpump's representative explained that because she is a British citizen, the restaurateur can not vote in U.S. elections, while others did not immediately respond to a request to comment.
The Huffington Post has reached out to Andy Cohen's representatives and will update the post accordingly.
Popular in the Community