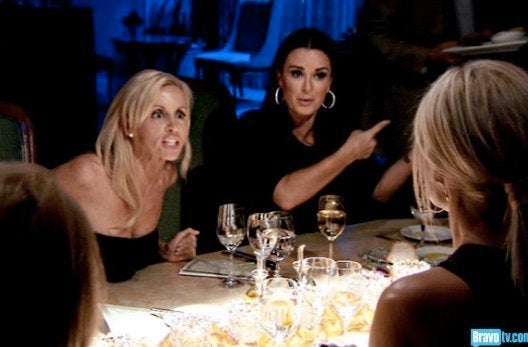 Note: Do not read on if you haven't seen Season 3, Episode 12 of Bravo's "The Real Housewives of Beverly Hills," titled "Kim Nose Best."
I need to lead off this recap with a slow clap for Camille Donatacci and her icy exits at the final dinner in Las Vegas. Camille's ability to drop a one-liner that sounds like she's saying something when she actually means nothing, turn a freezing cold shoulder and slowly sass her way out the door is honestly equal parts breathtaking and terrifying.
We returned to Las Vegas to see Brandi empower women through striptease. Instead of going through Bravo's non-linear plot points, I will focus on each housewife individually and just how much she lived up to her intro line.
Lisa: "Life isn't all diamonds and rose, but it should be."
Madame Vanderpump is correct. There were some serious forces working against her desire for a shiny, floral and tipsy existence. The ladies were all laughs as Lisa gamely vandered her pumps around a stripper pole until the tables turned at dinner.
For whatever reason, Kyle and Camille announced their longing for Adrienne, which left Lisa taking on her usual role as Brandi's defender. Brandi's friend Jennifer, who was in Vegas with the group, told us again but in (kind of) greater detail that Adrienne wanted all the women to gang up on Lisa at the Season 2 reunion show because she was mad at Lisa for 1) Calling her shoe the Maloof-hoof and 2) Hosting her daughter's bachelorette party at the Hard Rock and not the Palms (of which the Maloofs only own like one percent. I'm not much a math girl, but that sounds like not much at all).
While the ladies were on the topic of Adrienne only owning part of the Palms, Camille called out Lisa for only owning part of Sur. "I own 51 percent!" Lisa shot back. Again, not that much of a math girl, but I'm pretty sure one is far less full-of-shit when one owns 51, instead of one percent of something. Lisa seemed annoyed by Camille's behavior, but genuinely hurt by Kyle's continuous defense of Adrienne. Though she was navigating rough waters, Lisa did have a few rather eloquent moments. She quoted Hamlet at one point and later said, "Sometimes what hurts the most is the silence of your friends, not the words of your enemies."
Brandi: "Money doesn't give you class, it just gives you money."
Indeed, and that is why Brandi is teaching a pole dancing class in Las Vegas. Per usual, Brandi didn't wear a bra and said more bad things about Adrienne at dinner. She also found herself in hot water with Camille, who denied that she and Brandi discussed Adrienne's plot to gang up on Lisa before the reunion. Camille felt like Brandi was "putting words in her mouth," so in the middle of the dinner she said, "I can handle it, but I will not stand for it. Excuse me." And I actually audibly gasped at the sight of her exit. It was effective, chilling, dramatic -- I honestly don't know how she did it. Brandi re-approached Camille and pressed her on their phone call, repeatedly asking if she remembered the parts of the conversation when they discussed Adrienne wanting to plot against Lisa. "I remember parts of the conversation," Camille finally admitted. "But you put me on the spot by bringing it up." And then she was gone once again.
Adrienne: "Know your friends. Show your enemies the door."
Well, it seems as though Adrienne has no friends because the only people she kept close to her this episode was her husband, who she kept yelling at, and some idiots who enthusiastically created the term "Maloofilicious." Honestly, with Adrienne's penchant for neon colors and shiny fabrics, Maloofilicious sounds way more insulting than Maloof-hoof. Paul got his back hair removed and Adrinne approved some heinous sketches for her upcoming purse collection. Her bags look like really terrible Dooney and Bourke knockoffs, but with letters that spell out her own name -- because that's what we all want on our purses, right?
Taylor: "I fought too hard for this zip code to go home now."
Apparently, Taylor didn't fight hard enough this episode because she seemed to stay at home the whole time, behind closed doors.
Yolanda: "I like to have fun, but I don't play games."
She's not joking. When Yolanda isn't having fun at a dinner party, she just gets up, tells everyone that her husband sent her a private jet, and gets airlifted out of there. The announcement was abrupt and disgusting, yet badass.
In addition to the private jet moment, she was inappropriately competitive during Brandi's empowerment class and basically fell off a stripper pole. Then, she decided to drink straight tequila during dinner while she wore skin tight leather pants. The lady is a total looney toon, but she looked pretty incredible at that Vegas dinner. She also called Kyle out for pretending to defend Adrienne when she was really trying to create drama and further involve herself, something she's so desperately been doing all season long that has made her pretty unbearable to watch. Sadly, there were no lemons this week.
Kim: "Life is a journey and I'm finding myself every day."
Kim's journey to self awareness took her straight to a plastic surgeon robot doctor for a nose job this week. She was so drugged from the anesthesia that it made me think that maybe Kim really is sober all those other times when she seems to be slurring her words, seeing hearts in her living room or creepily laughing in hysterics because "she knows her doctor knows about noses!"
Kyle: "I'm born and raised in Beverly Hills. This is my town."
I'm not going to argue about where Kyle was born and raised, but there was absolutely no evidence in this episode that Beverly Hills is, or ever will be, hers.
Marisa: There is only one person on this show who is allowed to name drop Barbra Streisand and that is Yolanda Foster. And I do not think that a red wine stain will come out of a white dress by pouring white wine on it. That will probably only create a rosé stain.
Scenes for next week: Brandi and Adrienne will be together again for the first time in a million episodes. And Adrienne apparently says that she's not even suing Brandi! And Brandi argues that she definitely is. And I just want to throw something at the TV because someone is definitely getting sued and that's why this season has been so weird, right?!
What did you think of tonight's episode? Were you surprised to see Camille yelling at Yolanda and Lisa? Sound off in the comments below.
"The Real Housewives of Beverly Hills" airs on Mondays at 9 p.m. EST on Bravo.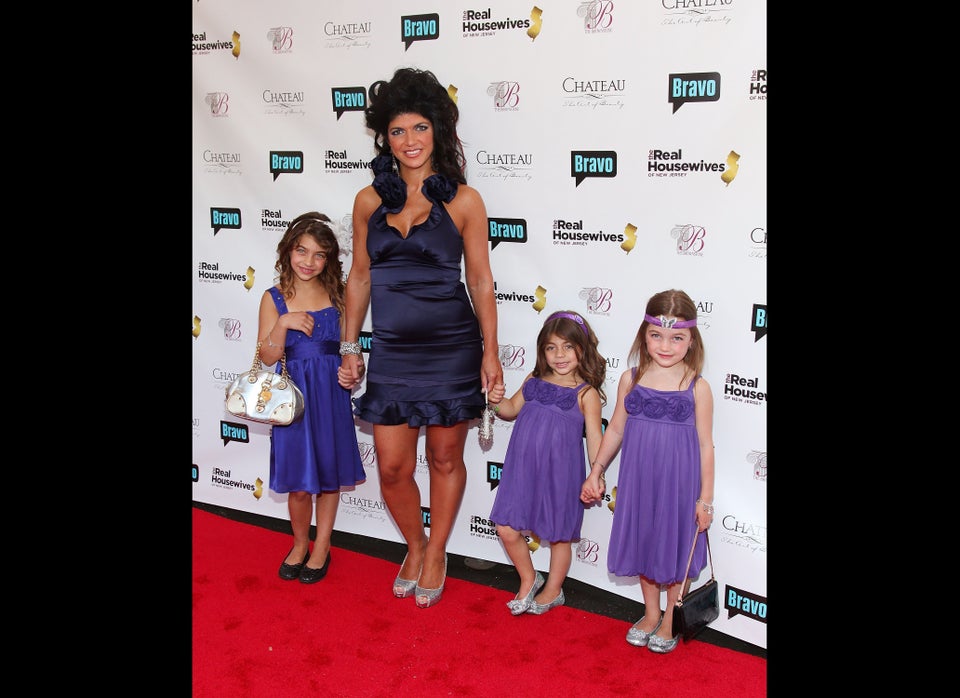 The Real Housewives of Bravo
Support HuffPost
The Stakes Have Never Been Higher
Related
Popular in the Community