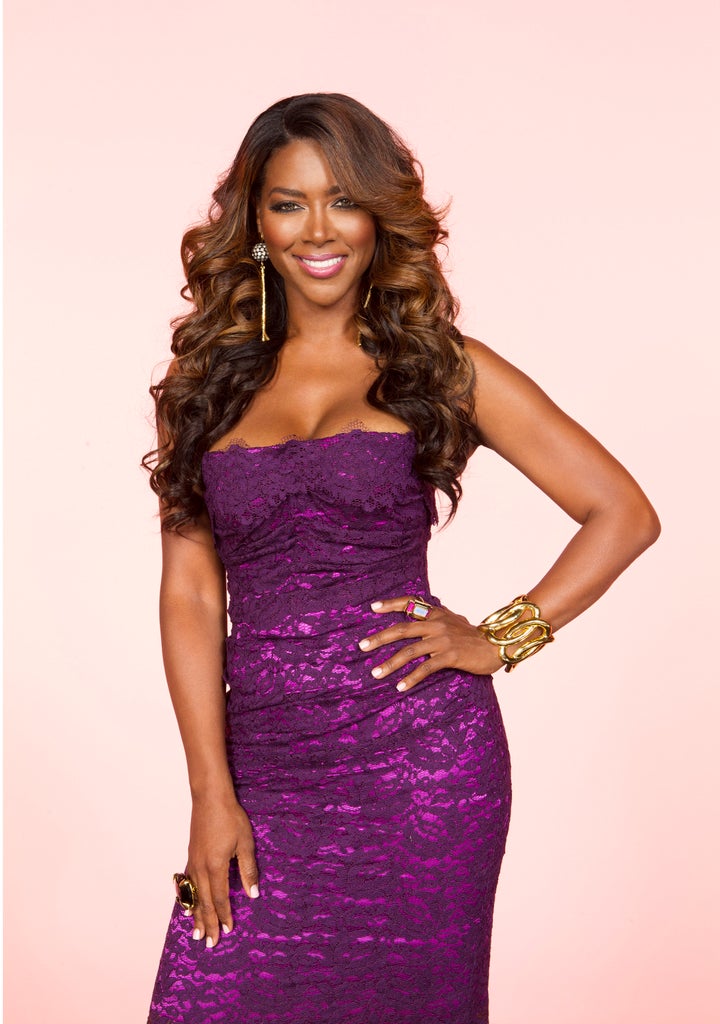 I made that mistake when I caught up with one of Atlanta's new "Housewives" (Season 5 premieres Sun., Nov. 4, 9 p.m. ET on Bravo), and she made it very clear that while she might be bringing as much drama to the show as Sheree did, she's her own brand of drama ... kind of like beauty queen meets drama queen.
Kenya, best known as Miss USA 1993, joins the cast of "Real Housewives of Atlanta" Season 5 along with fellow newcomer Porsha Williams-Stewart, wife of former NFL-er Kordell Stewart, and she's already making waves in the very first episode, butting heads with Cynthia. But judging from the Season 5 trailer, it looks like she fights with just about everyone ... except Phaedra's husband Apollo, who she may have a little crush on.
So after wrapping up a season full of drama, is she still glad she chose to do the show?
"I'm happy that I did choose to do this show. For me, it represented a big change in my life, and an amazing opportunity to grow my brand, experience something I've never done before, and to hopefully change my life. So I'm happy so far," Moore said. "But I haven't seen any episodes yet," she added with a laugh.
Keep reading for her take on the other "Housewives," the moments she disappointed herself and her young fans and for scoop on a group trip to Anguilla that she promises will live up to the hype.
I just saw the premiere and you do not disappoint. There is already a lot of tension with you and Cynthia at the Bailey Agency. Is this a season-long conflict?
Well, you know, we bump some heads. Early on, you're in a new environment, you're around new ladies and you bring your own personality to the table, and you just kind of never know who you're gonna get along with and who you're going to bump heads with. I think it's sort of clear from the first episode that Cynthia and I don't necessarily see eye-to-eye when we meet. [Laughs.]
You'd been living in L.A. before moving to Atlanta. Did you know any of the "Housewives" before you signed on for the show?
I don't know if you want to consider Lawrence a "Housewife" ... I'm sure he would love to hear that he's a "Housewife," but he isn't! [Laughs.] But I've been friends with Lawrence for over eight years, and he's actually one of my best friends. I was his first celebrity client, and we just forged a friendship and became very close. So Lawrence was my connection, but I'd also met Kandi before and had met Sheree before, but obviously she's not a part of this season. But I did not really know any of the other girls at all.
It's good that Sheree isn't around this season, because it seems like you could possibly be the new Sheree of the group.
Oh honey, you can't compare me to anybody else! Uh-uh ... we're not gonna have that. [Laughs.]
Your "Housewives" opening credits tagline says it all -- "I won Miss USA, not Miss Congeniality" -- but do you have a life motto? Words that you live by?
My life motto is something I remember Bill Cosby saying: You can't please everyone. So you just have to sort of strive to please yourself ... there's no way in the world you're going to please everyone. So that's sort of how I am -- I'll dance to the beat of my own drum. I'm not a follower; I feel like a leader. You either love me or you leave me.
Well, a lot of ladies in this cast would consider themselves leaders as well, especially NeNe. What is your relationship like with her?
The relationship is new, so we're sort of still feeling each other out. I think you'll see that during the first few episodes ... our relationship evolves ... I think some of the ladies are very territorial, so I'll let you guess who that is.
The big trips are always the biggest microscope on the crazy of the season. What can we expect this year?
I'll say! Well we take several trips, but certainly the most eventful is the Anguilla trip. It will not disappoint. It is drama from us packing to go on the trip to us actually getting off the plane -- it's just non-stop drama, tension, everything that the franchise is known for.
But from what I've heard and from the previews, most of the drama on that Anguilla trip revolves around you ... and maybe you and someone else's man. What is happening with you and Apollo?
Oh god! First of all, drama just kind of revolves around me because I'm almost always the center of attention. It just happens. But no, there's no drama around me and anyone's man. I'll say that ... but you'll have to watch to see where those rumors are coming from.
You have a man in Atlanta, who we meet very briefly in the premiere, but you had to know going into this that these shows put added pressure on every relationship. In previews, it sounds like you're ready for a ring and a baby. Are you happy with how this season turned out as far as your relationship goes?
I totally agree with you. I think there's definitely added pressure on everyone, from the "Housewives" to their significant others, and some people really excel under pressure, and some people buckle. Obviously, we've seen relationships succeed or fail under this kind of magnifying glass. But for me, I feel that whatever has happened with me and my relationship happened for a reason, and I have to thank the show for that -- the good, the bad and the ugly of it.
How do you think you would've fared if you'd stayed in L.A. and done "The Real Housewives of Beverly Hills" instead? Do you think you would've fit in?
I don't necessarily think that I fit in with the ladies in Atlanta, but I make my own way no matter where I am. For me, it's always all about me. But I'm a huge fan of the shows, both Beverly Hills and Atlanta.
Do you think you'll be happy with how you come across on the show? It looks like the cameras caught you at some tough moments ...
There were some times where I feel like I got out of character, I lost my cool, and I disappointed myself as well as my younger fans who look up to me from knowing me as Miss USA. But we're human. The greatest thing about this show is it is a reality show, and it's capturing our lives, and we're not perfect. I'm not perfect, I don't act like a model citizen all the time ... but I certainly felt the stress at times being in these different situations with these ladies. So you'll see some of that. But you'll also see the fun side of me, the great side of me and the compassionate side, and all of those things make up who I am. Hopefully you guys will have a fun time watching me take this ride.
"Real Housewives of Atlanta" star Kandi here
"The Real Housewives of Atlanta" Season 5 premieres Sun., Nov. 4, 9 p.m. ET on Bravo.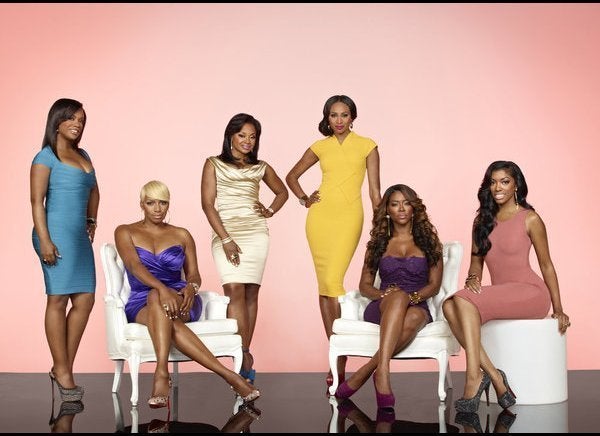 Real Housewives of Atlanta
Popular in the Community