The Real Housewives of Beverly Hills recently spilled all their plastic surgery secrets to Judith Regan on her Sirius XM Radio show.
Regan went around the table asking each woman about what procedures she has undergone, and each has had Botox at the very least.
Kyle Richards admitted to a nose job and Botox, which she had previously kept secret from her husband. Adrienne Maloof said she's had "Botox, fillers, boobs" and a nose job. Kelsey Grammer's ex-wife Camille admitted to having a boob job and "a crock full of Botox."
Scroll down for a photo of the ladies at the premiere of their show.
Here's a portion of the conversation from the Sirius press release:

TAYLOR ARMSTRONG: So yeah...filler, Botox, and I had my boobs done.

JUDITH REGAN: And lips?

TAYLOR ARMSTRONG: That's filler.

JUDITH REGAN: Oh that's filler. Wow, does any of it hurt?

TAYLOR ARMSTRONG: No, not really. Not if you go to the right people.

JUDITH REGAN: And Camille?

CAMILLE GRAMMER: Can I plead the fifth, please?

JUDITH REGAN: No, come on confess! This is confessions.

CAMILLE GRAMMER: Oh god, what have I done? Let's see, obviously I've had a breast augmentation and...Botox absolutely...just a crock full of Botox.
PHOTO:
Camille Grammer, Adrienne Maloof, Kyle Richards, Kim Richards, Lisa Vanderpump and Taylor Armstrong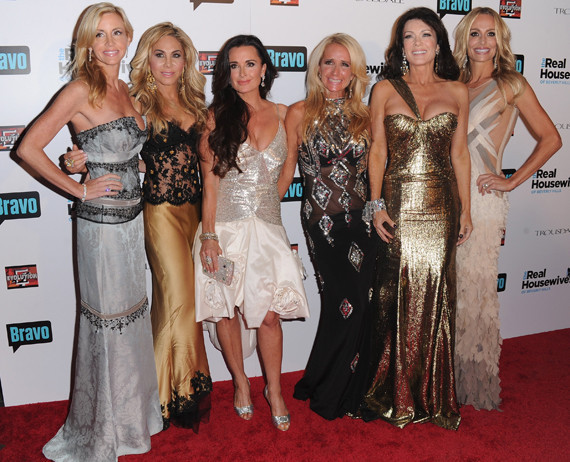 REAL LIFE. REAL NEWS. REAL VOICES.
Help us tell more of the stories that matter from voices that too often remain unheard.