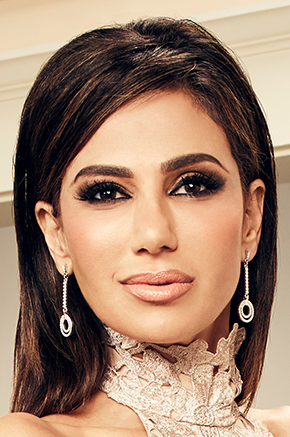 Peggy Sulahian seems to be the most reticent and reluctant "Real Housewife" to grace the small screen. Unlike the other ladies on Bravo's Real Housewives of Orange County (or Real Housewives of any other cities), she's not one to harp, rehash, instigate fights and bash her cast mates. While she's been open about the breast cancer that runs in her family and having undergone a preventive double mastectomy, she hasn't given us the kind of insight into her personal life that would put the kibosh on rumors circulating the blogosphere. Peggy also doesn't seem to play along with the unspoken RH rules of getting into the drama between the ladies. It's almost as if she is a viewer of the show with a front row seat, munching on popcorn while she observes the confounding rituals of reality TV subjects. As a regular viewer and Real Housewives super-fan (though I'll cop to the fact that I'm not watching Real Housewives of Dallas yet), I had a lot of questions for Peggy about her portrayal on RHOC. I also greatly wanted her to address the accusations written online (https://www.inquisitr.com/4485053/is-peggy-sulahian-homophobic-real-housewives-of-orange-county-cast-members-weigh-in/).
In addition to setting the record straight with me, Peggy will be appearing on Watch What Happens Live with Andy Cohen on Monday, October 2nd. Contrary to erroneous earlier reports (http://radaronline.com/celebrity-news/peggy-sulahian-rhoc-homophobic-gay-brother-andy-cohen-wwhl/), Peggy was recuperating from surgery at the beginning of the season. She was therefore unable to attend the NYC live show at that time.
In the interest of full disclosure: Several months ago, Peggy's estranged brother Pol' Atteu, his fiance Patrik Simpson, and their friend Dr. Estella Sneider (mother of Mauricio Umansky of Real Housewives Of Beverly Hills) shared their side of the story regarding the Atteu-Sulahian familial estrangement. At that time, I decided against running the story because I could not get in touch with Peggy for her response. I intuitively felt that something was missing and decided to trust my instincts and put it on hold. During the period when I was on the fence about running that article, the website Radar Online published the story. At that point in time, it seemed to be divine intervention: Radar Online was meant to cover Pol' Atteu, Patrik Simpson and Estella Sneider's account. Other contributors to The Huffington Post were consulted and agreed with my decision not to run that particular piece. Weeks later, Peggy's team let me know she was ready to do a Q & A via email. I accepted the offer, hoping that Peggy would respond to the salacious claims about her and her husband Diko (which can be found on multiple Real Housewives-related blogs).
Following is my email interview with Peggy Sulahian with responses she wrote to my questions:
You have been portrayed as kind of tongue-tied, unsure how to respond to the ladies and we wonder if you've watched the show when you tell Shannon and Tamra to stop harping and rehashing conflicts with Vicki. Why was there such a communication barrier with the ladies?
I understand a big part of the show tends to be the ladies "harping on one another," but I believe we can do so much more than petty fighting and hashing old arguments. At this point in my life, dealing with death and disease, I believe we can let go of the past and deal with each other as adults. I appreciate that in last week's episode, Vicki took the advice from others and called Tamra. They have been friends for years. Perhaps they can help others learn how to overcome difficulties in friendships and to grow from mistakes. ​Not sure I was tongue-tied, but at times I did feel a bit overwhelmed with so much action around. I was trying to soak it all in and at times thought twice before I spoke.
Can you address those rumors on the blogs? Are you homophobic? Can you tell me why you're really estranged from your brother?
We have been estranged for more than 20 years. He was informed of our father's passing and was present at the funeral. There were many people there to attest to this fact. Regarding the allegations of homophobia, perhaps actions speak louder than words. I am surrounded by people of every race, faith and lifestyle choice​, so the answer is clearly NO.​
Can you also set the record straight on turning down Watch What Happens Live with Andy Cohen? Did you ever previously turn it down? Will we see you on the reunion episodes at the end of the series?
No, scheduling did not permit it earlier (see above regarding Peggy's recuperation post surgery). I am looking forward to going on Watch What Happens Live with Andy Cohen on Monday, October 2nd. I love Andy and his personality and can't wait to finally meet him! And of course I will be at the reunion, isn't it all about the reunion anyway?!!
What was your main objective with coming on the show and what were your thoughts and hopes going in?
My hopes were to gain friends and support in this time in need. I underwent a massive surgery and started filming 5 weeks after my double mastectomy. At the same time, I was also dealing with my father's deteriorating health and later, his passing. Prioritizing him was more important than my health. He did not even know about my situation. After his death, I was scheduled for a double mastectomy right after. You will see in the coming weeks but I was surprised by the ladies lack of support of what I was going through. Most of the ladies have not yet shown any concern, but yet have only interrogated me about my health.
Can you discuss what preceeded getting a double mastectomy? What do you want viewers or those who are carriers of the BRACA gene to know about early detection and preventative measures?
I hope to embolden women to take an active role in their health, especially, breast health. I would like to raise awareness for breast cancer and screenings. Nothing is 100% so it is imperative that we get checked regularly and not rely simply on one test or another. I was tested ​for the BRACA gene​ and my tests came back negative. Since my mom had cancer, I was diligent in continuing testing whether by mammogram, thermogram, blood work, etc. During one of my exams, a small mass was detected. It was biopsied and confirmed for cancer. As such, and with fear it would spread quickly, I consulted a few oncologists and determined the best course of action was to treat it aggressively and have a double mastectomy. I was scheduled for implants after a period of healing.
You were an English major in college, so we get a bit confused when you don't know certain terms that (your husband) Diko uses. Some fans suggested the two of you are acting to be humorous. Can you tell us what's actually going on there?
Diko used idioms I am not familiar with. Though I went to school here in the U.S. and graduated UCLA, in our home (growing up), we mostly spoke Armenian. Diko and I primarily speak Armenian in our home to teach the kids the importance of our culture.
I'm unfamiliar with certain idioms, but Diko - being in the business world - is more familiar with slang terms. Now that I watch RHOC, it's funny and I am pleased to say we were actually being real! After all, it is a reality show, right? We went about our lives as if cameras were NOT around​ and there you go...As Diko says: "bam," there you have it...
Who of your cast mates did you really get to know on the show? Do you hang out with any of them now that you're no longer filming?
I love Lydia and Vicki and spend a lot of time with them off camera.​ There is a deep connection and a solid friendship that I share with both of them. They have shared their concern about my health and they always lend a helping hand when needed.
Some viewers have wondered about the season's slow start, but Meghan King Edmonds assured me the season really picks up in Iceland. We've felt it already start to pick up the last few episodes. What are you most looking forward to seeing up ahead? What do you think viewers will be excited to see?
No doubt the season picks up during Iceland, but before then you can see how the women think they can attack me as a newcomer. They didn't know what they were getting themselves into. I did warn them that I don't like to be disrespected! - I guess that's the motherly instinct that I have in me.
Tune in to Bravo tonight (Monday) at 9/8c for a new episode of The Real Housewives of Orange County.
Calling all HuffPost superfans!
Sign up for membership to become a founding member and help shape HuffPost's next chapter
This post was published on the now-closed HuffPost Contributor platform. Contributors control their own work and posted freely to our site. If you need to flag this entry as abusive,
send us an email
.