The decent, steady, but not great jobs recovery just got a little stronger. But there are still a disturbingly large number of people who aren't feeling the benefits of the recovery.
The U.S. economy added 248,000 jobs in September, according to data released by the the Bureau of Labor Statistics on Friday. The unemployment rate fell below 6 percent for the first time since July 2008, dropping to 5.9 percent from 6.1 percent.
Yet wages are still going nowhere: Average hourly earnings ticked up 2 percent this year compared to last year. But if you take inflation into account – it's running at 1.7 percent – wages actually stayed essentially flat.
This chart helps explain why. It shows the gap between the widely cited unemployment rate (called the U-3 rate) and a broader measure of joblessness and underemployment called the U-6 rate, which in September was 11.8 percent. Fed Chair Janet Yellen has said that in the current economy, the U-6 may be a better indication of the health of the job market than the headline unemployment rate.
What you are looking at in the chart below is the broader, U-6 definition of joblessness minus the narrower, U-3 definition of unemployment. That rate happens to stand at 5.9 percent, same as the unemployment rate. This leaves you with an isolated view of how many workers are not looking for a job because they don't think they will find one, have looked for a job in the past year but not recently, and part-time workers who can't find full-time work.
These are workers on the fringes. Until more of these people find jobs, or full-time jobs, it's possible that wages will be stuck for a while.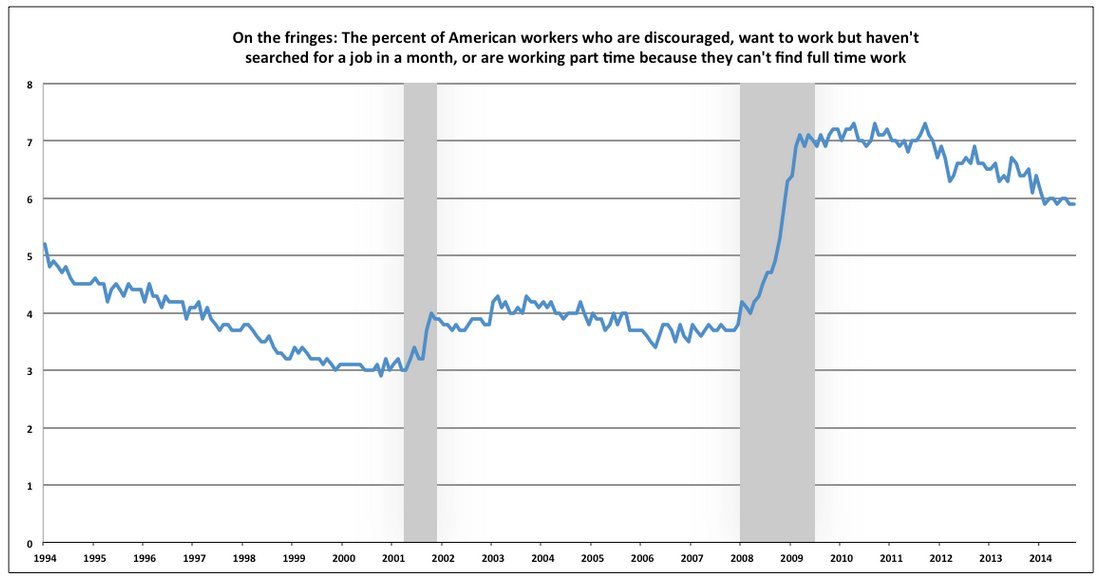 What we've seen since the recession (shaded in grey) is a huge rise in the number of American workers who are on the sidelines of the job market. This chart should worry Janet Yellen, or anyone who cares about the broad health of the job market.
By way of comparison, here's the far-friendlier chart of U-3 unemployment:
During the recession, the number of workers on the fringes of the job market increased. This happened in the last recession, too. But this time around, the jump was massive. It's declined from its peak, but has been flat at a still elevated level for the past few months.
As significantly, the number of American workers who are on the job-market sidelines is a full 2 percentage points above its pre-recession levels.
That's a worrying state of affairs and may help explain why job growth continues to chug along, unemployment falls, and yet Americans are barely making any more money.

REAL LIFE. REAL NEWS. REAL VOICES.
Help us tell more of the stories that matter from voices that too often remain unheard.
BEFORE YOU GO
PHOTO GALLERY
America's 'Working Poor'