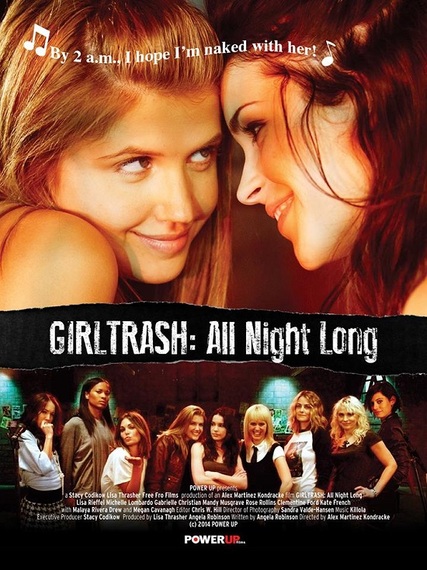 The story behind the scenes - before, during and after production leading up to this week's much-anticipated release of GIRLTRASH: All Night Long (on DVD with streaming coming soon) by POWER UP Films - could be a movie in and of itself. Too bad reality TV cameras weren't rolling! The real life cast of characters include True Blood Executive Producer Angela Robinson and her wife, first-time director Alex Kondracke, a cameo appearance by multiple-Academy Award-nominated producer (Her, American Hustle) and Oracle heiress Megan Ellison, and the original Hollywood power lesbian, my friend Stacy Codikow, founder of POWER UP.

POWER UP is presenting a version of the film that I have not seen, that is unfinished and that has not been creatively approved by me and as a result, I do not support nor validate any screenings or commercial sales of "Girltrash: All Night Long" at this time.
But Executive Producer Stacy Codikow responded on her Facebook page:
OK, here it is. I have been wanting to release this film that I am extremely proud of. My belief is everyone involved with it is also proud of it. Unfortunately, Angela Robinson has released a statement that is an 'amazing story' from an amazing storyteller....her cast & friends have blindly repeated her story. REGARDLESS the film is super duper, the cast is amazing, the songs are fun, the FILM ROCKS and I hope that everyone reading this will order a copy to support POWER UP and our filmmaking programs that allow filmmakers an opportunity to create and express themselves through POWER UP's dedication and hard work.
Codikow has also stated that the version of the film being released is in fact the final edit overseen by Robinson and her wife, first-time director Alex Kondrcake.
You could certainly call this true saga The Real Lesbians of the Hollywood Hills, and it certainly wouldn't be boring. What I present to you today is a recent interview with Codikow in which she talks about the legacy of POWER UP Films, its correlation to the success of many in Hollywood, including Robinson, and the journey of GIRL TRASH: All Night Long from web series to feature film. You might be surpirsed to note, that while Robinson has spoken ill of Codikow in the press, Codikow has nothing but nice things to say of Robinson, at least publicly.
Discover Movies Internet Radio with
SnowbizNow
on BlogTalkRadio
On their website, we learn:
GIRLTRASH: All Night Long, a musical comedy based on Angela Robinson's extremely successful web series from Showtime, stars Gabrielle Christian, Mandy Musgrave (South of Nowhere), Michelle Lombardo (Quarterlife), Lisa Rieffel (lead singer of Killola), Rose Rollins, Kate French, Malaya Drew, Clementine Ford (L word) and Megan Cavanagh.

POWER UP films include: Jamie Babbit's Itty Bitty Titty Committee, Angela Robinson's D.E.B.S., Colette Burson and Cherien Dabis' Little Black Boot, Lee Friedlander's Give or Take an Inch and Jessica Sharzer 's Fly Cherry.

Since its inception in December 2000, POWER UP has strived to promote, encourage and support the visibility of openly gay women and men in all areas of the entertainment industry. POWER UP stands alone in its dedication to mentorship and education through all of our filmmaking programs.

POWER UP is the only 501(c)(3) Non-Profit Film Production Company & Educational Organization that develops, finances, produces and distributes GLBTQ films; conducts tremendously successful educational programs through our hands-on filmmaking mentorships, classes, workshops and seminars; and unifies and validates GLBTQ persons all around the world via our films.
For the record, I have been reporting about POWER UP since it was founded, have previously interviewed Angela Robinson, and I am friends with Stacy Codikow who has provided direct support for many of my projects.
REAL LIFE. REAL NEWS. REAL VOICES.
Help us tell more of the stories that matter from voices that too often remain unheard.