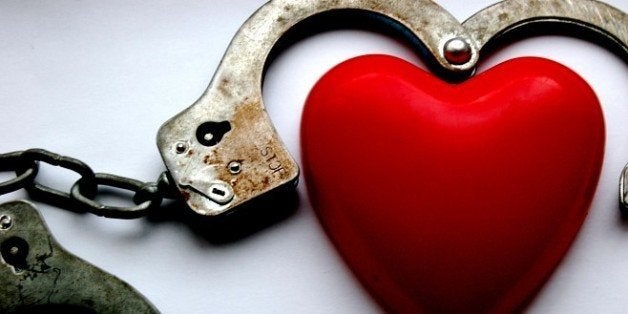 "Fifty Shades of Grey," the best-selling BDSM erotica novel written by E.L. James, might have housewives blushing, but the real-life version of the story can be more of a nightmare than a fantasy.
An unnamed Italian woman, who signed a contract swearing complete sexual and mental submission to her husband, is now suing him for divorce and physical abuse after seven years of "slavery," the Telegraph reports. She signed the agreement, which stipulated that she would be his "slave," in 2004 when they were dating. They married in 2006 and separated last year.
"The slave agrees to obey and to offer herself for the satisfaction of the desires of her master," the contract read.
"The slave agrees to place her body at her master's disposition, to be used at his pleasure."
Any "infraction" would be punished, the contract stipulated, with the woman expected to accept the penalty with "humility".
As part of the unusual accord, the husband agreed that he would not subject his wife to "coprophilia, bestiality, asphyxia/restriction of breathing, branding by fire, any activities involving weapons and any acts in general which could permanently mark her physically".
The contract between dominant Christian Grey and submissive Anastasia Steele, published in the first "Fifty Shades of Grey" book in 2011, includes similar agreements.
"The Dominant accepts the Submissive as his, to own, control, dominate, and discipline during the Term. The Dominant may use the Submissive's body at any time during the Allotted Times or any agreed additional times in any manner he deems fit, sexually or otherwise," reads one excerpt from "Fifty Shades of Grey."
"The Dominant may discipline the Submissive as necessary to ensure the Submissive fully appreciates her role of subservience to the Dominant and to discourage unacceptable conduct. The Dominant may flog, spank, whip or corporally punish the Submissive as he sees fit, for purposes of discipline, for his own personal enjoyment, or for any other reason, which he is not obliged to provide," reads another.
Steele's fictitious situation is different from the real-life saga, since Steele never actually signed the contract. Now an Italian judge must decide if the unnamed woman's lawsuit, which claims physical abuse, is valid since she did sign the contract.
"To begin with I found it exciting," she told the Mirror. "But I discovered there's often a dark side to men who get their kicks out of indulging in these types of games."
She signed the contract in 2005 and, in 2006, she claims her partner became increasingly violent. One day, after he caught her meeting with another one of his sex slaves, he allegedly attacked her in the street, choked her and slammed her head against a store window.
"I ended up getting battered by my version of Christian Grey when he [realized] he couldn't control me outside of the bedroom," she told the outlet.
Calling all HuffPost superfans!
Sign up for membership to become a founding member and help shape HuffPost's next chapter
BEFORE YOU GO