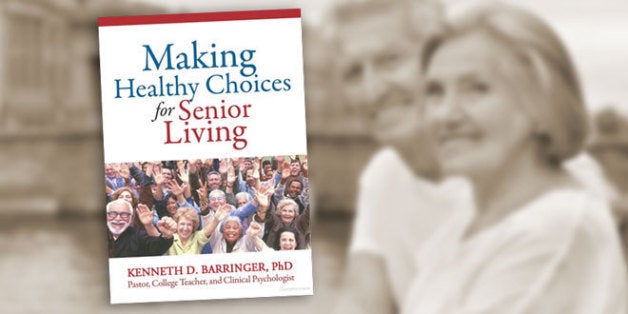 At the tender age of 90, retired psychologist Ken Barringer has penned his very first book -- because he wanted to share everything he's learned during his almost two decades of retirement.
The retired clinical psychologist and professor has long witnessed his patients and students making poor choices about their future. So now, in Making Healthy Choices for Senior Living, Barringer wants to guide people away from having so much stress about retirement and lead them towards a more fulfilling one.
The author, who has contributed to other books and worked as a consultant for the Coalition of Mental Health and Aging, says successful living doesn't happen by itself. "We are happiest when we cultivate relationships, express positive emotions, and invest in preventative medicine," he says.
Barringer now lives in Tampa and has led quite a life, going back to his days serving as a Navy medic in the Pacific during World War II. He has not only worked as a clinical psychologist, but as a professor at the University of Iowa and as a United Methodist pastor. He recently taught a course at a local college.
"I feel about 75, maybe even 72," says Barringer, who's been retired for 19 years. I have a lot of experiences with people who've made some horribly bad decisions in their life and suffered the consequences of those bad choices health wise, emotionally, financially and so on. I decided to develop a book that would demonstrate that in our senior years we need to be more skilled at making healthy choices for our living."
"I had an uncle who retired from a factory job in Wisconsin and then did nothing," he says. "He didn't engage himself socially, and he didn't exercise. Within six months he developed symptoms of heart disease, and within a year he died of a heart attack at 74."
What happens, Barringer says, is that retirees become addicted to sedentary living, and they overeat. They need to develop a support base for the ongoing changes in their lifestyle -- outside of their own family.
"My uncle didn't plan on a new life for himself, and you need to do that," Barringer says. He also recommends making continuing education a lifetime experience that's not only for work but for the enhancement of your personal life, including money management.
Sadly, it's not uncommon for older Americans to become impoverished or lose a great deal of money because of poor decisions and consultations. "We get all kinds of unsolicited offers from a variety of sources, and we can jump at them if we're not careful about getting good, responsible legal and financial help," Barringer says.
The psychologist had stern words for the driving habits of some retirees. "Many have created accidents because of their neglectful, too casual, less attentive driving habits that they picked up during their retirement years," he says.
Marriage is another difficult topic that older Americans have to deal with, he says, as many people who marry too soon after the death of a spouse or a divorce find themselves on their own again fairly soon. He recommends attending classes in learning the art of marriage. "We have many marriages that aren't solidified and need to be," Barringer says. "In the senior world, there's a prejudice against revealing your personal life. They won't share with a counselor. That's a stigma we're still dealing with. It's disappearing but still there."
Seeking out counseling is important because there is a lot of unresolved tension with extended family relationships, Barringer says. There's always a brother or sister, uncle or aunt who has a lot of animosity towards the family and is looked down upon or ignored by the family.
"I think it's time we act more maturely," he says, "and begin to deal with fractions in the family that cause tension and conflict."
Share us your thoughts on who didn't make the list (and why) at

NowItCounts.com

, the new destination for Americans 50+ covering financial, health, beauty, style, travel, news, entertainment and sports.
REAL LIFE. REAL NEWS. REAL VOICES.
Help us tell more of the stories that matter from voices that too often remain unheard.