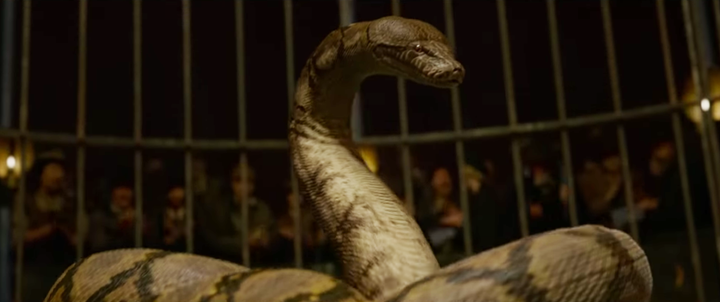 "Harry Potter" fans were hit by yet another shocking revelation when J.K. Rowling (aka She Who Must Not Be Questioned) announced that Nagini, the notorious snake/Voldemort's favorite Horcrux, was once a real live woman. 
That means the evil pet we've known for years was actually a female human, imprisoned in the body of an animal at the behest of a very bad serpent man the entire time. For goodness snakes!
In an interview with HuffPost in 2017, Moving Picture Co. VFX supervisor Greg Butler explained that the crew behind the original "Harry Potter" film franchise used real snakes as models for the CGI reptilian version of Nagini. But before the seventh and eighth movies, Nagini went through a significant redesign. 
"The Nagini we used in [the fifth and sixth movies] was starting to get a bit old, wasn't holding up anymore, and then also wasn't going to be able to perform all of these intensive scenes," he said. "Like a lot of these things, we had to upgrade our techniques. Our assets from 2008 by 2011 had to be something better. What might be photo-real in the first 'Harry Potter' might be laughable in the last one."
Bottom line: The production team felt it needed a new real snake.
"We picked out a picture [of the snake]," he said. "We had a photo session with the real snake. We did video of it slithering around, doing everything we could get. And then we just started a complete remodel, repainted everything brand new, and really the last two films are brand new. She should look different because it's a different actor, basically."
The franchise's human stars Daniel Radcliffe, Emma Watson and Rupert Grint went on to global fame, but I've wondered for a while: What happened to the snake actors that played Nagini? Could the money and popularity associated with the "Harry Potter" world have been, um, constricting? Was Hollywood too cold-blooded? Is the industry just full of vipers?
You get it. We had to know.
So I reached out to Jules Sylvester from Reptile Rentals, who has worked with Warner Bros., the studio behind the two franchises. He didn't know much about the live snakes that posed for Nagini's scenes, but he referred me to Birds and Animals Unlimited, which worked on the "Harry Potter" films. That's how I got in contact with Birds and Animals' Julie Tottman.
Tottman knew the story of at least one of the real Naginis.
"The snake in question was a Reticulated Python named Ticky," she wrote in an email. "He was born at Drayton Manor Zoo by head keeper John Foden in, I believe, 1996."
Nagini wasn't Ticky's first role on screen. She told me Ticky was a favorite of naturalist and TV presenter Steve Backshall and had a "main part" in David Attenborough's "Life in Cold Blood," in the much-coveted role of "snake eating a deer."
Without further ado, here, according to Tottman, is one of the real, non-CGI Naginis, aka Ticky, in a scene in "Life in Cold Blood":
Oh, deer. What a star. So the obvious question is, where is the real-life Nagini now?
The answer might surprise you. But if you're at all familiar with the regrettable realities of owning pets, it probably won't.
"Unfortunately he was diagnosed with cancer in 2015 and went to the Royal Veterinary College near Potters Bar for surgery, which gave him a huge improvement," Tottman said. "But the cancer returned and [veterinarians] thought it best to put him to sleep."
Ticky was then taken to a taxidermist for skin preservation.
Reticulated pythons can in some circumstances live up to 30 years, according to the internet, so if that estimation is correct, Ticky was certainly taken before his time.
"RIP Ticky, the friendliest reticulated python," wrote Tottman.
Calling all HuffPost superfans!
Sign up for membership to become a founding member and help shape HuffPost's next chapter
BEFORE YOU GO