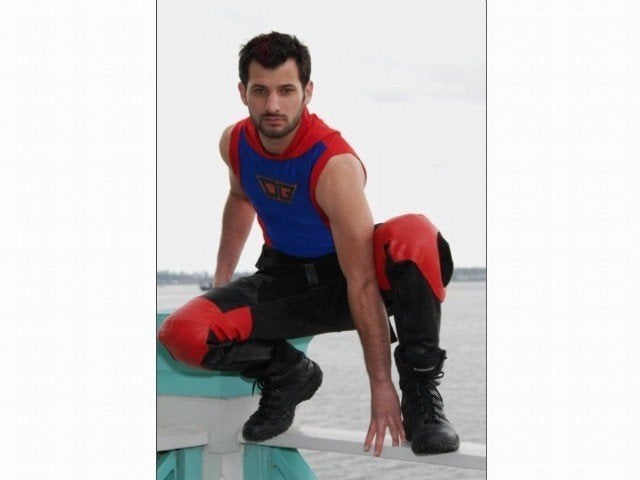 MANHATTAN — It's a bird! It's a plane! It's … a martial arts instructor from Staten Island?
An HBO documentary about real-life superheroes that debuted earlier this month features one of Greenwich Village's own — who goes by the moniker Dark Guardian.
The superhero, whose real name is Chris Pollak, lives on Staten Island but patrols Washington Square Park in a bulletproof and stab-proof vest, a black leather jacket with red stripes on the sleeves and matching black and red pants, MSNBC reported.
His crime-fighting moves include creeping up to drug dealers, shining a flashlight in their eyes and yelling, "This is a drug-free park!" according to GQ.
"I am here to show the world there are people that care to make a difference, people that will stand against what is wrong in our society, stand up to the bad guys, help those in need, and change the world for the better," his profile on the World Super Hero Registry reads.
"If you're looking to be a crime fighter, to really do patrols, you have to be in shape. I think you need martial arts training," Dark Guardian reportedly said in the documentary. "You can't just throw on a mask and go out and think you're gonna do something. You'll get yourself killed."
Dark Guardian, who told MSNBC he has patrolled the streets of New York for more than eight years, says anyone can join his ranks.
"There's a hero in everybody," he said. "Everybody can make a difference; we are just a drastic example of what people can do."
He was spurred to action by the notorious case of Kitty Genovese, the Queens woman who was sexually assaulted and murdered in 1964. According to media accounts, at least a dozen witnesses did nothing to stop the attack.
"We do not want to let things like that repeat itself," Dark Guardian told MSNBC.
Dark Guardian fans can track his progress on his Facebook wall.
"Time to head out," he wrote this week, followed by the posting, "Will be keeping watch at a local fair tonight."
Support HuffPost
The Stakes Have Never Been Higher
Related
Popular in the Community