A new rape awareness campaign aimed at men in London is hoping to challenge the way that people think about the crime and its victims.
Posters for the campaign, launched by Survivors UK, an organization that deals with sexual violence against men, read "Real men get raped and talking about it takes real strength" and show a rugby ball being punctured by a nail.
The ads will be prominently featured on 140 escalator panels in central London Tube stations on February 20 in hopes of reaching passengers during the Six Nations rugby tournament reports MaleHealth.co.uk. The ads will also be show on two 48 Sheet billboards at Clapham Junction train station and on screens at Waterloo stations on February 25 and March 17, when England plays at home in the tournament.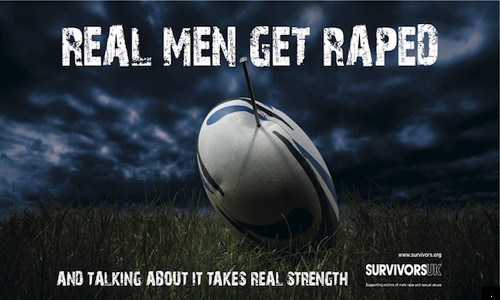 "We've chosen to use an alpha male sport in our advertising to challenge assumptions about the type of men who get raped. It's just as likely to be a rugby player as a librarian, a suited city banker as a hooded gang member. And we hope that by challenging our innate assumptions about the identity of male victims, we can make it even fractionally easier for a male rape victim to ask for help."
While many are applauding the campaign, some bloggers have raised questions about the usefulness of the term "real men." Jessica Wakeman of TheFrisky.com writes, "Why do we have to call it 'real men'? Isn't that just feeding into the same stereotype that there IS such a thing as 'real men'?"
What do you think of the campaign? Sound off in the comments section below.
Looking for more information or need help? In the U.S., visit RAINN, the Rape, Abuse, & Incest National Network, the nation's largest anti-sexual violence organization or call 1-800-656-HOPE. If you're in the U.K., visit Survivors UK.
Popular in the Community