For most of us, VR today means donning some heavy face mask contraption and flailing your arms (to the amusement of others) in an immersive reality that only you can see. But you better believe the virtual world is going to become an increasingly compelling place to think about your money -- how you spend it, how you save it and how you invest it.
Creating an immersive world where cash is king is still in its nascent stage, but some interesting projects are already being set in motion. The upside? Visualizing complicated worlds, like your bank accounts and investments, is an application perfectly suited to the world of virtual reality where you can play "what if" scenarios and visualize your data. The downside? Putting on your headset and settling in to spend money is a lonely endeavor. And most of the applications haven't yet been truly creative about what it means for your financial life to enter the virtual world. Here are some of the applications that are appearing.
Shopping Catalogs with a Pinch of Aspiration
Alibaba, the global store where you can buy just about anything, has been bringing virtual reality to its customers in China through an ambitious project called Buy+. Wearing headsets, customers can browse store merchandise in a virtual world simply by looking around. Fix your eyes on a specific item and it springs to life, showing you its details. AliPay VR then lets the user complete a purchase with a few eye movements. Buyer's remorse could take on a whole new meaning when blinks and stares might make you a product owner.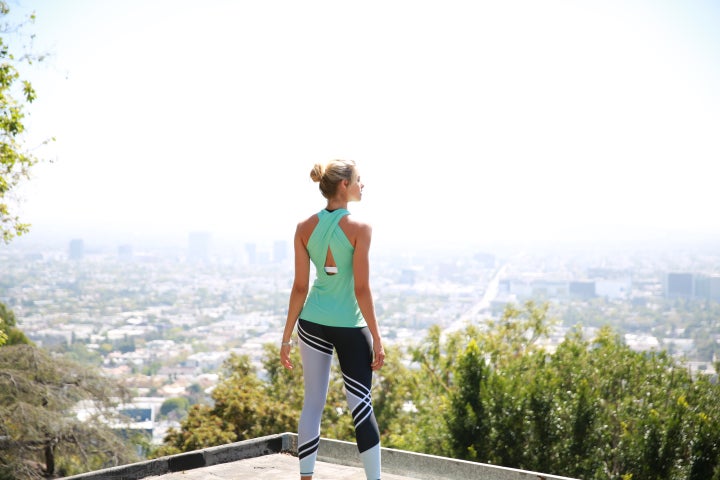 Part of the allure of VR shopping is about screenwriting. You're invited to view the backstory behind the products. Payscout VR Commerce is debuting VR shopping experiences where you can not only visit the virtual store and experience the products in 3D, but also immerse yourself in the story behind the products. Payscout's proof of concept is an athletic wear store where you watch aspirational videos of others who are living the life with their clothing. Then, you buy what you like without ever having to leave the virtual world. The Payscout app registers your payment credentials for your digital wallet of choice. For now, the company uses the least common denominator, Google Cardboard. Download the Payscout VR app for Android or iOS and experience it for yourself.
Big ticket items are also attempting to see some of the big payoffs from VR. Cars, tourism and college are just a few. Relay Cars uses VR to let you test drive and buy hundreds of different vehicles. The Quantas Airlines VR app previews your Australian destinations before you get there. YouVisit lets you tour colleges without getting off the couch. I'm not ready to purchase any of things without additional research, but the VR experience adds important decision-making data to the equation.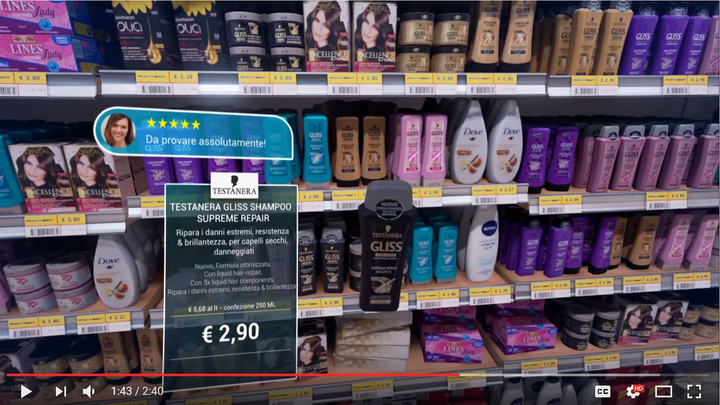 For more mundane purchases, Shelfzone recreates a visit to the supermarket with VR. And IKEA stores are working in mixed reality (where you can impose virtual items on your own reality) to let you visualize what an object found in their catalog would look like in your home.
The gorilla in the room, Amazon, may be late to the pioneer party, but when it gets there it tends to do it right. According to Variety Magazine, Amazon is preparing to jump into the fray, building apps for virtual reality headsets.
If looking at your finances gives you a real-world headache, you can try VR. Intuit, maker of Quickbooks and other products to let you track your finances, has been showcasing some of their experimental work in VR. One that grabbed me (as more of a visual than a numbers kind of thinker) lets you visualize your financial health in a virtual reality forest. Big tall trees mean all is good; little dwarfs mean you'd best delve deeper and pay attention. The metaphor continues as your cash flow is depicted as a river running through the forest. Playing "what ifs" with trees that get larger or smaller depending on how you allot your cash (inventory, marketing, employees) lets you grasp the magnitude of your decisions. While it's slightly corny with a tribute to SimCity, it's a great way to think about your finances without playing "what if" with a spreadsheet.
Visualizing Stock Portfolios, Insurance and Savings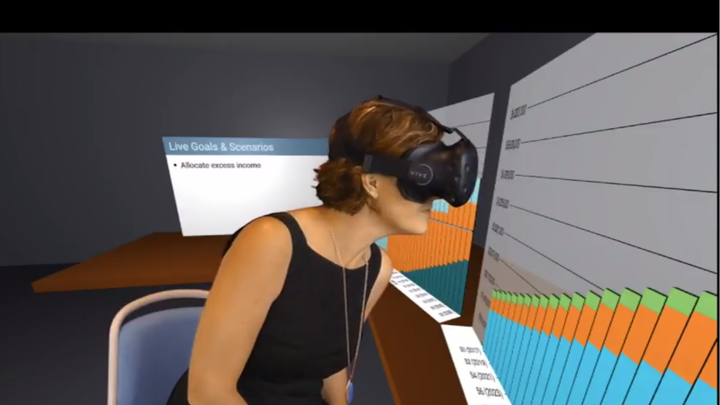 Speaking of SimCity, Fidelity is creating a virtual reality StockCity where you don't need to understand a single number to eyeball the success of your investments. Your stock portfolio is viewed as a city of buildings offering a pictorial representation of your portfolio that you can visit any time you put your VR headset on. The French banking firm, BNP Paribas introduced a suite of VR apps that cover everything from real estate to insuring valuables. Online Banking firm Crealogix uses VR to show where you're spending your money and how you're saving, without looking at a single number. You can review your entire investment life with a move of your head. The ABN AMRO virtual bank has been playing with mixed reality using Microsoft Hololens. As you view the contents of your home, room to room, you are guided through making decisions about insuring "that painting" or "that piano."
For the moment, it's an early adopter play. Graphics are slow to render, the storytelling isn't great, and eyeballing your way through stores or finances is fraught with user error. But it's clear that real money will be spent in VR. And it's even more clear that the financial industry will need to tap creatives in graphics, storytelling, 3D and more to make the experience worth shutting the rest of the world out for.
Is your company working with VR and finance? Our company partners with CES to produce The Digital Money Summit in Las Vegas. Show us your VR.
Related
Popular in the Community