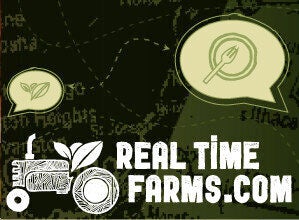 With the success of films like Food Inc., books such as Fast Food Nation, and shows like Jamie Oliver's Food Revolution, people everywhere are starting to learn more about the food system. But what about the specific foods we eat? What if there was a place where you could learn about the exact foods you were eating -- in real time -- whether you were at your family dinner table, in a favorite restaurant, or even alongside a food truck?
Real Time Farms is the brainchild of former Google senior engineer, Karl Rosaen, who's turned his attention from developing Android to the food sector. "Real Time Farms is a crowd-sourced online food guide, and we're all about connecting you to fresh sources of food -- items you can trust, whether eating in or out," he explains. "We aim to be the IMDB of food transparency."
This clear and intuitive website covers 4 categories: Farms, Ingredients, Farmer's Markets and Eateries. It's super simple, just choose a category, and type in your zip code. Up pops the fresh foods in your area, with links to purveyors, descriptions, photos, connections and soon video. Let's try some examples...
Say you lived in New York City, and typed your zip code into the restaurant search. You might click on the blue fork of Northern Spy Food Co. You'd see this. It displays red lines fanning out revealing which farms and purveyors this restaurant sources from. If you clicked on the restaurant's name, this would appear. It's the entire menu, with all the primary ingredients linked to their source farms. You're just another click away from learning about the restaurant's particular farms and purveyors. Instant transparency!
Say you were at the farmer's market in Hamilton, New York, and were eager to buy pasture-raised beef to make burgers that night for your health-conscious mother-in-law. You could scan the market web page here, where you'd discover that Sun Fed Beef has a grass-finished line of beef which is particularly lean.
Or maybe you were in Ann Arbor, Michigan for the day, and you strolled up to Darcy's Cart. "The Molly" breakfast burrito looked appealing, but you'd heard about recent spinach recalls in the news. The menu feature reveals that Darcy's Cart sources its spinach from Tantre Farm, which states that it's been proudly certified organic since 1993. You breathe easy.
These are just three examples of the power and potential of Real Time Farms. Currently there 2,100 farms, 3,383 farmer's markets, 2.940 menu items and 15,700 photos in the system. So far, Real Time Farms has targeted metropolitan and foodie centers nationwide, focusing on the people most committed to getting these stories out. But more data is being added every day.
And that gets to a key point about the guide. It's all about user participation. Anyone can upload photos and descriptions of farms, farmer's markets, restaurants and food purveyors. Jump right in! We all get to say and show what we know and like.
Additionally, Real Time Farms has launched its Food Warrior Summer Internship Program. These Warriors are priming the pump in targeted areas across the country, currently Los Angeles, New York City, Seattle, Boulder, and Michigan. They're tracking down and contributing data in these regions, building a buzz and showing people what it means to participate.
Further, if you're a restaurateur, it's easy to showcase your establishment and its producers. "Any restaurant anywhere," explains Rosaen, "can sign themselves up to become a trailblazer of food transparency." James Beard winner Chef Alex Young, of Zingerman's Roadhouse, agrees, "Real Time Farms gives our customers the ability to see and learn why we choose the products we choose."
"I want to stress," Rosaen adds, "this isn't just about local or sustainable food. This is about transparency. If McDonald's signed up, and revealed where they sourced their meat and produce, we'd be thrilled! We're trying to build a totally new way to see and interact with our food web"
So what's next for Real Time Farms? Mobile applications are on the horizon, so you can find food you trust on the go. More generally, Rosaen and his development team want to make all this data available to everyone, thanks to an open API (application programming interface). So say you're a programmer, you can take the data and make a new app. Or if you're a food blogger, you can use it to create a cool infographic about a delish dish you just created. But that's for another post.
For now, go check out Real Time Farms. Start playing with the features. Check out what's happening in your community. Submit a photo or a description of a farmer's market or eatery that you like. The more we can share this data, the easier it'll be for everyone to learn about the foods they eat!