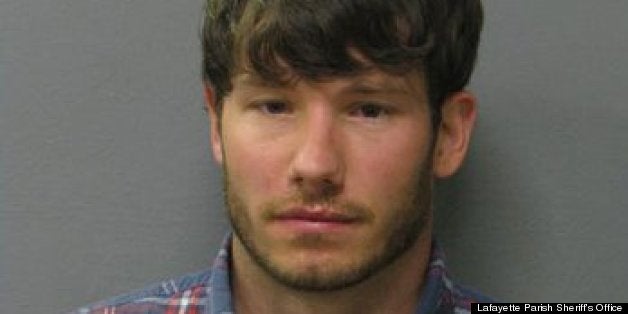 "Real World: Las Vegas" star Dustin Zito was arrested in Louisiana Sunday for sexual battery and resisting an officer.
Zito, 27, was one of a group of patrons that stayed past closing time at City Bar in Lafayette, La., on July 14, according to NBC affiliate KETK. Police were called to clear the crowd. When officers arrived, a female approached them and claimed the former "Real World" star touched her inappropriately under her skirt as she bent over a cigarette machine.
When officers met with Zito, he allegedly resisted and refused to leave the establishment. "[Zito] began to physically resist by pulling away from officer," the police report, obtained by KETK, notes. "The subject also began to grab officer and pull officer to the ground as the struggle continued."
The "Real World" alum was "very intoxicated" and advised officers "the female victim should be thankful that he reached up her dress since he is a TV star and several girls wish for that to happen to them," according to the Times of Acadiana.
Zito was booked for sexual battery, resisting an officer with force/violence, remaining in places and disturbing the peace, according to the Lafayette Parish Sheriff's Office report. His bond was listed at $26,000.
He is scheduled to appear in court today (July 16), the Times of Acadiana reported.
The MTV star, who gained his 15 minutes of fame in 2011 on the 25th season of the reality series and stirred controversy for his previous work in gay pornography, took to Twitter following the arrest. He tweeted a screen grab photo of the incident as recorded on a security camera. He also retweeted messages about the allegations. One such post accused the girl of "probably just trying to get a little face time."
Popular in the Community