Asaf Hanuka is an illustrator and comics artist whose books have been published all over the world. With his twin brother Tomer, he created the comic Bipolar, which earned Ignatz and Eisner Award nominations. His collaboration with writer Etgar Keret Kamikaze Pizza won a nomination for Eisner in 2007. Asaf contributed art to the Oscar-nominated animated film Waltz with Bashir. His award winning autobiographical strip The Realist has been published weekly since 2009 and was collected in album editions in six languages. It won a gold medal from the Society of Illustrators in 2010 and the Award of Excellence from Communication Arts Annual. The second collection of The Realist published in 2014 was chosen for the official selection in the Angouleme comics festival in France. BOOM! Studios imprint Archaia is publishing The Realist as book for the first time in English. The strips are a portrayal of his life as a husband, father, and cartoonist living in Tel Aviv. I spoke to Asaf via telephone.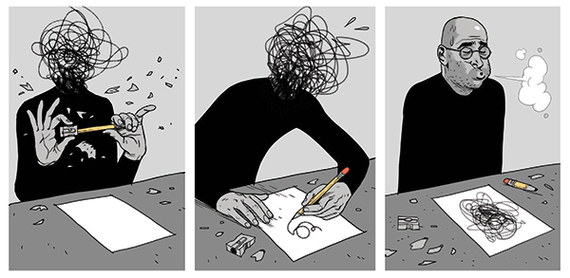 Asaf Hanuka, self portrait.
I loved Kamikaze Pizza, how did you get involved in that story?
I was fresh out of art school and lived in Paris, waiting for my super exciting life to start; but nothing happened. Etgar Keret published at the time a collection of short stories, one of which was Pizzeria Kamikaze. Years before I worked with Etgar, adapting few of his short stories to comics in a book called Streets of Rage. I talked to him about adapting this one and he agreed. The story resonated with what I felt at that time. I was young and was ready for "real life" to start but didn't know how to do it and got desperate and hopeless. I think the characters in Pizzeria Kamikaze are a bit like that. They all wanted things but gave up too early because life was just too complicated. Artistically I approached it like an autobiographical work. The characters are all people I knew at the time, their backgrounds are a mix of Paris and Tel Aviv.
What was the genesis of the The Realist?
I was asked by a local business newspaper (The Calcalist) to do a weekly comics page. The first few pages dealt with my family's difficulties in finding an apartment in Tel Aviv in a crazy real-estate market. Then, it got boring to talk about money and I started exploring more abstract themes, such as relationships, memory, marriage, my work, and the complicated social and political situation of Israel. I approach it from an intimate point of view since the source material is really my life, but it's also an endless pit of metaphors from which a larger story can be told. Comics work well in depicting the personal and the intimate. After all, these are just doodles on a page, and that's the trick: under the the fog of personal banality you can whisper thoughts and ideas that would not be as easily accepted otherwise.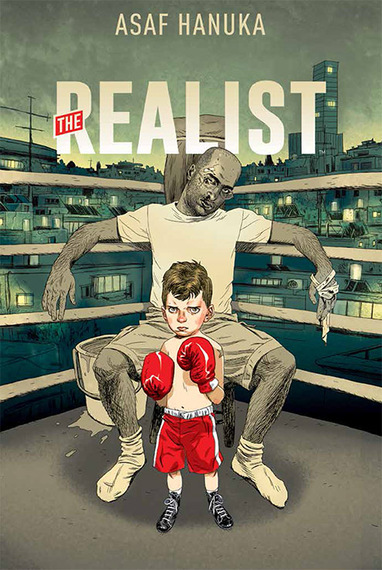 How much is your work shaped by the day to day realities of life in Israel?
We make a huge effort to live a normal life in a somewhat unstable political climate. When I have problems explaining to my 7 year-old son what's going on I realize I don't fully understand it myself. We try to create an illusion of safety and stability for the children but we know that in a few months there is going to be another operation, or war and we will be running to the shelters again. On top of that there are moral questions, and a loud political debate. Working on the comics allows me to channel those fears and confusion into a coherent narrative flow. It's an experimental playground where everything goes as long as it makes sense as a story. I think that's why in a lot of my stories there is a sense of a reality being cracked by an exterior force, imaginary or surreal.
How did you feel when you learned of the attack in Paris Wednesday?
I think every artist considers the reaction of a possible audience to his work. Most of the time you want be loved, accepted and understood; that's natural. The cartoonists targeted in this tragic terrorist attack were of a rare kind. They created work that made you think again and question the ready-made truths projected by traditional media and other channels. They knowingly took a risk and redefined what freedom of speech means; everything else was secondary. I admire their courage and was inspired by it.
The Divine (http://us.macmillan.com/thedivine/asafhanuka), a 150 page graphic novel, will be published in June by First Second. It was written by Boaz Lavie and illustrated by Tomer Hanuka (my twin brother) and myself. We have been working on this project for the last 5 years and are very happy to see it finally in print.
And hopefully later on, another collection of The Realist.
REAL LIFE. REAL NEWS. REAL VOICES.
Help us tell more of the stories that matter from voices that too often remain unheard.