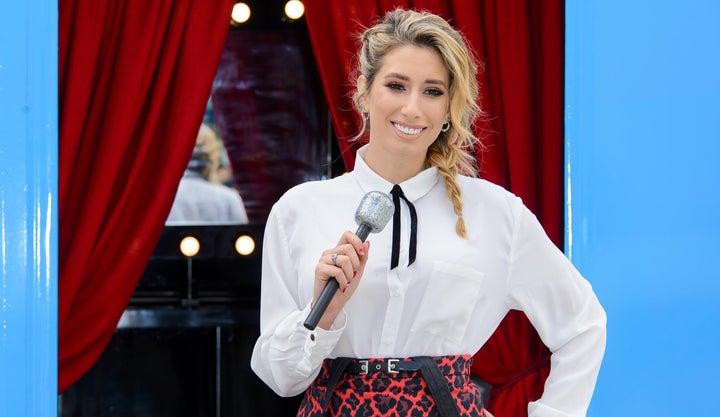 A U.K. television personality is firing back after being mom shamed for taking a bath with her sons.
Back in March, Stacey Solomon shared a photo of herself in a bath with her two sons, 9-year-old Zachary and 5-year-old Leighton, in honor of U.K. Mother's Day.
"Isn't being a mum the best thing in the world?" she wrote in the caption. "Even when they're shooting you in the face with their water pistols. Happy Mother's Day to all of you wonderful Mothers, grandmothers, careers, aunties, sisters, best friends you're all mothers in my eyes, one way or another!"
Solomon received some backlash for the Instagram post ― which garnered comments like "this is wrong on so many levels" and "Each to their own but I think it's healthy to teach children boundaries and privacy."
On Aug. 25, Solomon addressed the controversy on the talk show "Loose Women," during a segment about parents who bathe with their older children.
The mom and reality star said she regularly takes baths with Zachary and Leighton. "I'm not horrified at all," she said. "Anyone who's horrified at the thought of parents sharing a bath with their children I think has issues."
When asked if she feels that way about the prospect of bathing with a teenager, Solomon said, "Listen, it's each to their own."
The panelist added that she still takes baths with her children. "My eldest is 9. Sometimes he gets a little bit like, 'Oh put the bubbles over your boobs, Mum, I don't want to see it.' But at the same time, why does the body always have to be looked at as some sexual thing? Why can't it just be the human body? Why's it not normal?"
Addressing her Instagram post, Solomon said she shared the photo because "It's a normal thing" in her household. "It's almost like having dinner and going to bed and reading bedtime stories. Having a bath together is how we communicate and socialize, and that's a massive part of our daily routine," she explained, noting that she did see the negative comments under the photo.
Ultimately, the mom said she thinks it should be up to individual parents to do what works for their families and that she'd respect her sons' wishes if they wanted to stop bathing together.
Still, she added, "I think it's sad to sit there and judge people and say that's wrong or disgusting."
Solomon's viewpoint on bath-time seems to be in the minority. A poll on the show's website asks viewers, "Is there anything wrong with sharing a bath with your teenage son or daughter?"
Ninety percent of respondents said, "yes," while 10 percent answered "no."