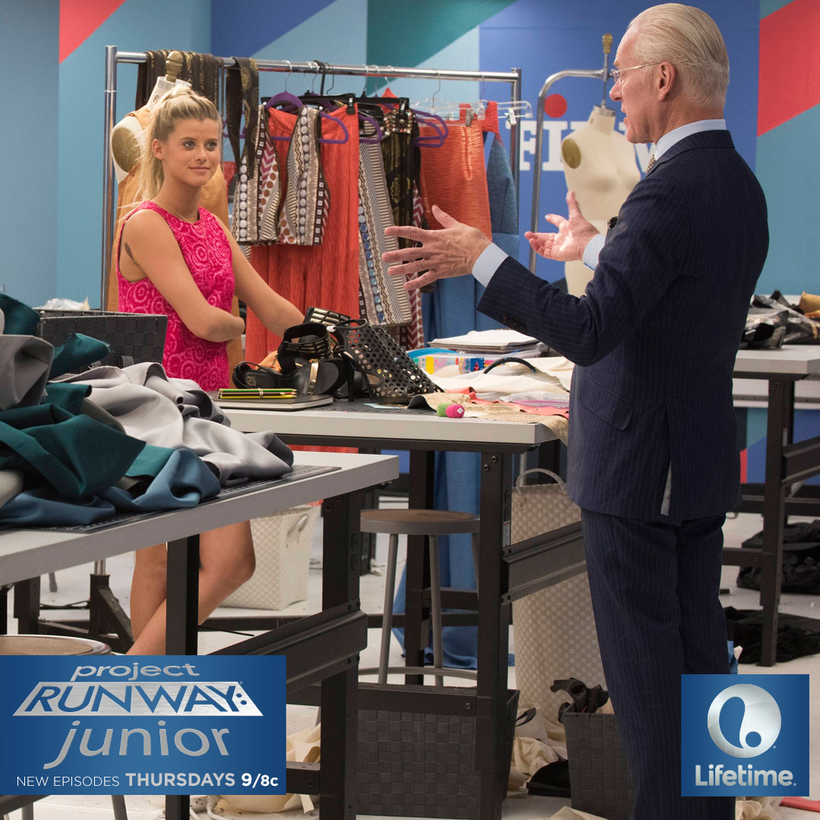 During the first season of Project Runway Junior, a teenager helped provide a refreshing alternative to the notoriously overdramatic negative-attention-seeking of reality television. The problem, it seems, is that few actually noticed. Fortunately, my six-year-old daughter was more observant than most of us.
On Thursdays, our family watches television together. Agreeing on a TV show can be a challenge — there are only a few we all enjoy. Project Runway is one of those shows. For those unfamiliar with the format, Heidi Klum hosts a series featuring aspiring, talented, and eccentric fashion designers, who compete for prize money and the chance to showcase their clothes at New York Fashion Week. Each episode, the designers are presented a challenge, with guidelines to ensure they are sufficiently stressed out. They are then placed in a cramped room to work (and bicker) together, and provided boiler-room time restraints. In the end, their garment is modeled on the runway, one contestant wins, and all but one avoid elimination for the chance to regroup and do it again.
When compared to the reality TV genre, Project Runway is somewhat unique in that the talent of the designers is front and center. However, it is still reality television, and there is drama on and off set. In addition to the occasional spat during team challenges, as well as the on-set confrontations, the off-set drama is often the "juiciest." Off set, the designers conduct "private" interviews in which they critique one another's garments, often in the form of ad hominem attacks. In addition to the conflict between one another, the designers with the lowest scores are subjected to scathing criticism from the judges, particularly from Nina Garcia.
For these reasons, my wife and I were initially hesitant to watch the spin-off, Project Runway Junior, which features designers who are eighteen years of age and under. Supporting a program that forced this type of pressure on teenagers, while also placing them in the often-dark world of reality television did not seem particularly appealing. But our daughter wanted to watch "kids" make clothes, so we eventually tuned in.
In the early episodes, the junior contestants put their best foot forward, limiting behind-the-back cattiness. Each had the occasional "moment," but they generally appeared to be kinder, less-tortured versions of their senior counterparts. Project Runway Junior was drama-lite.
Had our six year-old-daughter not made the offhand comment that one of the designers, Peytie Slater, was not a "yo-yo friend" — a term she learned in school to describe kids who are sometimes nice, sometimes mean – we may not have recognized that Peytie was an outlier, a designer who was entirely drama-free.
As the season progressed and the number of designers dwindled, focus turned to the few remaining participants, including Peytie, who we watched closely because our daughter liked her "fashion and attitude." Relentlessly positive, it almost seemed as though Peytie missed the memo.
With the promise of Fashion Week inching closer by the episode, Peytie withstood the type of pressure that can cause the best of us to be at our worst. And, here is the best part: The kindness, support, and positivity she demonstrated to her peers made for compelling television, providing an enthralling alternative to the drama and back-biting that is typically scripted in as being compulsory for successful television.
As our family watched from home, we wondered whether the change in tone (compared to the original Project Runway) was the result of age, or a product of a kinder generation. Or, was Peytie actually influencing the remaining designers? Moreover, did other viewers share our feelings, preferring to watch talent, fashion, and runway shows produced by contestants who supported one another? Would the second season of Project Runway Junior be similar?
Well, as of last week, the second season finished. And, at least one of our questions was answered. Though the young designers were clearly more generous in spirit than the more senior Project Runway designers, season two had more negativity and cynicism than the first. On one occasion, Tim Gunn, a staple of the franchise and a fantastic mentor to the designers, even worried out loud about the teenagers turning, or being turned, against one another.
Perhaps it is too simplistic to attribute the difference in tone between the two seasons to the presence of Peytie Slater, but perhaps it would also be naïve to assume her attitude did not have an impact.
REAL LIFE. REAL NEWS. REAL VOICES.
Help us tell more of the stories that matter from voices that too often remain unheard.
This post was published on the now-closed HuffPost Contributor platform. Contributors control their own work and posted freely to our site. If you need to flag this entry as abusive,
send us an email
.