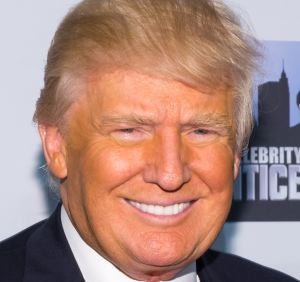 By now we all know Donald Trump has executive producer credits on The New Celebrity Apprentice. Despite "new" in its title and Trump having been allegedly cut off by NBC during his campaign, in Wikipedia's words: "Trump remains as an executive producer through the show's production company, MGM." The MGM connection highlights that things are more nuanced than they seem and perhaps NBC is not yet fully in bed with Trump. So many things are still unclear as I write this.
We don't know for sure whether or not royalties (from the show that would go to Trump) will be placed in a blind trust. Historically that has been "the presidential way" (with money made by a president during his term). Trump might want to announce something of that ilk to avoid criticism and to evade adding fuel to the fire of clause violation-related discussions. Perhaps Trump should take to Twitter to announce that all money going his way will instead go directly to charities or, as LA Entertainment Lawyer Brad Smalls suggests, to veterans.
While the celebrity cast and Arnold Schwarzenegger (the'Celeb Apprentice' boss, Trump's former role) appeared before the media for a press conference, they were ceaselessly queried about Trump's involvement. In response, Schwarzenegger teased the entertainment reporters about their sudden interest in politics.
Says attorney Small: "It's certainly unprecedented that a president would be tied to a reality show." He admits he will be tuned in this season because Trump's executive producer credit has him curious as an entertainment lawyer and a viewer. Small caught some past seasons of (the old) 'Celebrity Apprentice' with Donald just like I did.
"It will be interesting to see which companies are tied in with the tasks, adds Small, "For instance, Trump recently excluded Twitter from his meeting with tech companies... There will be conflicts for companies because Trump has a stake in the show. There will be eyeballs on this show and on those businesses that join in for tasks."
While Kellyanne Conway spoke on the president-elect's behalf and informed media that Trump will work on the show in his "spare time" (you know... ALL that time Obama spent golfing? Well, that was the gist of a Conway reference), Trump himself issued a contradictory tweet that he would NOT be working on the show. Small, nevertheless, envisions Trump's EP credit as garnering "eyeballs" (whether purposely or not) as a way for Trump to characteristically maintain control over a project he started, and as a way to make nice with NBC (a pattern if we look at Trump's recent overtures with Romney, Carson and finally sitting down with the 'NY Times', as well as other seemingly conciliatory moves post-election). Small also points out a fact that his wife stumbled upon through her own Googling efforts: TV producer Mark Burnett, responsible for 'The Apprentice' franchise as a whole - who had his own prior fallout with Trump - is producing the presidential inauguration!
The lines have become so blurred that you might as well watch 'Celebrity Apprentice' for the challenges that go down between guilty pleasure favorite personalities, our fawned over C-list celebs and most exalted reality stars.
I polled fans of shows like 'The Real Housewives' and while the majority did not watch previous seasons of 'Celebrity Apprentice', many who did said they refused to tune in this season due to The Donald factor.
"Even if he isn't actively working on it," said a woman named Rachel, "He has an EP credit and I just can't support that. I love Kyle Richards and Porsha Williams who are contestants... I may be cutting off my nose to spite my face, but so be it."
Ever since Trump entered the political arena, shook it up and offended many during his campaign, I too have felt ashamed of the following: I used to enjoy him immensely on the 'Celebrity Apprentice'. Upon reflection, his manner with female contestants was somewhat smarmy (even then) in my eyes, but I compartmentalized for my selfish TV viewing enjoyment. I could never predict then that Trump would get involved with politics and while I personally didn't support him during the election, I couldn't help internally agreeing with my friend Monique who wrote: "This season's 'Celebrity Apprentice' is starring Arnold (Schwarzenegger)? WTH?? They might as well not bother. The best part was Trump. I want the REAL 'Celebrity Apprentice'." Trump was entertainment in the good ole days.
As an attorney, Brad Small does not see anything explicitly illegal about Trump's stake in the show, but he points out that there's much discussion about Trump's other business matters and what exactly he will or will not do to avoid scrutiny. (At issue: international business for his hotels). When the Constitution was written, it was developed so that presidents would never take bribes or foreign payments that gave them powers likening them to historic kings. Small points out that former presidents have taken painstaking efforts and gone above and beyond to avoid such scrutiny. Donald certainly has seemed more brazen and less concerned in comparison.
With all that is stated above, should you tune in to 'The New Celebrity Apprentice' for entertainment value, you can keep in mind that the celebrities have said (whether it's boilerplate verbage or not) that they are excited to do these tasks for charity, a truly noble and good thing!
Regardless, I believe that those who truly cannot resist the temptation of the shit-show that has always been "The Celebrity Apprentice" will ultimately tune in. In addition to the aforementioned Real Housewives Kyle Richards and Porsha Williams, '80s icon Boy George is a contestant along with Jon Lovitz and Carnie Wilson.
Reflective of what one young woman named Jen wrote on Facebook, there are ways to assuage one's guilt watching The New Celebrity Apprentice: "I used to love 'Celebrity Apprentice' and I really, really want to watch this coming season," she says, "but I'm conflicted because I don't want to support Trump in anything he does. I think I'll just 'tax' myself, and send $25 to a different charity for each episode I watch."
Now THAT is an original idea for those facing a moral dilemma.
Celebrity Apprentice premieres Monday January 2nd, 2017 at 8/7CT.
REAL LIFE. REAL NEWS. REAL VOICES.
Help us tell more of the stories that matter from voices that too often remain unheard.
BEFORE YOU GO