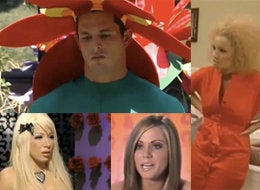 Reality television guru, Mark Burnett, recently talked with The Hollywood Reporter's James Hibberd about his upcoming series Shark Tank, set to premiere this Fall on ABC. Throughout the chat, Burnett touted his TV offerings as "high-quality" programming, going so far as to say his new show "belongs up there with great dramas." Judging by Hollywood's grand gestures - giving reality TV shows Emmy Awards and honoring Burnett with a star on the Walk of Fame - the producer has every reason to believe he is crafting "great dramas."
Then again, those in the industry, working below-the-line, might beg to differ with the British import. In case network television executives haven't noticed, California is flat broke. With Sacramento scrambling to fix its $26.3 billion hole in the budget, and banks refusing to accept the state's I.O.U.s, networks should be ashamed of themselves for shunning local production, opting instead for unscripted programming, year after year.
FilmL.A., the office behind film permits for the city, reported last month that the number of prime-time TV pilots shot in Los Angeles is down nearly 42 percent. The organization estimates that pilot production spending in the L.A. region is down more than $100 million this year, compared to 2005.
Lawmakers are trying to ease that burden, slightly, with the new annual $100 million incentive plan, spread out over five years. But, without network executives giving the green light to scripted programming, there will not be any substantial productions spending money in California. It kind of defeats the purpose.
Perhaps "American Idol" host, Ryan Seacrest, will start feeling generous and donate some of his bloated income. Turns out the former afternoon radio jockey could soon become "one of the highest-paid reality hosts on television," according to the Hollywood Reporter. I doubt FOX will be paying the metrosexual personality with I.O.U.s anytime soon.
Looking at the Fall prime-time lineup, there are far too many reality shows taking up valuable space. Burnett's nearly 10-year-old Survivor returns to CBS, as does The Amazing Race. Many other mindless programs are set to return, including So You Think You Can Dance, Supper Nanny and America's Next Top Model.
If networks refuse to get creative and take risks on scripted programming, at least they could relegate reality offerings to the summer, rather than waste time airing repeats. At first, it appeared as if NBC was making some progress, with the least amount of reality shows airing this upcoming season, but then it opted to give Jay Leno the 10pm time slot, every night of the week. Obviously, the network couldn't survive without that notorious chin on the schedule. In one lazy move, they knocked out the opportunity for five new productions.
Neither network executives nor California lawmakers should escape blame for the lack of filming in the state. However, a man with connections to both worlds has been attempting to do some good. Governor Schwarzenegger signed the legislation necessary to kick-start new state tax credits for film production. Applications to take advantage of these incentives started rolling in July 1, and nearly 60 have already been submitted, according to the New York Times. Unfortunately, most of those are from independent film productions, meaning the budgets are rather minuscule, in Hollywood math.
So, the next time a star is given out on the Walk of Fame, perhaps the Hollywood Chamber of Commerce should consider giving one to the likes of Spencer Pratt or Heidi Montag. After all, that gruesome duo has contributed as much substantial entertainment to the industry as Burnett. Reality TV is reality TV, no matter if the show takes place in Beverly Hills or some remote tropical forest. None of it results in economically substantial filming in California.
Popular in the Community