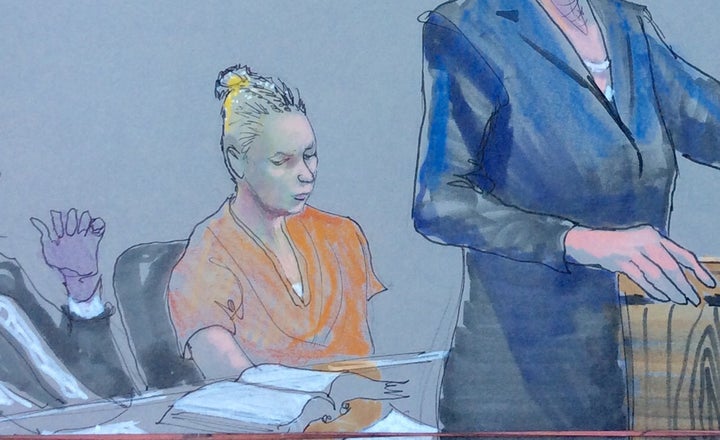 Reality Winner, the former government contractor for the National Security Agency who leaked a classified document that proved Russian attempts to influence the 2016 presidential election, pleaded guilty to an Espionage Act charge Tuesday morning.
Winner changed her plea in an Augusta, Georgia, federal courthouse to guilty on a charge of one federal count of willful retention and transmission of national defense information.
The 26-year-old was a federal contractor for Pluribus International Corp. when she was arrested a year ago on charges of violating the Espionage Act by "removing classified material from a government facility and mailing it to a news outlet," a criminal complaint said at the time. Winner sent an NSA memo detailing Russia's attempts to gain access to "multiple U.S. state or local electoral boards" to The Intercept. 
Since her arrest, Winner has spent every day in jail. Her mother, Billie Winner-Davis, told HuffPost prior to her daughter's plea change that she was looking forward to having some "closure" after a long year.
"We've had our situations here that we've learned to adjust to," Winner-Davis said. "I was living in Georgia for four months, and my husband and I were separated during that. Christmas was very different, but we've just had to make the best of everything to do what we have to do." 
Winner is the first person to be convicted since Donald Trump became president for leaking government documents to the media.
"People automatically hear 'espionage' and think she's a traitor to her country, and I don't want people thinking that she's a traitor to the U.S.," Winner-Davis said. "I don't agree with how the government uses the Espionage Act. She should not be labeled a traitor."
The Espionage Act, created more than 100 years ago, was used at the time to combat spies against the country. President Barack Obama was the first president to use the act to target whistleblowers.
Winner, who faced up to 10 years in prison, will serve 63 months in prison with three years of supervised release.
Calling all HuffPost superfans!
Sign up for membership to become a founding member and help shape HuffPost's next chapter