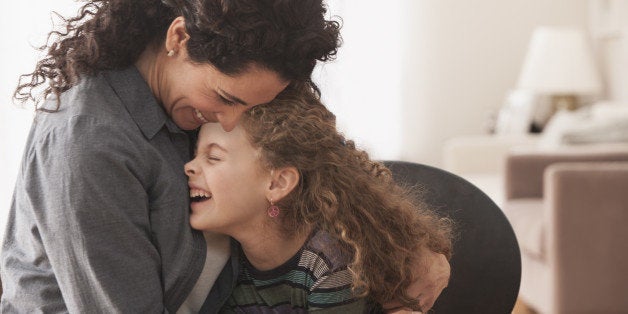 It was another crazy week. I had a column due, another book to review so that my illustrator could get started on final drawings, edits and comments on a potential TV show I was working on, financial modeling for a project, the list just went on and on. My work colleagues and friends kept telling me that they couldn't believe how many things I was doing, saying how amazing it was that I was getting so much done, that I was wonder woman...the praise went on and on. Although I was exhausted, I left that day feeling pretty good.
When I got home that night, I frantically tried to get the dishes out of the sink and into the dishwasher, and search through the refrigerator to find something to make my kids to eat for dinner. Fortunately my husband had come home with some fish I could bake quickly and we had frozen veggies to microwave. But as usual, there was always someone who didn't want what was on the menu. My 10 year old daughter wanted soup. She always wants soup. Soup was the one thing we didn't have, but I figured I have broth, I have kale, I have noodles, I'll plop it all together and see what she thinks. I also found some frozen spinach things that I could pass off as a side dish, so I microwaved them, threw them on the side of the plate with her bowl of broth, noodles, kale and crossed my fingers.
As I ran back into the kitchen to get the rest of the meal done before everyone else started screaming they were starved, my daughter yelled from the other room. "Hey mom! Great job. These spinach things are in shapes, like stars and dinosaurs. It's like you are a stay at home mom or something!" I wasn't really sure how I felt about that comment. I guess in a way I was thrilled that she was happy with my makeshift dinner, but I also felt sad. Was that all I had to do to make my daughter respect me and be proud of me as a mom, heat up some frozen spinach stars and dinosaurs?
I just finished writing my seventh children's book, was interviewed on the local radio station, and actually won an award as a woman entrepreneur that year, and yet, what made my daughter light up and praise me were those stinking frozen spinach dinosaurs. Later that evening when it was time to tuck my daughter into bed, I told her that I was leaving a little early on Friday to pick her and her friend up so that we could get over to the YMCA. We could sign her up for the gymnastics class she wanted and then she could have a her friend over for dinner. She jumped out of bed, hugged me, looked me in the eyes and said, "you know mom, I'm really proud of you... you are really picking up your game!"
I left her room, thinking, seriously? What is she talking about? I'm working so hard every day to set a great example for my girls. I'm a woman who can do it all. I'm an author, educator, entrepreneur, wife, daughter and mom. I thought that by being accomplished my kids would be proud and want to aspire to be just like me someday. What I realized was, that they will. One day. When they are old enough to appreciate what happens when they are at school and I am at work. When they are old enough to see how hard it is to juggle being all of those things. When they are responsible for paying a mortgage, taxes, tutoring and gymnastics bills. But right now, what makes them proud are just the mom things. The crust being cut off their sandwich, the day I come home early for a playdate, the extra five minutes I sit with them at night before bed. Today what makes me a superstar are the frozen spinach dinosaurs... and I'm really good with that.