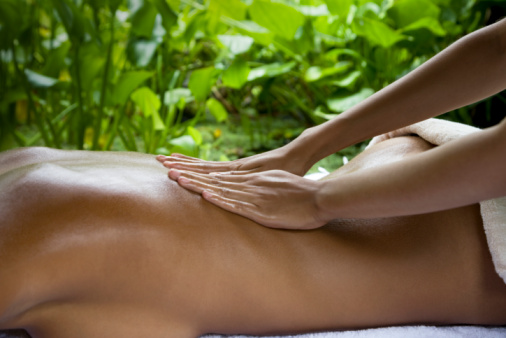 Customer receiving massage at Pure Pleasure Gas Station
Photo credit: Nacivet/Getty Images
LARKSPUR, Calif. - Because the gas station business is so competitive and prices among stations are so similar, it's often difficult to stand out and attract more customers. Pure Pleasure Gas Station owner has found a way -- and an extremely successful one at that. "I just asked myself one day," revealed station owner Kevin Takanawa, "what the perfect gas station experience would be for me. And my answer was one that offered, in addition to the gas and everything else -- live music, a sushi bar, and a great massage. So I thought why not? And that's exactly what customers get at Takanawa Gas & More."
Completely family-operated, Takanawa's son's band supplies the live rock music, playing standards, some originals, and taking requests throughout the day. His cousin Yukiro, trained as a sushi chef in Osaka, operates the small sushi bar alongside the magazines and lottery tickets, and his daughter, Keiko, and several of her friends, offer customers shoulder, foot, and full-body massages.
"It was slow catching on," admitted Takanawa, "but once word got out, it became very popular. The line of cars each day stretches around the block twice, starting two hours before we even open."
Customers are thrilled with the offerings. "I'll never go to another gas station again," stated Ann Knobloch. "The music's fantastic, the massage is so relaxing, and the sushi kicks butt. Who would have thought that filling the car up with gas would be the high point of my day!"
Takanawa is by no means intending to rest on his laurels, though. "I'm always thinking of new ways to improve the Pure Pleasure Gas Station experience for my treasured customers. So don't be surprised if in the coming year you see a batting cage, 5-minute haircuts, and a petting zoo. And not only is nobody complaining about our $10 per gallon charge, I actually have to empty our overflowing tip jar at least ten times a day. I love Japan, but I have to say -- God bless America!"
REAL LIFE. REAL NEWS. REAL VOICES.
Help us tell more of the stories that matter from voices that too often remain unheard.