On the subway after work one night, Mathilde noticed a fellow passenger carrying a violin case. "Do you play?" she asked. "Yes, I'm on my way to an audition," he replied. A musician herself, Mathilde beamed at the thought of playing with an orchestra in New York City. "This stop is, Times Square," the robotic voice of the subway announced. Hopping out onto the subway platform, Mathilde turned and shouted to the disappearing musician, "Hey, what's the name of your orchestra?" The violinist yelled back, "Park Avenue Chamber Symphony!"
Throw out your preconceived notions of classical music. This Saturday, February 6th, the Park Avenue Chamber Symphony (PACS) will perform Beethoven's Fifth Symphony at The DiMenna Center for Classical Music. Conducted by PACS Music Director David Bernard, "Beethoven's Fifth: FROM THE INSIDE OUT!" is a unique reimagining of the traditional listening experience. In seating the audience inside the orchestra, Bernard seeks to transform the passive listener into an engaged participant.
"The idea dawned on me when attending a concert at Carnegie Hall with my colleagues," Bernard explained. "We've had this experience of being inside an orchestra. When fifty people are creating art in real time, each moment is exciting. I wish to expose the elements of classical music which are not accessible to typical concertgoers. My philosophy is to give people the experience musicians get by throwing them into an orchestra. Hopefully, this approach will create a new market for classical music that will appeal to adults, as well as children."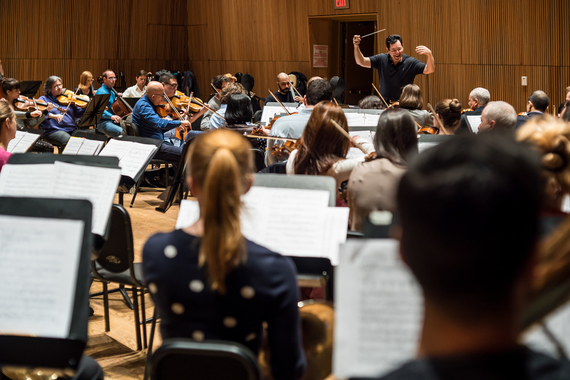 In a typical live classical music concert, audiences are seated away from the music making, resulting in a disconnect between the audience and the musicians. By turning the concert experience inside out, Bernard eliminates this barrier between audience and orchestra, as individuals sit within the space conventionally designated for musicians. Now, the audience can feel the vibrations of the violins and the timbre of the trumpets. An overwhelming sensory experience, sitting within the orchestra allows concertgoers to emotionally dive into the music, becoming one with the orchestra.
A multiple First Prize Winner of the Orchestral Conducting Competition of The American Prize, David Bernard has been described by the judges as a "first rate conductor." In 2011, along with the PACS orchestra, he conducted a nine city tour of the People's Republic of China, including Beijing and Shenzhen. Bernard has received tremendous critical acclaim for his work, including a 2015 Lincoln Center performance of Igor Stravinsky's The Rite of Spring.
Founded in 1999, the Park Avenue Chamber Symphony has amassed devoted members along with worldwide recognition. Through fundraising efforts, PACS has established a Scholarship Fund for students at the Juilliard School's Pre College Division, while supporting The Harmony Program, a New York City organization that provides music lessons to economically disadvantaged children.
"'FROM THE INSIDE OUT!' is all about the experience of being inside the music," Bernard declares.
Getupclose and personal with Beethoven.
Calling all HuffPost superfans!
Sign up for membership to become a founding member and help shape HuffPost's next chapter