 Imagine a world where the entire influence economy in Washington were available to the public, online and in real time... Picture a single website that would function as a portal for all government agencies to file daily reports on lobbying meetings and allow the public to examine and search through the disclosures...with real-time access given us through the Web, this level of government transparency and accountability is actually possible.
It's not only possible; it's already happening! I've shared examples of innovative government transparency projects here and on GovLoop, both providing proof that Ellen's vision for "real-time government" is coming to fruition.
Last week, the US government took one more giant leap toward that vision when the General Services Administration (GSA) launched its Notifications Dashboard: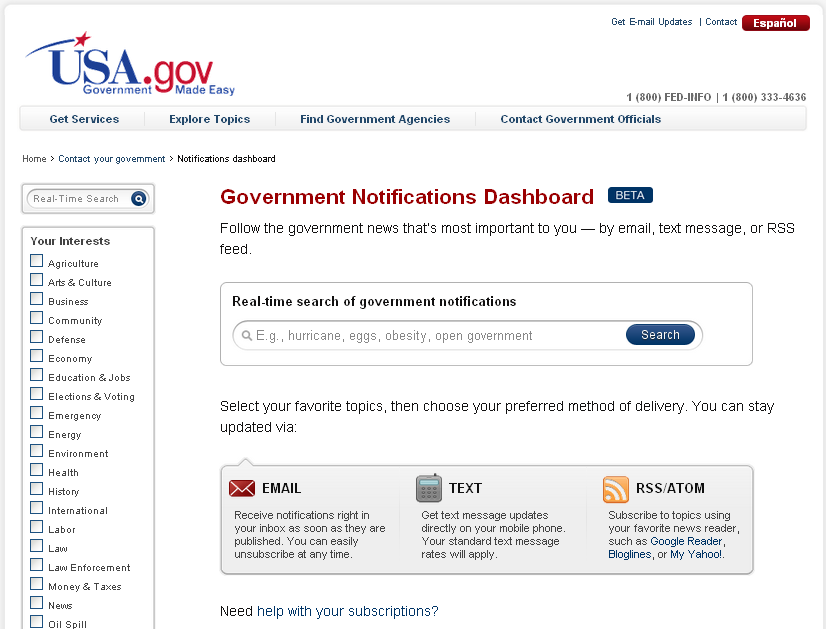 According to the announcement from GSA, the Notifications Dashboard "serves as a vast resource where the general public can access real-time information from the government on a wide range of topics and sign-up to have updates delivered to their computer desktop, smart phone, or other device."
Dave McClure, GSA's Associate Administrator of GSA's Office of Citizen Services and Innovative Technologies, explains:
Whether it be food safety recalls, weather warnings, or the latest information on government initiatives, the public's need for information from their government continues to grow. By putting real-time notifications at citizens' fingertips or in the palm of their hand, we have created a way for agencies to provide critical information that citizens want in ways that they want it.
Of course, the Notifications Dashboard is only one example among many projects at all levels of government. While GSA was releasing the dashboard, GovLoop's community manager Andrew Krzmarzick was attending an innovation showcase event called Manor.GovFresh in small-town Manor, Texas, along with guests like White House Deputy Chief Technology Officer Beth Noveck. Krzmarzick summarized a few of Noveck's keynote themes and she shared her own reflections on the experience at the White House blog under the title "City in a Box: Municipal Makeover Comes to Texas." In her post, Noveck marvels at Manor's technological progress in less than two years:
Manor has become so renowned for its creative use of technology that it has become something of a tourist attraction--bringing in visitors, for example, who can use their cell phones to scan the pictographic bar codes (known as QR codes) posted on historic sites and get free, automated guided tours. The city also now runs "See, Click, Fix" -- a free customer service platform that enables citizens to report pot holes, downed trees, and traffic lights in need of repair -- a service that has heretofore only existed in large cities like New York and San Francisco. And Manor runs Spiggit, an innovation platform through which it invites citizens to come up with ideas for running the town better.
Be sure to also check out Alex Howard's excellent summary of the event, "Harnessing the Civic Surplus for Open Government."
Another incredible tool for local government is GovLive. How would you like to get all of the information for your city, county or region in one place? You can. Just enter your zip code into GovLive's search function and "voila!" - you've got updates on schools, hospitals, city council, community events and more consolidated in one place. By the way, GovLive creator Chris Bennett has an awesome blog on GovLoop that highlights current events (he played a big part in the Oil Spill clean up effort) and shares tips for the average citizen on preparing for the unexpected.
In addition to these examples, we have been compiling several lists of "real-time government" on GovLoop, such as City, County and State Mobile Websites and Government-Related Twitter Hashtags -- two ways in which government agencies are rapidly sharing information and responding to citizen requests. These lists, which we created just a few weeks ago, are likely dated already!
To echo Miller again: "What this means for government and the future of citizen engagement is unprecedented. We are on the cusp of a new era of democracy and participation."
And we're just getting started.

NOTE: GovLoop is a wholly-owned subsidiary of GovDelivery, which worked under contract with GSA to create the Notifications Dashboard.
Popular in the Community