There was a time when you arrived at the airport, sometimes just minutes before your scheduled flight time, and hustled directly to your gate. You displayed your printed paper boarding pass, hopped on board, and were eventually treated to some food and beverage during the flight, for which you were not asked to pay. Nor were you charged for baggage, an aisle seat, or headphones. Ah, those were the days.
Except for the food. Airport food — how do I put this gently? — sucked. It was insipid. Across the board. And across the country.
Obviously things have changed. Some for the worse, and some for the better. On the downside, security procedures now require that your arrive hours before your scheduled takeoff to be subjected to a pat-down that in a different context would be considered inappropriate sexual behavior. On the other hand, airport food has gotten -- stay with me here -- pretty damn tasty.
So much so that there is now a good reason to arrive early. To eat.
Ask around and you're likely to hear positive reviews about the Tamale Boy food truck burritos in Portland's PDX, Tortas Frontera at Chicago's O'Hare, and many of the local restaurant outposts at Austin-Bergstrom International, including the "legit" Ruta Maya coffee. Friends also report enthusiastically about the fresh seafood at both Seattle's Sea-Tac and the Boathouse on the Bay in the Long Beach Airport, as well as the expansive menu at Ike's in Minneapolis's MSP.
I have personally enjoyed killer café Cubano and meat-stuffed croquetas at La Carreta and Cafe Versailles in Miami International, as well as a solid sushi meal at Deep Blue Sushi in JFK's Terminal 5, where international Terminal 4 even offers one last taste of America at Shake Shack before flying abroad. And I have consumed a lovely glass or two of Santa Rita Hills 2011 Pinot Noir, Drum Canyon Vineyard at the Milwaukee airport branch of the Vino Volo chain.
Yet the benchmark in airport foodservice in America right now is at - wait for it - Newark, New Jersey's Liberty airport. Airport hospitality company OTG pumped a reported $120 million into this state-of-the-art eating experience. However, you have to be traveling through the United Terminal 3 to have at it. If you are, you will discover a super impressive array of diverse, quality eating options, from casual take-out to full-scale restaurant dining.
OTG is clearly into good food, as evidenced by their hiring of chef Nate Appelman to curate and oversee the culinary offerings, as well as their many collaborations with celebrated, local name brand chefs. They're bringing things to the party which haven't been seen at airports before. Wood burning fire…in the terminal! All food made in house, on premises. And fish flown in directly from Tokyo's famed Tsukiji fish market.
What used to be a "food court" is now called "Global Bazaar", in which you'll find everything from Pat LaFrieda gourmet burgers and cheesesteaks to pastries and bonbons made with Valhrona chocolate to sushi from Tsukiji.
Then there are numerous sit-down restaurants throughout the terminal, among which are Forno Magico (in collaboration with Don Antonio by Starlita), French brasserie Saison (Alain Ducasse), little Latin plates at Novella (Jose Garces) and the "farm to terminal" restaurant Daily. In addition to these and other multicultural eateries, wine bar "oases" line the terminal, as do 3,500 iPads (so far) from which to order food at the gate lounges.
There's even a secret hideaway restaurant (Classified), available by invitation only to United's very top customers. If you're one of the lucky chosen you'll have the chance to sip Pappy Van Winkle along with delicious steak (pictured below) and sushi, at times in the company of well-known celebrity guests.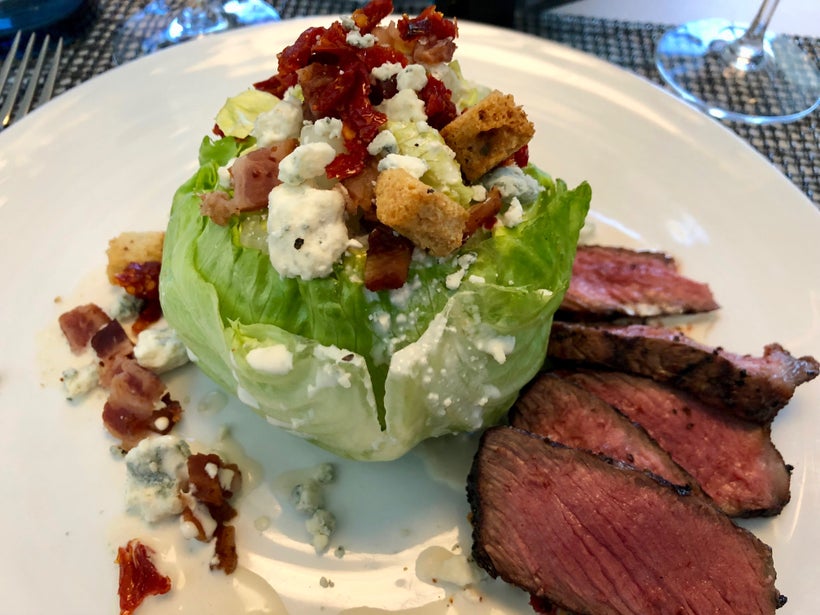 But you've gotta be flying United to appreciate any of this goodness in Newark. If you are, it's a welcome opportunity to trade those southwestern egg rolls at Chili's for a delightful meal as you await your departure. There is, it seems, a brighter future for airport food.
Calling all HuffPost superfans!
Sign up for membership to become a founding member and help shape HuffPost's next chapter
This post was published on the now-closed HuffPost Contributor platform. Contributors control their own work and posted freely to our site. If you need to flag this entry as abusive,
send us an email
.