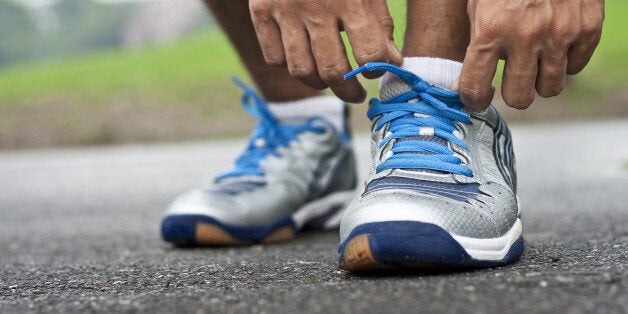 You can probably come up with countless reasons for why you just can't run. You don't have enough time or enough energy or the right neighborhood or the right sports bra. You don't have the body or sturdy enough joints or the desire to compete in a race. You're just not crazy enough to be a runner.
To all of those reasons and more, we say: How do you know until you've tried?
Here are just a few convincing reasons to start running. Let us know if you agree.
1. Because you can do it anywhere. We think it's safe to say that the more accessible your fitness routine is, the more you'll stick with it. Traveling for work? You can still go for a run! On vacation? You can still go for a run! Snow, sleet, rain, hail? Yep, you can still go for a run.
2. To make new friends. You don't have to toe the starting line to meet some friendly competition. Try a group run organized by a local running club or running store, or look for a Meetup group of like-minded runners near you.
3. To spend some time alone. Then again, if the running buddy thing isn't your scene, you might as well lace up for some "me time" and escape everything for a while.
4. To accomplish a goal. We don't have to tell you that it feels darn good to set a goal and then crush it. If you've always wanted to run -- whether your goal is to finish a marathon or just a loop around the block -- now's the time to lace up and check it off the list.
6. To burn calories. While we don't recommend exercising for the sole purpose of losing weight -- there are just so many other benefits! -- there's no denying that running is a big calorie burner. Your individual burn will vary depending on your sex, weight, level of activity and how far and fast you run, but you can expect to burn about 50 percent more calories per mile than you would walking the same distance.
8. To remember. Learning a new language isn't the only way to keep an aging brain sharp. Research suggests that staying physically active is even more important in preventing cognitive decline.
9. Because you'll sleep better. Regular exercisers reported significantly better shut-eye than couch potatoes in a 2013 survey from the National Sleep Foundation. But the survey's most promising finding was that a little bit goes a long way: Adding just 10 minutes of physical activity helped non-exercisers report better sleep.
11. For your heart. The American Heart Association recommends 40 minutes of moderate to vigorous aerobic activity -- a.k.a. running -- three or four times a week to help lower blood pressure and cholesterol naturally.
12. To relax. Those same feel-good chemicals released in the brain that lift your spirits can also help alleviate stress, even though exercise is technically a stressor on the body.
14. Because you'll get to spend more time outside. And a little extra time in nature in turn can keep you calm, happy and energized.
15. To see more of new places. There's nothing wrong with a casual stroll through your new neighborhood or the city you're vacationing in, but you could see a whole lot more at a faster pace!
16. Because you'll (probably) get to buy new shoes. If you haven't run in a while (or ever before), you'll probably need some new sneaks. They're about the only essential gear for running -- aside from the right sports bra for the ladies -- and who doesn't love shoe shopping?
18. To stay sniffle-free. You just might breeze through cold and flu season thanks to your new running routine. Moderate amounts of exercise seem to bolster the immune system's ability to ward off viruses.
19. To make a difference. When you're ready, try a race for charity. When the training miles get tough, remember the cause you signed up to run for -- and the people your running can benefit.
Related