Have you given up on your New Year's resolutions yet? You will not be alone. Should you be one of the many who decided to get fit this year and are already making excuses as to why you cannot go to the gym, I have the perfect solution-- belly dancing.
Hold up. Hear me through before you skip over this article. If you had mentioned belly dancing to me a few years ago when I was a personal trainer, I would have guffawed rudely. How wrong I would have been.
For women (or men) lacking in self-confidence, going through menopause, who want to shape up but detest gyms and running, or who need motivation and require a huge injection of self-esteem, this is undoubtedly the best activity you can take up. No joke, gentlemen can also benefit from this and they do not have to shake their booty like Shakira.
Belly dancing is becoming increasing popular with women in their 50s and 60s. Fitness, friendship and visibility are among the many reasons they are signing up to classes. And, they are not just noticing an improvement in physical health. Those going through menopause have seen a marked improvement in symptoms associated with the "change", from a reduction in hot flashes to resurgence of self-confidence. All the organs affected by the hormonal changes of menopause are strengthened by increased blood circulation, thus many report an easier transit through this stage of their lives.
Fleur Estelle, whose belly-dancing academy in London is renowned, holds 36 classes a week in eight different locations. Fleur has made several appearances on television, been in a Bollywood-themed episode of BBC drama Hustle and was featured sword balancing in a music video for Kasabian. She has also performed with her company for Princess Eugenie and members of the United Arab Emirates and Jordanian royal families. I was therefore honored to participate in one of her classes to discover more about this activity.
Suffice it to say, I have endued some hard-core kickboxing, spinning, and boxercise classes in my time as an exercise-fiend but never before have I worked all my muscle groups so seemingly little with such huge rewards.
First impressions -- the participants were amazingly friendly and encouraging. I am not usually accustomed to such comradery and excitement at the start of a class. Once the class began, it was impossible to not want to shake and wiggle with gusto. Fleur's enthusiasm spread like contagion. She would be able to make Donald Trump shimmy and enjoy doing it. Moves were explained then the music began. Like a marionette being worked by unseen hands, I jigged into life and found it remarkably easy to follow Fleur and her entourage. It is less difficult than performing a grape vine followed by a box step to a modern fast beat. Somehow your natural reaction is to shake those hips, or shoulders.
Half an hour later and I felt like a new woman. I was no longer a menopausal 50-something-year-old. I was a beautiful 30-year-old who was no longer embarrassed by her wobbly belly -- a girl can dream.
The following day, my stomach ached as if I had performed three hundred crunches but I felt taller, leaner, more poised and elegant. Dare I say it? I felt more feminine and sexy. It appeared I had caught the belly dancing bug.
Those who have been practicing it are effusive in their praise. I spoke to several groups of women all of whom were convinced belly dancing had improved their self-confidence, physical health and even sexuality:
"I think the major benefit has to be the confidence boost it has given me."
"I am a children's emergency nurse and the best way for me to wind down is belly dancing, it takes me an hour to get to class but I make an effort to travel that far because I love it so much." Beena Dodia
"I love belly dancing as it is fantastic exercise (super-charged if you do Tribal Fusion) and one of the best forms of stress relief I can think of. If I'm in a bad mood, half an hour of dancing can snap me out of it easily." Annabella Krol
"Belly dancing is quite possibly one of the best things that have ever, ever happened to me! The first time I belly danced (that was over 6 years ago!), I walked out of the class sashaying my hips, feeling all woman." Roshni Dominc
Lana summed it all up with her reasons to take up belly dancing:
•Really good exercise (better than any gym session!) but at the same time, it's so feminine.
•The costumes -- sparkly and gorgeous colors.
•For the most part, it is low impact, which works well for me as I have foot injuries so can't do many other types of exercise.
•So many different variations on belly dancing -- props, fusions with other forms of dancing, styles (Persian, Egyptian, Turkish) -- there is always something new to discover.
•Helps me to de-stress from the day job.
•A lovely supportive environment in classes and rehearsals -- everyone is willing everyone else to do well.
•Performing is an amazing adrenaline rush.
•A much more defined waist -- belly dancing really tones your obliques.
•Some awesome party moves -- everyone loves a shimmy!
•Lots of really good friends.
•More body confidence.
•Generally more confidence in how I present myself -- I get feedback now on the presence I have when I give presentations at work.
One thing is for certain, should you take up belly dancing you will not regret it. Men who have taken a class have been less effusive in their praise but confessed to me that they too felt better for doing the class and even secretly practiced moves at home.
Who does not want to feel younger, fulfilled, healthy and sexier? I am now off to the kitchen to shake my coin belt at my man. What about you?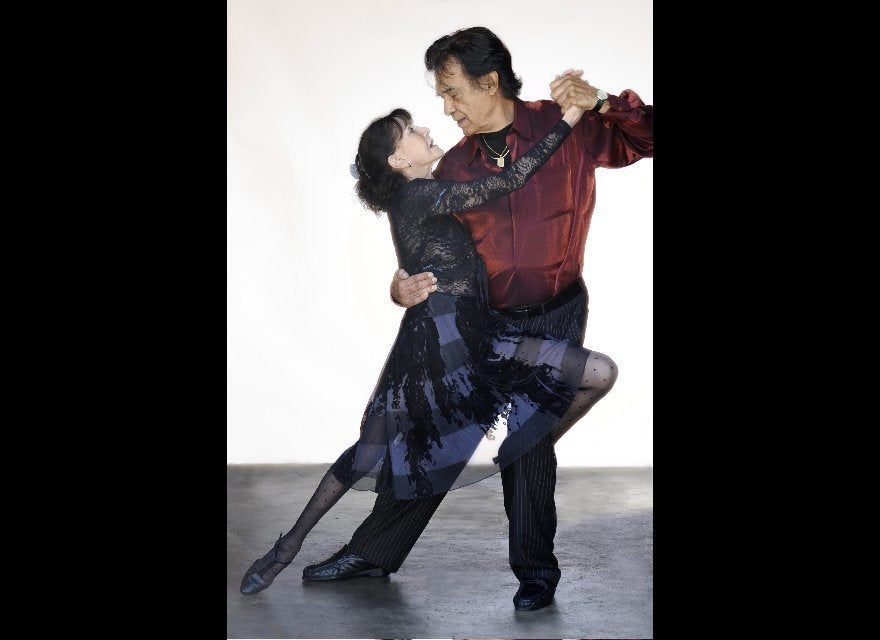 Phyllis Sues
Support HuffPost
The Stakes Have Never Been Higher
Related
Popular in the Community