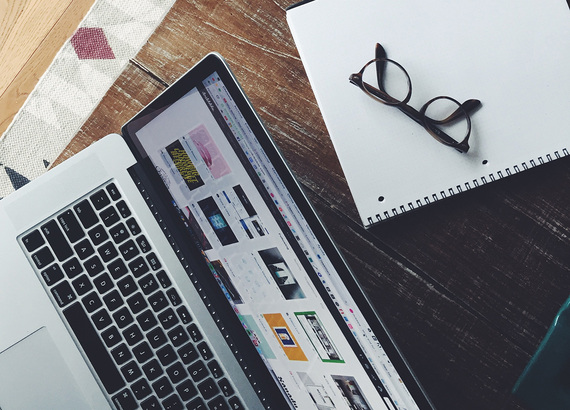 Image credit: Sebastian Mantel/Unsplash.
August 2016 marks 25 years since the first web page went live online. These humble origins of the internet as we know it are hard to believe considering the ever-growing sum of websites existing today - over a billion unique host names and counting.
However, looks can be deceiving. Truth be told, of the billion or so websites out there, only about a quarter are active - the rest are "parked" domains. Of the 250 million or so active websites, only a sliver receive traffic on a daily basis.
Here comes the real shocker: millions of entities out there - small businesses especially - still don't have a website at all. Not even a domain to call their own. In fact in the U.S. alone, it's estimated roughly 14 million small businesses, or 49% of American companies with about ten employees or less, are operating without a website.
While the tenacity and true grit of any company managing to stay above water without a website in 2016 cannot be overlooked, many might be needlessly fighting uphill battles in marketing, sales, and branding. Anyone who thinks they don't need a website, here are the top reasons why you need one.
Easier than ever
Carpenters, day care providers, plumbers, lawyers - there are many businesses and career paths where web design skills and online branding strategies aren't likely to come with the education and experience. These folks, even with healthy appetites for online content, often view the act of making a website to be out of their reach. The perceived options are pay someone a lot for what could turn out to be five months of waiting and back and forths before an acceptable product arrives, or a DIY website and end up with one of those tacky cookie cutter sites.
Choosing to hire someone for web design comes down to reputation - just make sure you've got positive ratings and/or word of mouth backing up their work before going forward. On the other hand, the ability to make your own unique website has never been easier thanks to advanced website builder tools. What was once a limited rotation of stale design options via HTML has become near endless array of customizable choices accessible via smooth interface.
The influence of the internet
They say history is written by the winners. These days it could be said history is written by those with the highest Google rankings. In an age when the internet never forgets, entities are right minded to proactively pursue ways to get control of their own online references - at least the most popular ones to show up when people search for them.
For example, the aforementioned daycare provider without a website could be victimized by a disgruntled client with bad ratings and reviews. This is an inevitable part of most businesses these days - being on the wrong end of what boils down to cyberbullying - but without an online presence to in essence counteract the bad publicity, there isn't much to do in defense of such attacks. In short it's bad for business to stay offline when it's almost guaranteed there will be negative content about them online at some point.
For individuals too
It's becoming increasingly common for individuals to buy up "their" domain name if available (Jack Beanstalk buying JackBeanstalk.com.) For the majority of folks choosing to do this, it's a matter of keeping someone else from potentially owning it. More times than not, these domains are "parked" as mentioned earlier and left undeveloped.
It's a bit like buying land and leaving it to be an empty lot just to keep someone else from taking advantage of the real estate. It's critical to build something there or else it's all cost and no gain for little more than spite and neurosis. Even if the content put on your "personal" site isn't driving massive traffic, there is benefit in possessing that positive presence online. For folks who feel it's a little vain to have a website for themselves absent a brand vision, keep in mind the content doesn't have to be all "you" - it can be anything you want.
Branding
Let's say building a brand is the endgame. If this is the case then the internet is an absolute necessity as far as where to anchor the brand. The anchor of the anchor is without a doubt a website. While social media profiles, YouTube videos, and digital advertising are important of course, they are supplemental to the existence of a website.
When it comes to brand building, a website is necessary for giving the brand legitimacy. At risk of wearing out the comparison to real estate, building a brand without a website is like declaring the creation of a nation-state without land for it to exist on; print all the currency and create all the culture you want, but where does it all lead?
Sales
Of course, for any entity in the business of turning a profit, the real reason to build a website in 2016 is to tap into sales. Making money and being online go hand in hand in today's economy. Even if businesses without a website presence are making money, there's still a good chance a website can help them expand.
Consider for instance the scope of internet sales: amounting to over a hundred billion dollars annually in the U.S. alone. Then factor in the increased opportunity for sales, as websites and the products and services provided therein are now available to markets on a global scale. Furthermore, the fact in-state consumers in the US are frequently looking out of state for purchases to avoid tax means there is a massive market outside of what's possible with only a traditional brick and mortar existence servicing a specific geographical location.
High return on investment
The potential for a website to significantly boost brand recognition, expand market potential, and provide entities with a positive online presence all greatly outweigh the costs of building and maintaining the website. In short, there's virtually no way to not see a high return on investment over time. This is especially the case when an overwhelming majority of business operations can be performed and conducted via the website rather than be completed with call centers, customer service agents, and other expensive alternatives.
Virtual space from a purchase point of view remains a steal considering the countless ways in which it can be converted to capital. Whether creating a blog, basing a business, showcasing a portfolio, or simply establishing a positive online image for potential clients and customers to see, the investment in building a website is going to lead to returns.
The web as we know it is only 25 years old yet already includes over a billion so called websites. Truth be told, many of these "sites" are little more than a "coming soon" icon. It's time to seize the potential of parked domains and design websites with original charm and functionality. Websites provide the foundation for legitimacy in an increasingly digital, virtual world getting smaller everyday.
Calling all HuffPost superfans!
Sign up for membership to become a founding member and help shape HuffPost's next chapter