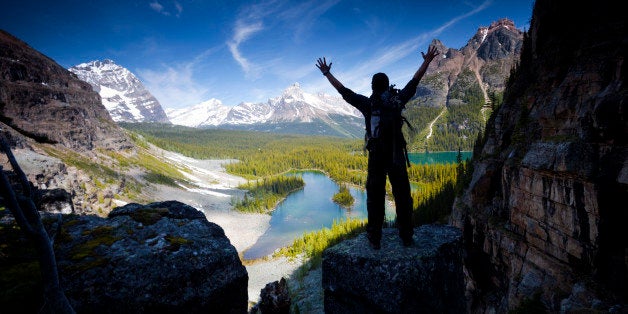 What do you have in your backyard?
Mine includes the Continental Triple Divide, twenty-five glaciers, a multitude of bears and moose and goats, an enormous see-through lake, and the US/Canadian border.
Needless to say, my weekends are packed with hiking and camping and skimming rocks from the beach.
It's been a year since I picked up and moved all I had to live in Death Valley National Park, Calif. Since then I've experienced the most beautiful of changes, both in myself and the places that surround me.
Living in Glacier National Park now, I've started to realize how much of a privilege living and working in the National Parks is.
And I think you should experience it all too. Here's why:
1. The People
The people you meet in these parks will make you laugh, they'll make you cry, they'll hike mountains and skinny-dip and share food and music and moments of silence with you.
And they come from everywhere. My time in the parks has brought me friends from Turkey, Thailand, Taiwan, Bulgaria, Germany, Slovakia, Russia, Ecuador, and Japan.
They've taught me bits of their languages and how to love our cultural differences, and now I have free places to stay and people to show me around in at least nine countries around the world!
Life in the parks consolidates things. It requires you to live, work, and play together, and that means getting to know people on a deeper level.
Some of the most wholehearted people I've met are the ones with whom I've shared the National Parks.
They're the ones who will spontaneously pull off the road to jump in the lake with you on the way home from town, or who will summit the highest peak in the Lower 48 on an off weekend.
People in the Parks are the ones who will stand between you and a bear while hiking over the Continental Divide and who are worth driving eight hours to another Park to visit.
They're inclusive and enthusiastic and become more like family than friends by the time the season's over. The ones I've met have become my hardest goodbyes.
2. The Views
Have you ever visited the Hottest Place on Earth and stood hundreds of feet below sea level?
Or have you ever watched grey whales swim with their calves up the Pacific coast?
What about watch the Northern Lights, have you ever done that?
Working in the National Parks is like stepping into a National Geographic magazine. The places you see on those pages are real, and they're all yours if you want them.
My walk to work every day is against the backdrop of 8,565 ft. Mount Brown, with the crystal blue waters of Lake McDonald in the foreground.
For some it's with a vista of the Old Faithful geyser, and for others it's along the rim of a dormant volcano.
With views like these, who needs vacations?
3. The Chance to Learn
I'd been in school for seventeen years by the time I moved to my first Park, but nothing compared to the learning and practical experiences I gained from working my first season in Death Valley.
Life in the Parks seems to strip life down to its bare bones, and you learn to fend for yourself without the amenities and technology of most places.
When you live in isolated places like Alaska or the Grand Canyon, you'll quickly find your primal instincts being stressed and honed.
Things like wildlife safety and how to start a fire when it's just rained are tactics you might not use in a city, but in the Parks they could be the difference between life and death.
Experiential learning is a powerful tool, and by broadening your experiences to include life in the great outdoors, you'll gain a new repertoire of practical skills and become a more well-rounded person.
Which leads us to our last point...
4. The Personal Growth.
I've asked a number of people with whom I've worked in these Parks, and the results have been unanimous: working in the Parks makes you a better person.
I think it's a combination of the last few points, but there's something about the seasonal Park lifestyle that builds confidence in a person like few experiences can.
It's something that forces most people out of their comfort zones and challenges them to sync up with who they really are.
Life in the Parks is certainly not for everyone, but experiencing places like Yosemite or Arches or the Everglades is something not many people get to do.
So whether you're a high school graduate looking for a gap year before college, or a retired couple wanting to see the country, consider spending a season in a National Park or two.