Wisconsin Gov. Scott Walker's (R) newly-appointed state Supreme Court justice, Rebecca Bradley, once wrote columns calling gay people "queers" and arguing that individuals who get AIDS deserve no sympathy.
Bradley is a conservative judicial superstar, rising through the ranks during Walker's tenure with the support of groups like the Wisconsin Club for Growth. The governor first named her to the Milwaukee County Circuit Court in 2012, and then he elevated her to Wisconsin Court of Appeals in May 2015. In October, when a vacancy arose on the state Supreme Court, Walker again gave her a plum appointment.
Bradley is now up for a full 10-year term, with voters heading to the polls on April 5.
"But the homosexuals and drug addicts who do essentially kill themselves and others through their own behavior deservedly receive none of my sympathy."
On Monday, the liberal group One Wisconsin Now released columns Bradley wrote in 1992 for the student newspaper at Marquette University, urging her to resign from office.
In one column, she criticized people trying to bring attention to the AIDS epidemic, hitting "their misdirected compassion for the degenerates who basically commit suicide through their behavior."
"But the homosexuals and drug addicts who do essentially kill themselves and others through their own behavior deservedly receive none of my sympathy," she wrote in another column.
She also argued that it would be better to get AIDS than cancer, "because those afflicted with the politically-correct disease will be getting all of the funding."
"How sad that the lives of degenerate drug addicts and queers are valued more than the innocent victims of more prevalent ailments," she added.
In a statement, Bradley said she was embarrassed by her old writings, but she also argued that those issues having nothing to do with her current work.
"To those offended by comments I made as a young college student, I apologize, and assure you that those comments are not reflective of my worldview," she said, according to the Milwaukee Journal Sentinel. "These comments have nothing to do with who I am as a person or a jurist, and they have nothing to do with the issues facing the voters of this state."
She also called One Wisconsin Now's release of her old columns part of a "blatant mudslinging campaign to distract the people from the issues at hand."
But Sarah Warbelow, legal director for the Human Rights Campaign -- a national organization that fights for lesbian, gay, bisexual and transgender equality -- said Bradley's comments do matter in the context of her position on the Wisconsin Supreme Court, because people should be able to expect "a fair and impartial decision" from the judicial system.
"Unfortunately, this disturbing and hateful language raises serious questions about Justice Bradley's commitment to full equality under the law for LGBT residents and people living with HIV/AIDS," she added.
Walker's spokesperson said Monday that the governor had not been aware of her old columns.
"Justice Bradley appropriately made it clear today that a column written in college does not reflect her views as a Supreme Court Justice, a court of appeals judge, a circuit court judge or as an attorney," Walker added in his own statement.
A recent poll found a dead heat between Bradley and her rival, state Appeals Judge JoAnne Kloppenburg, who is favored by liberals.
This piece has been updated with comment from the Human Rights Campaign and Walker.
Before You Go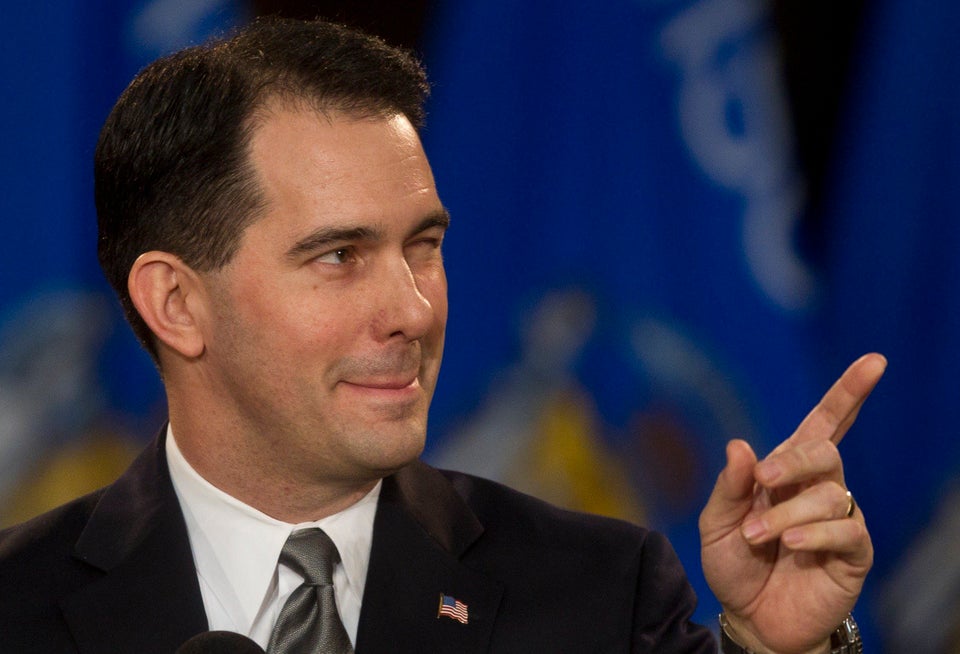 Scott Walker Pointing Fingers
Popular in the Community