Wisconsin voters elected Rebecca Bradley to a full term on the state Supreme Court Tuesday, a significant victory for Gov. Scott Walker (R) and conservative groups in the state that threw their support to her.
While national attention was focused on the presidential contests, many voters in the state were just as interested in the state Supreme Court race. The contest jumped into the headlines in recent weeks after the progressive group One Wisconsin Now unearthed controversial columns Bradley wrote while a student at Marquette University in the early 1990s.
But Bradley had the full support of the conservative movement behind her. She has risen through the ranks during Walker's tenure with the support of groups like the Wisconsin Club for Growth. The governor first named her to the Milwaukee County Circuit Court in 2012, and then he elevated her to Wisconsin Court of Appeals in May 2015. In October, when a vacancy arose on the state Supreme Court, Walker again gave her a plum appointment.
In one of her college columns, Bradley criticized people trying to bring attention to the AIDS epidemic, hitting "their misdirected compassion for the degenerates who basically commit suicide through their behavior."
She also argued that it would be better to get AIDS than cancer, "because those afflicted with the politically-correct disease will be getting all of the funding."
"How sad that the lives of degenerate drug addicts and queers are valued more than the innocent victims of more prevalent ailments," she added.
Bradley apologized for the columns after they came out, saying they were old and have "nothing to do with who I am as a person or a jurist, and they have nothing to do with the issues facing the voters of this state."
Bradley defeated state Appeals Court Judge JoAnne Kloppenburg, who was backed by liberals. She will now have a full 10-year term on the state Supreme Court and be part of the conservative majority on the seven-member court.
Kloppenburg and her backers tried to tie Bradley to Walker, with one of her ads asking, "Is Rebecca Bradley independent enough to serve on the Supreme Court?"
The Greater Wisconsin Committee, which supported Kloppenburg, spent at least $345,430 on TV ad contract purchases in the general election, according to the Brennan Center. The Wisconsin Alliance for Reform spent far more to help Bradley -- more than $1.5 million in the primary and general elections.
Scot Ross, executive director of One Wisconsin Now, said the spending numbers he saw were even more dramatic, showing pro-Bradley groups outspending pro-Kloppenburg groups 5-1.
"Public confidence in Wisconsin's Supreme Court has plummeted in recent years, and high-cost and politicized elections like this one are one of the big reasons why," said Alicia Bannon, senior counsel in the Brennan Center's Democracy Program. "When judges start looking like politicians in robes, the public may wonder if they can be trusted to decide cases fairly and impartially."
The race even attracted the attention of presidential candidates.
"There is no place on any Supreme Court or any court in this country, no place at all for Rebecca Bradley's decades-long track record of dangerous rhetoric against women, survivors of sexual assault and the LGBT community," Hillary Clinton said during a speech in Milwaukee Saturday night.
CORRECTION: Due to an editing error, an alternate version of this article, premised on a Kloppenburg victory, was inadvertently published early Wednesday morning. The above article was published in its place shortly after.
Before You Go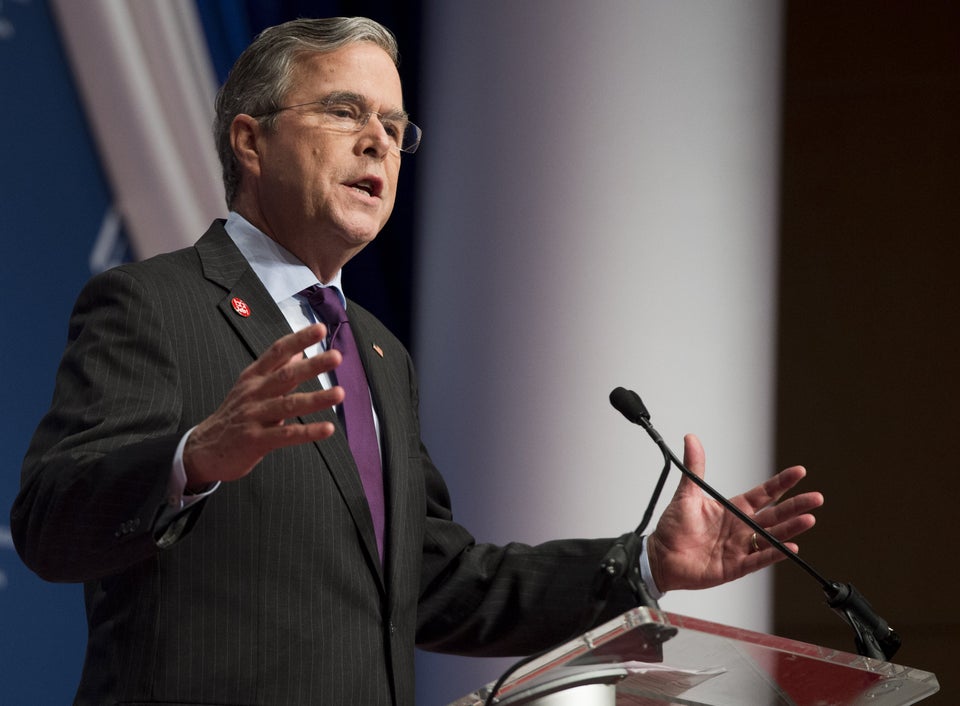 14 Worst Anti-Gay Statements By GOP Presidential Candidates
Popular in the Community