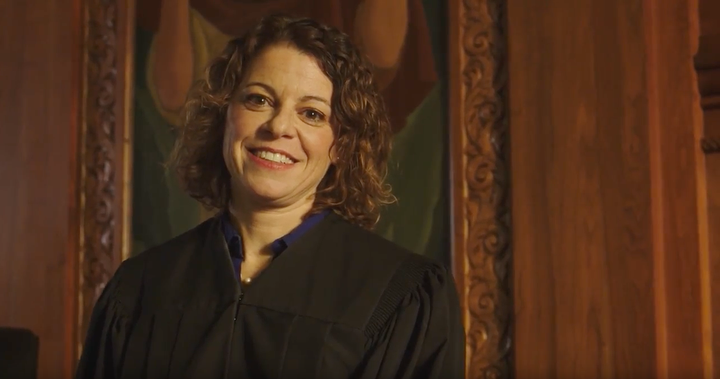 Milwaukee County Circuit Judge Rebecca Dallet won a seat on the Wisconsin Supreme Court Tuesday, a victory for Democrats that gives more momentum for a potential blue wave in the November midterm elections.
State Supreme Court races rarely merit national attention. The Wisconsin election ― which gives justices a 10-year term ― was officially nonpartisan, but it was crystal clear where the partisan lines formed.
Dallet picked up endorsements from former Vice President Joe Biden, Sen. Cory Booker (D-N.J.) and former Rep. Gabby Giffords (D-Ariz.), while former Attorney General Eric Holder went to the state to campaign for her.
Dallet defeated Sauk County Circuit Judge Michael Screnock, an appointee of Gov. Scott Walker (R) who had his own big-time backing from the National Rifle Association.
"We beat the NRA, and we beat the millions in special interest money that flowed into our state," Dallet said in her victory speech Tuesday night.
Conservatives will still control the court, although their majority drops from 5-2 to 4-3 with Dallet's win.
Walker tweeted that the results in the race showed Democrats clearly had momentum on their side.
With Dallet's win, six of the seven justices on Wisconsin's high court are women, as DailyKos noted, meaning the state ties with Washington for the greatest number of female Supreme Court justices.
These days, every state legislative race and special election ― which in other cycles might go by unnoticed ― is getting extra attention because of the message the results may send about what will happen in November.
Democrats, stunned by their losses in 2016, have thrown energy into organizing and mobilizing since President Donald Trump's election. They've flipped 39 state legislative seats from red to blue during Trump's term, plus the governor's seat in New Jersey, the U.S. Senate seat in Alabama and the 18th Congressional District in Pennsylvania.
Republicans, meanwhile, have turned just four state legislative districts from blue to red.
In January, Democrats had another big win in Wisconsin: They took a state Senate seat that Republicans had held since 2001. Trump had won the district by 17 percentage points.
Republicans have a powerful political machine in Wisconsin, and Democrats recognize that picking up ― and holding onto seats ― in November won't be easy, especially with Walker on the ballot seeking a third term.
But even Walker called Democrats' surprise win in January a "wake-up call," and House Speaker Paul Ryan (R-Wis.) said Republicans should absolutely "pay attention" to the results.
"One thing is clear: our voters across Wisconsin are organized and energized for November," said Martha Laning, chair of the Democratic Party of Wisconsin.
Popular in the Community