Rebecca Hall has worked with her fair share of well-known directors, including Christopher Nolan, Woody Allen and Ben Affleck, but her recent experience on "The BFG" with Steven Spielberg was one for the books. 
The actress, who plays Mary in the onscreen adaptation of Roald Dahl's beloved novel, opened up to The Huffington Post about her "special experience" working with Spielberg during an AOL Build interview on Tuesday. 
"Steven Spielberg was a huge part of my childhood, like everyone's, I guess," Hall said, referencing her love of "E.T." and "Jaws" (which she says she watched when she was "far too young.") Hall was thrilled to be a part of the whimsical movie, which tells the story of a young orphan, Sophie (Ruby Barnhill), who forms a bond with a non-human-eating giant nicknamed the BFG or the Big Friendly Giant, played by Mark Rylance.
"He seems to have a very unique access to what it is to be a child still, and he has all of that wonder and excitement and joy about life," Hall added of Spielberg. "I think that's what makes his films for children so brilliant and also what makes him so brilliant to direct children. It was really special to watch him do that and watch him create this world."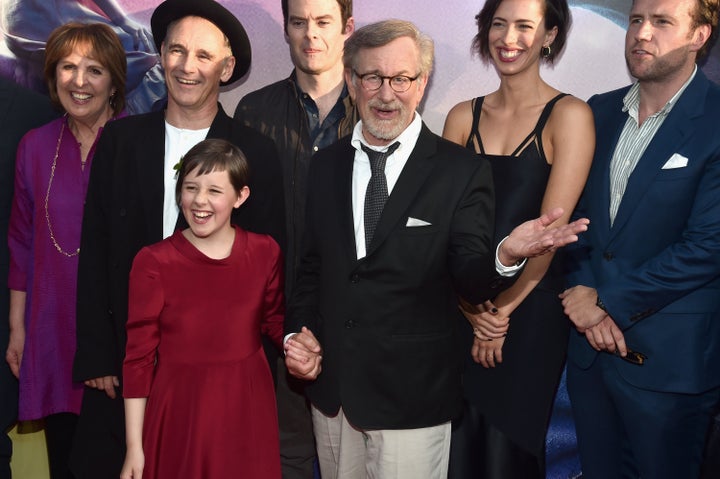 Hall appears in the live-action part of the film, which takes place in Buckingham Palace as the Queen (Penelope Wilton) and co. meet the BFG. But despite not being involved in any of the green screen, CGI and motion-capture bits, the actress was "blown away" by the special effects and Rylance's imaginative performance. 
"I'm in the last quarter of the film, so when I watched the film, I was very much like an audience member who had no expectation or understanding of what I was supposed to see for the first hour and 15 minutes. And I saw it for the first time with an audience at the Cannes Film Festival, which was kind of crazy, and I was blown away by it because the effects are unparalleled to anything that I've seen. It's completely magical and it's completely transportive and fantastical, but it's also completely real," she explained. "I acted with Mark Rylance, who plays the BFG, and everything that I saw him do, everything that I saw him act, is the same in the animation. Exactly. I could see his performance."
Watch Rebecca Hall's full AOL Build interview below: 
Calling all HuffPost superfans!
Sign up for membership to become a founding member and help shape HuffPost's next chapter
BEFORE YOU GO
PHOTO GALLERY
Summer Indie Movie Preview 2016