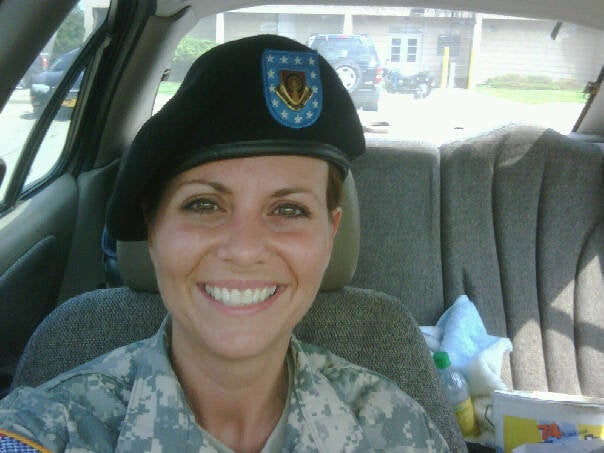 Rebecca Johnston, the mother of four featured in Barack Obama's 30-minute campaign infomercial last fall, will be shipping off to boot camp next Wednesday.
In the ad, Obama promised a "rescue plan for the middle class." But it hasn't come soon enough for the Johnstons of Kansas City, Mo., portrayed in the video as struggling to pay bills and cover the kids' expenses -- and having to put off knee surgery for Rebecca's husband, Brian, who worked in a tire-retreading factory.
Johnston, who does administrative work at Liberty Hospital, joined the Army Reserves in June to get some financial security for her family.
"My kids' ages range between 15 to 3," she told the Huffington Post in May, back when she was preparing to sign up. "At this point I look at it like I can't contribute anything to their college, I can barely make their health care costs, we're just skimming by paycheck to paycheck."
This time next week Johnston will be starting basic training at Fort Jackson, S.C., gaining health and educational benefits for her brood. It might not be the most fun for Johnston, who stands a little over five feet tall and will turn 35 in September. She'll be with a bunch of 19- and 20-year-olds.
"I just have to remember not to compare myself because I'm older and slower, and having four kids, my abs aren't the same," she said this week. "I heard it's pretty tough because the men don't appreciate training with the women...I've been warned by several sergeants that I'll probably be teased quite heavily."
Johnston said she went through some drills in June and July, got her uniform and learned a few things, like how to stand at attention. Basic training will finish up in November, at which point she'll go to Virginia for training in her specific job as a transportation management coordinator until February. After basic training, Johnston will face the prospect of a war-zone deployment every few years in a six-year commitment.
At first, Johnston said her parents disapproved of her plan. But, she said, "They've come around to appreciate what I'm doing and really see the effort I'm making."
It'll be her parents who watch the kids while she's gone; she said her enlistment, on top of their weak finances, put too much of a strain on her marriage, and she and Brian separated a few weeks ago. She said she's maintaining a positive and confident outlook for the sake of her kids.
"I tend to be the rock," she said. "I come from a long line of rocks."
WATCH "American Stories":
Popular in the Community