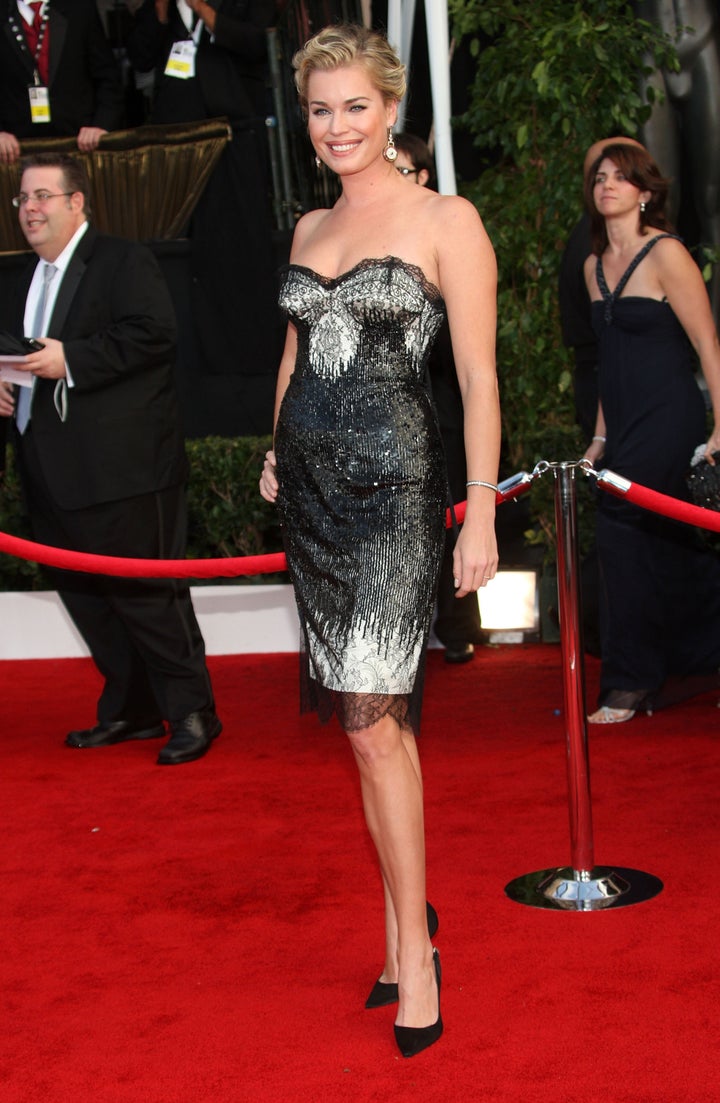 New mom Rebecca Romijn is talking about losing almost 60 lbs since giving birth to her twin daughters and going back to work. She credits most of her weight loss to breastfeeding and admits she wears Spanx.
She opened up to Extra!, and they sent out the following story.
(Los Angeles - April 30, 2009) - In Rebecca Romijn's first interview since giving birth to four-month-old twins, Charlie and Dolly, she reveals to "Extra" her secret to dropping the baby weight, the hardest part about going back to work and how she and husband Jerry O'Connell keep their romance alive.

Romijn's close to losing the 60 pounds she gained during her pregnancy and get this...She's done it without a workout plan. "I think within the first three weeks, I took off like 35 pounds without doing anything!" Okay, almost anything. "I haven't been able to work out that much because I have twins. It's impossible to get back into a regular schedule." So, what is her secret to dropping the pounds? "Breastfeeding is the very best diet I've been on. It's amazing. It's like you have to eat 5,000 extra calories a day or you can't produce enough food for them. So, that's been fun as well." She adds, "I'm not pretending to be back to the shape I was in beforehand anyway. I still have a ways to go...We've got Spanx underneath almost everything..."

On the set of her new film, The Love Child, Romijn opened up to "Extra" about being a working mother. "It's been complicated for a number of reasons. Our hours have been really late and we're working outside of Toronto in Hamilton which is about an hour away and I am still nursing [the babies] around the clock. So, we have to do a lot of milk runs..."

And O'Connell sounds like superdad. "He's so awesome. He's just like totally on diaper duty. I think he's having a really good time also."

It's not all baby time for Romijn and O'Connell though. They do find time for date nights. "Because the grandparents are here, everybody switches off when they are taking care of the babies and it's working out perfectly...[Jerry and I] will end up sneaking away for an hour even if it is just around the corner from the hotel."

When an "Extra" fan asks if it's hard to tell the twins apart, Romijn responds, "No because they look completely different. One looks just like Jerry. Her name is Charlie and the other one looks just like me. Her name is Dolly. She's a blonde and Charlie is a brunette and I think they are both just gorgeous."

Romijn continues, "They're really smiley and not fussy...For four months old, it's supposed to be really difficult but I have to say, it's just fun."

"Extra's" interview with Rebecca Romijn airs tonight and for more on this story, click on extratv.com.
Support HuffPost
The Stakes Have Never Been Higher
Popular in the Community