Even as Rebekah Brooks, the embattled head of Rupert Murdoch's British newspaper division, arrived at his London residence on Sunday afternoon, signs were everywhere that her former employees want to see her forced out of power.
One big sign? The final crossword puzzle in the News of the World, which was shut down thanks to the phone hacking scandal that has plunged Murdoch's News International into one of its gravest crises ever. Some very fishy clues managed to sneak their way past the editors (or, rather, managed to sneak their way in with the consent of the editors).
Some of the clues in the paper's Quickie crossword include "Brook," "stink" and "catastrophe."
Another crossword included the clues "criminal enterprise" and "string of recordings," which could reference both the hacking scandal and the leaked recordings of Brooks' chat with News of the World staffers. There was also "woman stares wildly at calamity." The answer to that particular clue? "Disaster." Other answers included "menace," "deplored," "stench" and "tart."
Moreover, The Guardian spotted a rather direct attack on Brooks that was posted in the Irish offices of the News of the World: a picture of her head on Adolf Hitler's body, complete with drawn-on Hitler mustache.
Even with all of the ire directed towards her, Brooks is still running News International. Murdoch professed his "total" support for her just before he flew to London to meet with her, and emerged from his residence on Sunday with his arm around her. Meanwhile, the hacking scandal shows no signs of diminishing.
Photo of the crossword puzzle (via Daily Mail):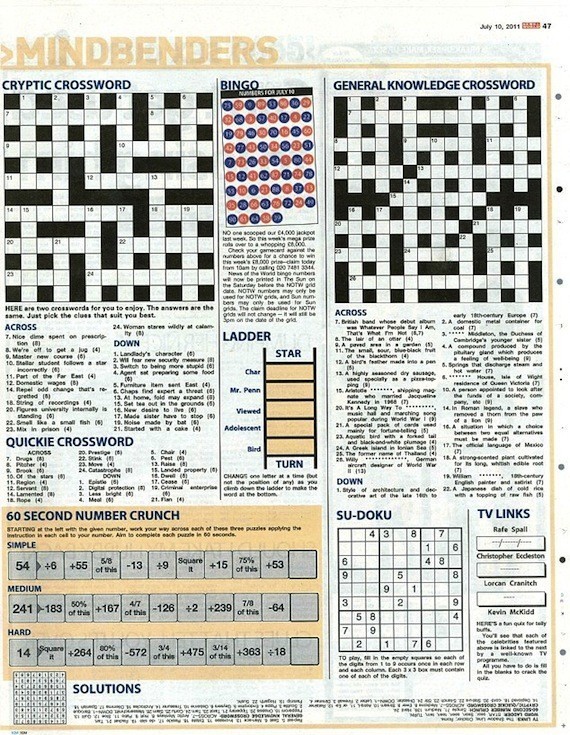 Popular in the Community