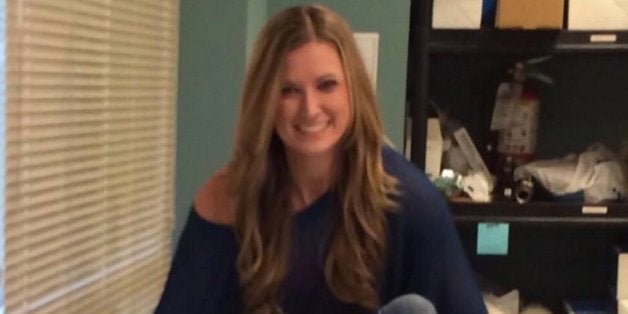 BOSTON -- A woman who nearly died in the Boston Marathon bombing wrote an intense letter to Dzokhar Tsarnaev on Wednesday, telling the accused bomber that she had finally conquered her fears by testifying against him earlier that day.
Rebekah Gregory was a spectator at the 2013 race, along with her son, her boyfriend and his family. She was badly wounded in the bombing, and eventually lost her left leg. Gregory also witnessed another person die. Since that day, she says she has been haunted by the panic she felt when the bomb separated her from her son, then 5 years old.
"We don't really know each other and never will. But over the last two years, I have seen your face not only in pictures, but in almost every one of my nightmares," wrote Gregory, who now walks with a prosthetic leg.
"Up until now, I have been truly scared of you," she continued. "But today, all that changed. Because this afternoon, I got to walk into a courtroom and take my place at the witness stand, just a few feet away from where you were sitting. (I was WALKING. Did you get that?) And today I explained all the horrific details, of how you changed my life, to the people that literally hold YOURS in their hands, That's a little scary right?"
Gregory said that it was nerve-wracking to testify against Tsarnaev in the federal trial, which began on Wednesday. But ultimately, she said, sitting across from the 21-year-old accused terrorist in the courtroom was therapeutic and empowering.
"And this afternoon before going in, I'm not going to lie...my palms were sweaty. And sitting up there talking to the prosecution did make me cry," she wrote. "But today, do you know what else happened? TODAY...I looked at you right in the face....and realized I wasn't afraid anymore. And today I realized that sitting across from you was somehow the crazy kind of step forward that I needed all along."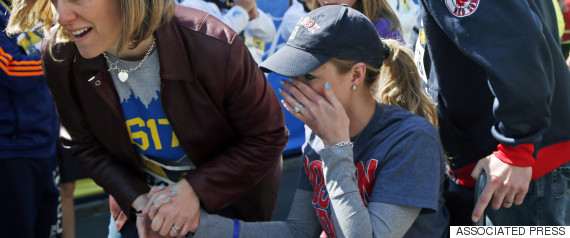 Boston Marathon bombing survivor Rebekah Gregory wipes tears as she is led in her wheelchair after crossing the finish line of the Boston Marathon Tribute Run with Tracy Kiss, left, of Framingham, Massachusetts, in Boston, Saturday, April 19, 2014. (AP Photo/Elise Amendola)
Gregory called Tsarnaev a "coward" for avoiding eye contact with her in court. She signed her letter as "Someone you shouldn't have messed with."
She was one of four victims injured in the bombing who offered testimony Wednesday afternoon, while prosecutors showed graphic images from the attack.
The injuries to Gregory's leg were so severe that she had 17 operations before doctors finally amputated her leg below the knee in November 2014. She posted a widely read "break-up letter" to her leg before it was removed.
"My bones were literally laying next to me on the sidewalk," said Gregory in the letter to Tsarnaev. "I thought that was the day that I'd die."
Calling all HuffPost superfans!
Sign up for membership to become a founding member and help shape HuffPost's next chapter