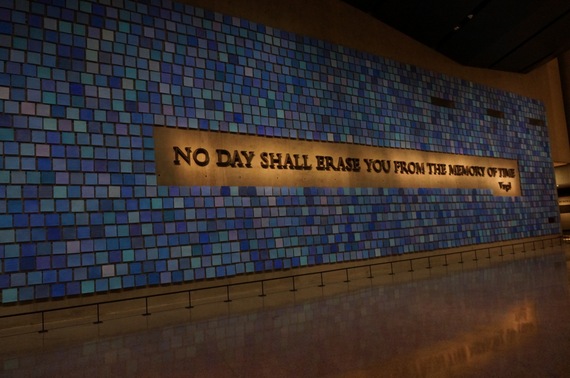 "Study the past if you would define the future."
― Confucius
With the 9/11 National Museum officially open to the public this week, much has been written about the the controversy over victims' remains placement, the admission price, gift shop selections, and the possible trauma the exhibits may inflict on visitors. While some of the news has been discouraging, I'm choosing to stay focused on the bigger picture. After visiting the museum last week, I'm not going to lie -- it is filled with triggers which brought up a lot of the trauma from the early aftermath, and I've spent the days since holding my sorrow gently, quietly processing it all. But in spite of my sorrow I am very grateful, and dare I say it, I am content.
Some may wonder, "How on earth can she be grateful and content while she's coping with trauma?"
I guess the best way to explain it would be to start near the beginning:
In the summer of 2002, I signed on to participate in the documentary, Rebirth, with the intention of sharing my late fiancés story, Sergio Villanueva, who answered the call with his FDNY company, Ladder 132 from Brooklyn. It was my mission to ensure the victims and their individual stories didn't get lost in a blur of almost 3,000 names, and signing on to the nearly decade-long film project held promise that Sergio's story would be told. In the weeks leading up to the first anniversary of the September 11 attacks, I designed a poster of Sergio with the same intention of putting a face to his name. I took extra care in choosing the best photos and writing short descriptions which captured the essence of who Sergio was -- full of life and happiest when surrounded by his family and friends. I wrote a letter to Humanity, in an effort to remind people of the lessons of the day. Except for the date and a few style changes, it looked like this: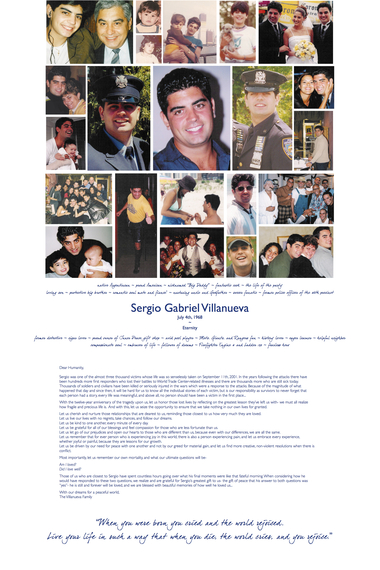 It was especially important for me to display the poster around Ground Zero, when all that seemed to exist there was a dust covered space dotted with construction vehicles: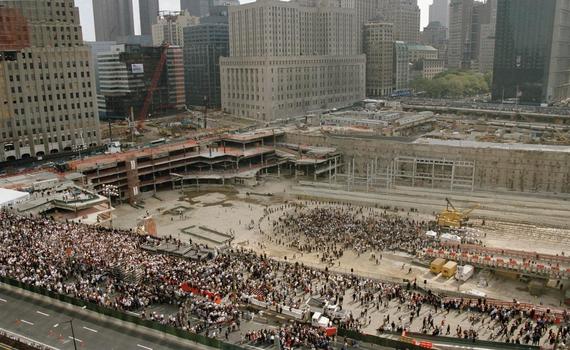 My first interview for Rebirth took place on September 10, 2002, the day I hung Sergio's poster at Ground Zero for the first time. Except for 2008 when my second daughter was born, every anniversary thereafter I hung Sergio's poster and sat down for my interviews; it was my yearly ritual and two of the ways in which I coped with the very difficult day. In 2009, filming for Rebirth stopped, and the feature film premiered on Showtime on the 10th anniversary of the attacks, on the same day the September 11th National Memorial opened. Knowing there was finally a beautiful and sacred place for people to connect to the victims, I felt I no longer needed to hang the poster at Ground Zero.
Last year, I came full circle with a teacher from E.O. Smith High School in Connecticut, Tim Bowen, after he reached out to me via Facebook to tell me he had been using Rebirth with his students as part of his September 11th curriculum. We began an exchange which led to us meeting through Skype, where I delivered a talk to his class alongside Tim Brown, my dear friend and fellow Rebirth participant.

During that talk and in a similar one with his new class a few weeks ago, I shared more details about who Sergio was, illustrating the lesson I learned about living life with no regrets as Sergio did -- loving big, grabbing joy, and making a difference in the lives of others. I talked about what we faced and how we coped on the day and in the aftermath, and shared the importance of therapy and peer support when dealing with grief or life crises. I spoke of how I slowly but surely rebuilt my life and found love and happiness again with my husband Ray and our two daughters, conveying that while life will go against our expectations and sometimes devastate us, time, change, hope and faith can carry us through to a life that is beautiful again.
Tim Brown shared his own story of surviving both collapses, and told the kids about the heroism of his best friends, Captain Terence Hatton and Captain Paddy Brown. He also emphasized that the attacks were not a result of various conspiracy theories the kids may have heard about, but rather a deliberate terrorist act against America by al Qaeda, and spoke about his work with the government to ensure that those who were involved were brought to justice.
Tim Bowen and his students responded to the talks with the most heartwarming letters of gratitude, a reward of meaning and purpose to all of the pain I've felt after losing Sergio, and inspiration to develop an initiative with Project Rebirth, the non-profit organization which produced the film, to use Rebirth to give a personal connection to September 11 to other high school and college students. Serendipitously, because of an interview I had scheduled with CBS around the National September 11th Museum opening last week, I was able to join Tim Brown as he met Tim Bowen and his class in person on the day they were taking their annual field trip to Ground Zero -- a meeting they had scheduled months before.
The experience was a whirlwind of excitement and awe that we were all finally meeting in person, combined with reverence for the sacred space where Sergio and thousands of victims senselessly lost their lives. Tim Brown and I took the class to see the names of our loved ones and friends, and talked to them further about who they were and the individual stories resulting from the day. While we will always wish there had been more time, when all was said and done, it was a profoundly meaningful experience for all of us. Tim Bowen later posted on his Facebook page:
Yesterday was quite an unbelievable day for me and my students. It started actually on 9/11/01 as I watched the news unfold as the second tower was hit while I was teaching a class. We as all Americans were deeply moved. Since that day I dedicated part of my classroom to commemorate those who were heroes that day. In 2003 I brought my students to Ground Zero in New York and there I saw a poster of Sergio Gabriel Villanueva and his gleaming smile always stuck with me. He lost his life as a brave firefighter on 9/11. I thought -wow whoever put this poster up really loved him a lot-it was a huge color poster. We continued our trips to Ground Zero through construction of the 9/11 Memorial. I always made 9/11 a teaching moment in my classroom on the anniversary.

Fast forward to 2011.

In 2011, the documentary Rebirth was released through Project Rebirth. As I watched it I saw Tanya Villanueva Tepper who loved Sergio so much speak about Sergio and their relationship. They were soul mates and engaged to be married.

I now made the connection never forgetting his smiling face from 2003. Last May I reached out to Tanya and she reached out further. Our story came full circle yesterday. My students and I were able to meet Tanya and Tim Brown a New York Firefighter also in the documentary, who lost two of his best friends Terence S. Hatton and Patrick J. Brown along with 91 of his firefighter brothers. He also knew Sergio and played soccer together on the Fire Department team... This was undoubtedly my best day of teaching ever... The families should know that the stories of their loved ones will be told and they will not be forgotten."
True contentment is felt when we recognize all of the many moments of grace and providence which lead us to come full circle and fulfill our intention. We are at peace because we're given meaning to our experience, no matter how painful the journey was in getting there.
Knowing that one teacher has cared so much to teach his students about the events of September 11 in a way that gives them the personal connection I had always hoped for when I set out to hang Sergio's posters and signed on to participate in Rebirth-
I am grateful, and I am content.
Knowing these students will live their lives fully, seek support when they need it, tap into their own resilience when called to do so, and be the ones to continue to tell our loved one's stories long after we are gone...
I am grateful, and I am content.
Knowing that many, many people worked so very hard to build a memorial and museum which in my opinion, is beautiful, and sacred, and thoughtfully tells a complete story of what happened on the day and in the aftermath..
I am grateful, and I am content.
Yes, much of the museum is difficult to see, especially for those of us who were directly impacted, but we cannot sugar coat any of the horror which took place on that day. My advice to those of you who are planning on going and have been personally affected -- see it in your own time, at your own pace, and give yourself a safe space to process it all after. Most importantly, hold your sorrow gently, and take comfort in knowing our history has been written, and future generations will not only understand, they will never forget...


"If you don't know history, then you don't know anything. You are a leaf that doesn't know it is part of a tree. " ― Michael Crichton
Calling all HuffPost superfans!
Sign up for membership to become a founding member and help shape HuffPost's next chapter