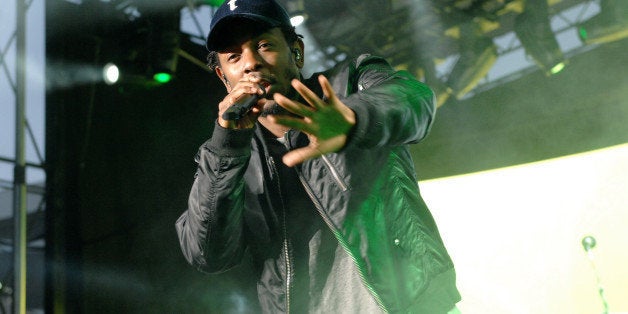 Over the past year, I've been struggling to find out who I am as a musician. I've been a music producer for 9 years, teach music theory and music production here in NYC, and, what a lot of my friends and colleagues don't know is, I am an instrumentalist.
At 6 years old I was taking guitar lessons and learning how to read music. At 13 I joined the junior high band in my hometown and learned to play the trumpet. As I got older, I became more and more fascinated with hip-hop production. At 19 I bought my first drum machine, a MPC2000XL. This is where my musical path changed. As a hip-hop producer the live instrumentation took a back seat. Digging in the crates, sampling old soul records, and turning those samples into beats became the idea. Practicing an instrument and using that instrument on recordings became obsolete to me. I became more concerned with learning how to create records digitally and quickly. As time went on, my music would become more digitally based.
Five years ago, as the musical landscape changed, I made my exit from Hip-Hop. At that time, Electronic Dance Music, began making major noise in mainstream. The DJ began it's rise from being the behind the scenes, to the main focus of a show. In Dance music, I could focus on production without worrying about trying to find a placements for the tracks to gain exposure. With the burst in usage of Soundcloud, I could expose my music to thousands if not millions of people. I could also perform these records live.
This was the beginning of my Dance music production career.
In 2012, I partnered up with Dan Dwyer, forming the Dance music production duo, Statik Link. The music became more about making Dance records, using synthetic sounds, and experimenting with new computer software. Dan I experienced success working official remixes for A$AP Ferg with Tj Mizell, Sony Music, and having the highest selling hip-hop record on Beatport in 2015. Dance Music was doing well for both of our careers. However, I felt the weight of the business on my shoulders. Constantly chasing numbers, and making music that we thought would sell and get us booked. It became more business than art.
Then it all changed. On March 15th, 2015, Kendrick Lamar brought us his Grammy winning record, "To Pimp a Butterfly."
The record, hit the mainstream with a tsunami of positive reviews for it's forward thinking sound, exposing the mainstream to thought provoking lyrics, and the re-emergence of Jazz and Funk into the mainstream. I was immediately hooked on the new sound. The offbeat rhythm, the emotion, and the feeling behind each instrument brought about a sense of humanization and that I felt was lost in most mainstream Dance music and Hip-Hop. This was a wake up call for me. I immediately started researching who each producer was that was involved in the project. This exposed me to artists such as Thundercat, Flying Lotus, and more.
I started downloading as much of this music as I could get my hands on. I began studying the sounds of Flying Lotus, Thundercat, and other producers who were creating this Jazz and Funk influenced sound. In the past, I had listened to artists, Pretty Lights, and Gramatik, but never really understood there sound. With this new re-emergence of creativity, innovation and inspiration, I had a new found understanding. I began reading books on music theory, research how they were creating these records, who they were working with, and how they were performing these records live. Gramatik and Flying Lotus were at the forefront of pushing the Funk and Jazz sounds into the Dance music spotlight.
I remember, at that time, I was reading a book titled "How To Listen To Music" by Aaron Copeland. It talked about the average listener not understanding how the music works, but how it connects to them emotionally. He called it the Sensuous Plane of music. The reason these records were connecting with me was the emotion behind the live instrumentation. The act of a human, non-computerized, not perfect, gritty in a way, sound that each musician was creating. It wasn't so much the technical aspect, but the feeling and story each piece of music told. I was infatuated by the emotion behind these records. The emotional landscape each record was creating, how each musician played their instrument. It brought the song to life, gave the background character. This marked the beginning of the change in my listening habits and the approach of how I create records.
Fast forward a little over year later. As I am writing this, we are in mid-June. 2016 has seen an amazing year for music. We started the year with Kendrick's "Untitled Unmastered" EP that pretty much set the tone for hip-hop in 2016. Again, merging Hip-Hop, Jazz, and Funk into one record. We've seen albums from Kanye West, Chance the Rapper, and Anderson Paak to name a few. All of these are focusing on live instrumentation and working with analog and acoustic instruments. Real instruments. An acoustic piano, a real guitar, sound design on classic synthesizers. We've also seen an emergence and demand for live instrumentation at music festivals. More and more artists are incorporating live instruments into their live performances. The mainstream has a newfound interested in watching a band or multiple people on stage versus just a DJ or rapper.
With that being said, as a listener, and a creative, I feel inspired, and rejuvenated musicially. I've dusted off the trumpet, my guitar, and have focused more on analog sound design. Dan, and I have began to focus more on live instrumentation and our now working it into our live performance. Most of all I feel re-inspired to create. At the beginning of June we played a few of our new records at Governors Ball here in NYC. The crowd's response to our new Funk inspired music and the Jazz sounds of FlyLo, Thundercat, Griz, Lido, and Gramatik, to name a few, got people dancing. It was awesome to see. It seems the mainstream is beginning to embrace the new change. This may be the welcome change we need in Dance music and Hip-hop. This type of creativity pushes genres forward.
With that being said, I am an instrumentalist. I am now showing that to the world. It's part of my musical identity and is becoming more fascinating to the mainstream and average listener. I truly believe when we look back on 2016, we will have witnessed the rebirth of live instrumentation, Funk, and Jazz into mainstream music.