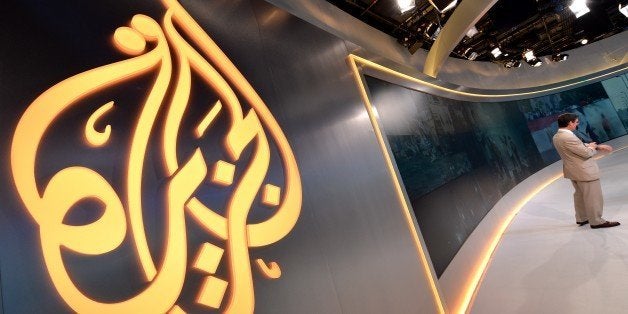 This post is co-authored with Shawn Powers, Assistant Professor, Georgia State University.
As two news junkies with a great interest in media and international relations, we're rooting for a positive bounce back for Al Jazeera America. The U.S.-centered offshoot of Qatar's massive set of satellite services has been in the news quite a bit lately, but not for its award-winning news coverage of Haiti or Bangladesh, nor for its promise to eschew soft news and cover stories of global significance.
Born in controversy, this bastard child of overwhelming Middle East wealth bought Al Gore's Current TV with rushed and conflicted strategy and lean viewership from the very outset. It's still something of a mystery why, as part of the cable-penetration deal, the network had to move from its more experienced "Al Jazeera English" structure, to a new entity which would try to be more American than apple pie -- a kind of CNN aimed at the heart of Des Moines as a desirable demographic.
The details of meltdown are gory, and the rumors, gossip and finger pointing rife, and often deservedly critical. The founding head of Al Jazeera America has been unceremoniously demoted, and a trusted face from the older Al Jazeera English put in his stead.
Yet this is not the main issue. As it happens, we all have a stake in a stronger, better, trusted Al Jazeera service. There shouldn't be any joy in Mudville at the risk of cutting the network back.
The reason is obvious: our collective need for more and different insights into what's happening as the world dissolves in numerous hard-to understand crises and conflicts.
Extensive coverage of international events has migrated substantially from the big broadcasting networks to cable. And it has been and continues to be true that the domestic cable news market needs constant rejuvenation. As viewers shift away from cable subscriptions, and with digital advertising revenue still lagging, the CNN's of the world are slimming down their pool of talented journalists. Foreign reporting, in particular, is underfunded. CNN now has just 33 international "editorial operations." Fox and MSNBC have 15 foreign offices combined.
Al Jazeera, owing to its oil and gas-based patronage, has 80 bureaus around the world. Indeed, as part of its effort to launch a U.S. identity, its 12 American bureaus outnumber CNN (11), Fox (11) and MSNBC (9).
For better understanding of Kenya and al Shabab, of Nigeria and Boko Haram, of Yemen, Iraq and Syria, this robust global infrastructure for newsgathering and reporting means that Al Jazeera is useful, if it gains a public and civic mission. Having these additional assets on the ground allows for quicker, and more detailed coverage as breaking news unfolds, as was shown by its George Foster Peabody Award-winning coverage of the 2011 Egyptian uprising. It also allows the network to cover news from some of the world's most difficult places to be journalist, including Gaza, Libya, Somalia, and Syria.
It is certainly true that Al Jazeera sustains its global footprint with help from a generous subsidy from the Qatari government. We agree that sponsorship can and should raise concerns over bias, and there has been evidence of Qatari officials meddling in the Arabic-language news channel's affairs.
But modern life consists of a vigorous competition for allegiances: countries, corporations, religions and their backers all directly and fervently seek to subsidize and otherwise advance interest in particular areas of the world and increase understanding of different perspectives.
Al Jazeera America has struggled from the beginning and is in need for a complete reboot. Despite having the resources and talent, the channel has lacked a clear strategic vision since its launch in August 2013. In particular, efforts to compete with the existing cable news coverage led the network astray, away from its strengths in international and long-form documentary reporting. But the announcement of Al Shihabi's replacement, Al Anstey, offers hope. Anstey is a veteran journalist with experience at CBS News, Reuters, the Associated Press and ITN (UK). He's been with the Al Jazeera Network for ten years and was most recently the managing director of Al Jazeera English (since 2010), during which time the channel won an International Emmy and the Royal Television Society News Channel of the Year award.
Anstey's appointment coincides with an effort to better integrate the network's global programming with the American channel's original content. The incoming CEO aims to "put every country in the world on a level playing field, then evaluate each story on its own merit and cover those stories on that basis." So, less Royal Baby coverage and more emphasis on largely overlooked, coalition-led war in Yemen? Yes, please.
Al Shihabi's departure leaves Al Jazeera America at a crucial turning point, the outcome of which will shape the ambitions of the global parent network for years to come. More important, it provides an opportunity for a fresh start, whereby the network can distance itself from its often stale cable news competitors and shine with edgy, untold reporting from around the world. While its ratings may never top Bill O'Reilly's, its ability to enlighten viewers and to expand their news horizons could have a far greater significance in our globally interconnected, and interdependent lives.
Popular in the Community