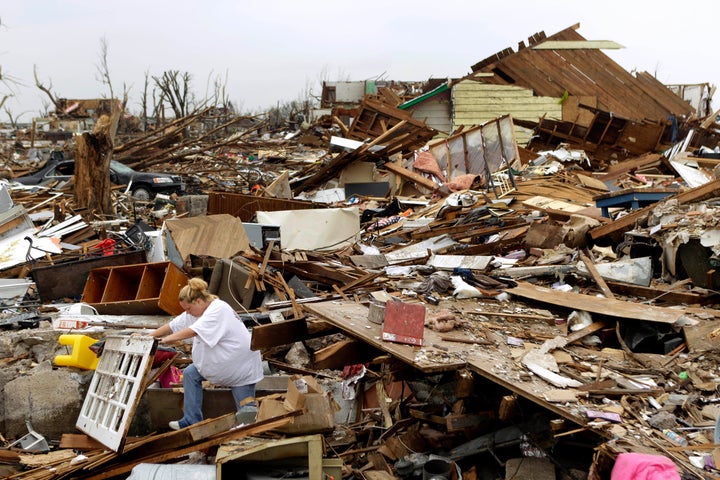 Politics is probably the last thing on the minds of those of us watching the news over the past week with mind-numbing images of a leveled Joplin, Missouri. From seriously ill patients being evacuated from a ruined hospital onto flat-bed trucks to the scenes of community members digging through rubble for missing neighbors -- prayer and hope are probably the most appropriate responses. And yet there is a political subtext to these scenes.
About 100 of those outsiders who are operating the missing persons' hotline, establishing a volunteer reception center, managing a donations warehouse, coordinating volunteers and clearing debris are AmeriCorps workers. Within two hours after the massive tornado strikes on Joplin, members of the St. Louis AmeriCorps Emergency Response Team had packed their equipment and were driving through the night to reach Joplin. They immediately set up a Missing Persons hotline at Missouri Southern State University which was operational by 5:30 a.m. Monday. The 24-hour hotline, organized and staffed by AmeriCorps members and volunteers, has fielded and logged more than 3,000 calls from people trying to locate and confirm the safety of friends or family. The database is shared with the Sheriff's Office, State Highway Patrol and others involved in search and rescue operations.
Megan MacDougall, a 23-year-old from Goodrich Michigan, is an AmeriCorps St. Louis Emergency Response Team member who set up and is managing the Missing Persons Hotline in Joplin. She joined the program in September not because of the $900/month stipend but because "I'm good in a crisis and really like the idea of doing a year of community service." Of Joplin she says, "We loaded the trucks with supplies in the pouring rain and looked up where Joplin was because we didn't know." MacDougall, who hopes to find a job working on disaster relief when her year in AmeriCorps ends, says, "We'll stay here until we're no longer needed. Just yesterday I heard from one of our field teams that a baby was found alive and well under a collapsed car -- three days after the tornado!"
Politics, you ask? AmeriCorps has become quite the topic of discussion in the halls of Congress since President Clinton signed the National and Community Service Trust Act of 1993, which created AmeriCorps. Many of today's most ardent Congressional supporters of the program were once strongly against it, including Missouri's own former Senator Kit Bond who voted against AmeriCorps' creation almost 20 years ago. Much to his credit, he had a change of heart, voting against its elimination in 1999. He said at the time, "There are people who are providing valuable services." That comment has surely been validated many times over in the past week among his own former constituents.
And yet as recently as February, House Republicans were proposing the elimination of AmeriCorps. What's not to like? AmeriCorps is a network of national service programs that engage Americans in a year of public service to meet our country's needs in education, public safety, health and the environment. For their efforts, works receive poverty-level living allowances and modest college scholarships. They also -- hopefully -- embrace a lifelong desire to help those Americans who are most in need of help.
In a society where the goal for far too many young people is ascending to Wall Street or owning a beachfront condo by 30, AmeriCorps is a welcome antidote. It demonstrates that there are still fundamental values that are cherished by all, regardless of socioeconomic or political standing: compassion, altruism and lending a hand to those who most need it. If, in return, we provide a stipend and some college funding, that is a small gesture of compensation. As has been demonstrated so amply lately, there is plenty of pork in federally-funded programs that benefit few of us. Perhaps it's time for the Kit Bonds of this world to go beyond saying, "There are people who are providing valuable services," and take measures to ensure that funding for national service programs such as AmeriCorps are protected from being political footballs.
It isn't often that an issue is as bipartisan as funding for AmeriCorps. One only has to look to Joplin Missouri to see the value of national service programs. And one only has to look to Megan MacDougall for talking points: "There is no downside to programs like AmeriCorps," she says from her post in Joplin. "Young adults are doing something positive for the community without expecting much compensation and they are getting valuable job training."
Calling all HuffPost superfans!
Sign up for membership to become a founding member and help shape HuffPost's next chapter