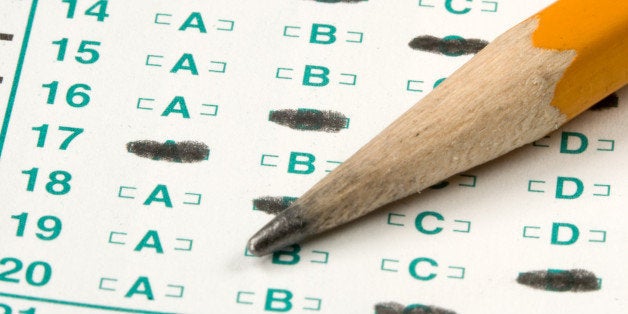 New York is in the process of revising Common Core Standards, at least that is what its State Education Commissioner claims. According to MaryEllen Elia, the State Education Department "isn't just tinkering around the edges and doing small, little things." Elia argues the proposed revisions "more clearly defined for our teachers across the state" what they should teach while maintaining "rigorous standards." Elia also wants to change the name of Common Core Standards to something like Academic Standards, which does not seem like a meaningful revision to me or other Common Core critics.
The NYS Allies for Public Education (NYSAPE) is very disturbed by both the revision process and result. NYSAPE charges "the majority of these changes consist of revised phrasing and language rather than substantive content changes" and "reflect a rigid adherence to the original Common Core anchor standards." They also accuse NYSED of using a restrictive process that would not allow committee members to make substantive changes. As a result, the state has produced what is "essentially just a rebranding of the Common Core." So parents and teachers can see what is actually going on, NYSAPE demands that NYSED "release all committee suggestions and/or dissenting reports that were not included in the draft standards."
Lisa Rudley, a Westchester County public school parent and founding member of NYSAPE, called the revision process "flawed from the beginning because the Common Core standards were being compared to themselves and not to our prior standards or next generation ELA lost standards which were shelved when the common core was hastily adopted."
Jeanette Deutermann, a Nassau County public school parent and founder of Long Island Opt Out and NYSAPE said, "Parents and educators have made themselves perfectly clear; the only acceptable changes to our children's curriculum is a complete overhaul. While SED continues to play games to placate corporate reformers, we will continue to refuse participation in this system."
I have addressed my problems with Common Core in a number of Huffington Posts. They include:
Common Core starts from what is easy to test, not from what is important to know and why.

Common Core's insistence on constant assessment drives the curriculum, what is taught, and defines pedagogy, how we teach. School becomes continuous test prep, which essentially invalidates the Common Core tests.

Common Core surrenders curriculum decisions to the test and publishing companies like Pearson that are always looking to sell more tests and textbooks.

Common Core focuses on skill acquisition and is devoid of content and understanding. Non-test subjects like science, history, second-languages, art, and music, get squeezed out of the curriculum.

Common Core breaks reading down into small component parts, losing the essence of reading for meaning and destroying interest and pleasure that stimulate children to want to learn.

Common Core is supposed to prepare children for 21st century careers. How many high-stakes multiple-choice tests do most adults take on a job?

Worst of all, Common Core and its aligned testing regime turn kids off from school.
Nothing was said about education during the first Presidential debate at Hofstra University. Parents and teachers need to press both candidates to better define what they see for education in the future, especially Common Core. In an April 2016 interview with New York Newsday, Hillary Clinton questioned the "disastrous rollout," but not the standards themselves. In October 2015, Donald Trump said, "Common Core is a very bad thing. I think that it should be local education." Why is it a bad thing? We don't know. Trump never explains very much.
Calling all HuffPost superfans!
Sign up for membership to become a founding member and help shape HuffPost's next chapter