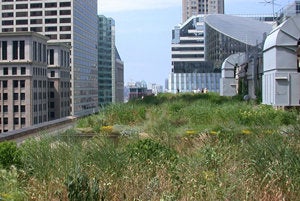 At the core of the current fiscal crisis is a flawed economic worldview. While American investors were trading short term credit-default swaps, much of the rest of the world was investing in long-term infrastructure to compete with us. We celebrated financial engineering and ignored civil engineering.
China is now spending 9% of its GDP on infrastructure. Russia and India 5%. America, woefully, spends less than 1%.
America now faces a huge infrastructure gap -- estimates are we need $170 billion a year just to keep current water, waste water and transportation systems in good repair. Another $150 billion at least will be needed each year to bring these systems to globally competitive levels.
In recessionary times, repairing and renewing our infrastructure and greening existing buildings are amongst the best investments our nation can make. These projects stimulate the economy while providing jobs that can't be outsourced. But we can get an even greater return on our investments by focusing on the transformational benefits of investing in clean, smart energy systems, light rail systems, wind, solar, and energy efficiency. These increase our energy security, and lay the seeds for a new climate-based prosperity.
Where will the money come from?
Currently, banks have to comply with the Federal Community Reinvestment Act (CRA), which requires them to invest in low income communities (and prevents redlining). The risk-adjusted returns of CRA investments have been quite good.
We need to expand the amount of Federal Low Income Housing Tax Credits to stimulate the creation of affordable, green, transit oriented housing.
Now it's time for the CPRA -- the Climate Prosperity Reduction Act. The Federal government is pumping well over a trillion dollars into the financial system. We should require any financial system that receives federal funds to invest 25% of the funds into profitable climate change investments. 40% of our greenhouse gases are caused by the electrical, gas and oil consumption of our buildings. A recent McKinsey study shows it is cost-effective to insulate our building stock and upgrade heating, air and water systems -- the latter investments are profitable with paybacks of less than five years.
CPRA could help provide the capital to provide more renewable energy more quickly, build a smart electrical grid, new rail lines and create millions of non-exportable green jobs. And just as the CRA outlaws redlining, we could prohibit those banks which take federal funds from investing in mountain-top mining, deforestation, and projects that increase vehicle miles traveled (vmt) or climate impacts.
There is more we should do. 30% of our greenhouse gases emissions come from cars, trucks and airplanes. Industry is crying out for a modern, smart freight rail system and high-speed intercity rail. The current cap and trade bill only dedicates 1% of its funds to transportation infrastructure. It should be much higher.
And while we are at it, if we invest in the Detroit auto companies, we must tie achievement of much higher fuel economy standards to the investment.
When the Community Reinvestment Act passed, skeptics said that inner cities couldn't generate enough good investments. They were wrong. They will say the same about the green economy -- let's prove them wrong. We can move from a transactional economy to a transformational one. We can rebuild and repower America. We should invest in our future, rather than consume it.
Jonathan F.P. Rose chairs the MTA's Blue Ribbon Commission on Climate change, and leads Jonathan Rose Companies LLC, a multi-disciplinary real estate development, planning, consulting and investment firm. A thought leader in the Smart Growth, national infrastructure, green building, and affordable housing movements, Mr. Rose is a frequent speaker and writer. Mr. Rose is a Trustee of several organizations including: the Urban Land Institute and co-chair of its Climate and Energy Committee; the Natural Resources Defense Council; and Enterprise Community Partners. He chairs the Metropolitan Transit Authority's Blue Ribbon Sustainability Commission. He also serves on the leadership councils of both Yale University's School of Forestry and Environmental Studies and the School of Architecture
Calling all HuffPost superfans!
Sign up for membership to become a founding member and help shape HuffPost's next chapter