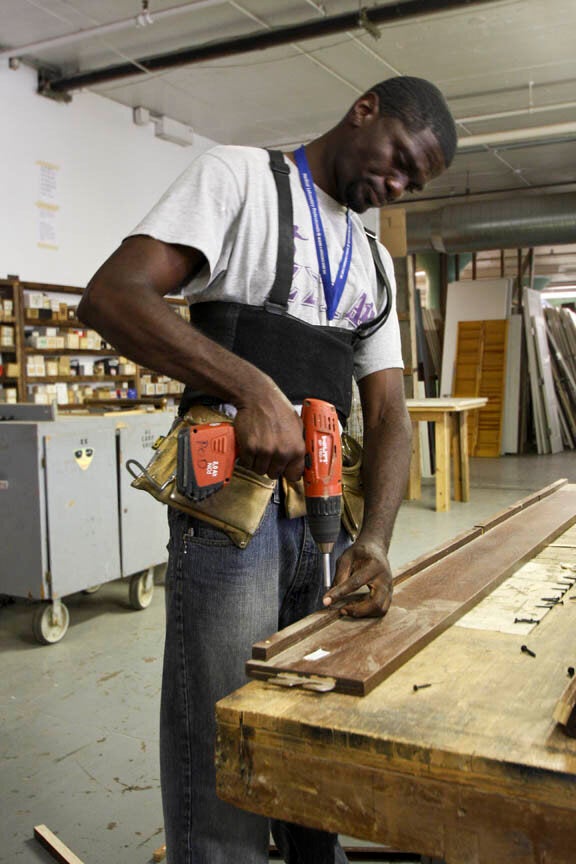 When Tyrone Cotton, 42, was arrested for dealing drugs six and a half years ago, his life almost came to a halt. He lost the beauty shop he had just opened on Chicago's South Side. He dodged a 15-year stint in prison only because it was his first offense. And his employment prospects looked bleak.
"Finding a job became a horror story for me. No one would hire me because of my background," Cotton said.
Things were so bad that Cotton, who wanted to turn his life around, had "those thoughts of going back to sell more drugs so that I could have more money, so that I could make it out here."
Instead, with the help of a coalition of Chicago groups, Cotton has now become a sales associate in the Chicago warehouse of the ReBuilding Exchange, a non-profit that tries to help ex-offenders find work while promoting an environmentally sustainable vision of building deconstruction. It's one solution to a knotty problem that has only gotten worse during the economic downturn: how to create jobs for the people many companies regard as unemployable.
The ReBuilding Exchange's work began four years ago when its director, Elise Zelechowski, was looking at ways to make the waste business more environmentally responsible. She took a trip out to a building material center in Portland, Oregon, where the recovered detritus of old homes and offices was turned into treasured finds for carpenters and hobbyists. The center is one of a growing number of retail outlets around the country with a similar focus on reusing as much of old buildings as possible.
"Some of the materials are pretty obvious -- cabinets and sinks and thinks like that -- but some of the less obvious things are the old growth lumber that makes up the bones a lot of our older housing," Zelechowski said. "And that wood is something you just don't see anymore."
Zelechowski decided to set up a similar retail outlet in Chicago. Bars looking for a vintage look might provide the demand, she realized, but someone would still need to supply the materials. That's where the construction crews came in.
Unlike traditional demolition, where a wrecking ball can do a lot of the work, environmentally conscious deconstruction requires hands-on care and attention, meaning troops on the ground who can carefully remove sinks or guardrails. And at almost the same time as Zelechowski was setting up the ReBuilding Exchange, the Chicago-area developer Ken Ortiz was thinking of getting into the non-profit world. He had heard about the ReUse People, a national organization that trains people who are otherwise hard to employ in building deconstruction, and wanted to start a branch in Chicago.
"I said hey, this is great, I've been throwing stuff away for 20 years," Ortiz recalled. There were similarities to his former life in real estate, he said, but deconstruction and job training were "more fun."
"It's almost like being like Robin Hood, we take from the rich and give to the poor," he said. Almost: building owners have to pay for deconstruction, which can be more time-consuming than simple demolition, but they can make up some or even all of that cost by donating to the ReBuilding Exchange and getting a tax credit.
Four years after it began, Ortiz and Zelechowski's partnership has flowered into a thriving consortium of local non-profits. Other groups have begun connecting clients to deconstruction and warehouse training, like the Cara Program and the Safer Foundation.
Since 2009, the ReBuilding Exchange has saved 5,000 tons of material from the landfill. The organization's budget now runs about $1 million a year. Perhaps most importantly, 82 people have completed their training with the Exchange and ReUse People. Ortiz currently employs more than 40 of them at ReUse People, while others have gone on to work at for-profit companies or, like Cotton, to related jobs.
The number employed in deconstruction may soon increase, given a partnership with Bank of America to tear down dilapidated abandoned homes and a new Cook County ordinance that requires tear-downs to include at least some recycling and reuse of materials.
Not every story is a success. In the most recent class of 12 people, only half are employed so far.
Cotton said it comes down to "the individual. How bad do you want it? How bad do you want to stay of trouble? How bad do you want to make a difference? How bad do you want to make a change in your life?"
It was only his faith in God, and his love for his three children, Cotton said, that allowed him to get through the deconstruction program and then hold on until he was offered a job cutting lumber and serving customers in the Exchange's warehouse.
"I told them yes, I would like to take the job," Cotton said. "I'm out of work, nothing to do, didn't want to go back to the streets selling drugs. And that phone call pretty much saved my life."
REAL LIFE. REAL NEWS. REAL VOICES.
Help us tell more of the stories that matter from voices that too often remain unheard.