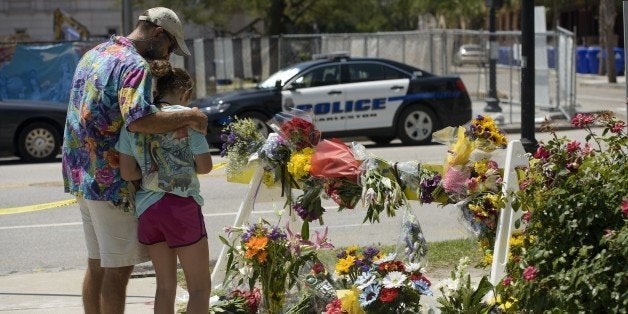 A church built by former slaves, during a moment of sacred study, was ravaged by bullets last night, fired by a man whose father allegedly gave him a gun for his 21st birthday.
Nine people lost their lives, cut down in the midst of fellowship, in a Charleston house of worship affectionately known as "Mother Emanuel," which literally translates as "Mother, God, You are with us."
How much death will it take, how much blood spilled on our streets, before we follow the prophetic call of Jeremiah, to "seek the peace of the city?" Rabbis, along with faith leaders of every tradition, teach that a broken society is one in which we fail to take care of others. America has been in the midst of a gun violence epidemic, enabled by powerful special interests (not only, but most publicly, the NRA) and a Congress who failed for months to confirm a Surgeon General because he dared point to this epidemic as a health concern for our country.
The great civil rights activist, Rabbi Abraham Joshua Heschel, taught us all that "an act of violence is an act of desecration."
As did his fellow prophet Reverend Martin Luther King Junior, who preached: "I never intend to adjust myself to the tragic effects of the methods of physical violence."
What we need is a passionate and healing response to our national pain and fragility, one that unabashedly calls out the racist undertones of media reporting, which, it seems, differentiates by label between white, black and brown criminals and victims. These acts -- last night's massacre of African Americans by a white terrorist with a gun -- are acts of savagery that demand justice on a systemic scale.
How many innocent deaths will it take for our elected officials to respond with moral conviction? How long must America wait to acknowledge that we lose 30-plus American lives to gun violence every day, scarring our national life? How many tears must be shed?
Heschel's teaching, that there is "no time for neutrality", must become our national sensibility, with faith leaders of every stripe shaking our community from a false sense of security. We faith leaders must reclaim our roles as partners in the prophetic American impulse, amplifying the American value of communal obligation over the inadequate and isolating American philosophies self-reliance and rugged individualism. We must champion communal life over corporate greed.
The Reverend Clementa C. Pinckney spoke to doctoral students just this past February, at the very AME church where he was murdered last night, a church built in 1891, founded in 1818, from an experience of civil disobedience, when a black man was told that he could only pray after the "regular" parishoners did. This church was founded, in Pinckney's words, "upon the universal vision of all people being treated fairly under the law, as God sees us in [God's] sight."
This massacre occurred on the very anniversary of a failed slave revolt, led by Denmark Vesey, a rebellion that played a significant role in the African American liberation movement in South Carolina. Last night, that church that was torn by bullets. God's House and God's Images were torn. Violence is not God's path.
And so, in anguish, bearing the legacy of holy insurrection of Denmark Vesey, continuing our march toward liberation and the overturning of oppressive racism and violence, we protest. In God's name.
The Bible commands that we choose life. Believers and atheists know that command. This broken world demands upon us all that we cry again to "Mother Emanuel," to Mother-God-Who-is-with-Us, upon the blood of our sisters and brothers in Charleston.
We must sing louder than weapons, embodying the words of Psalms:
"Those who sow in tears, will reap, will reap in joy."
Believers and our fellow citizens must embody the endurance to end the insanity ripping through thousands of bodies and millions of souls. We must see the sacred in each other's eyes, sanctifying human lives by rebuilding God's Home by saving each other's.
Popular in the Community