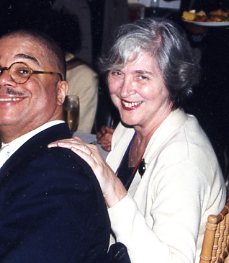 We are often told, rather contradictorily, and generally by the same people, parents, teachers, and employers, that, 'no one is indispensable, that anyone can be replaced...' Not so, Carolyn Cassady Kent, our friend, the fevered champion of preserving Upper Manhattan's architectural heritage. She died on Saturday, following a lengthy battle with cancer.
Ordinarily, it is true enough; many people are so conventional as to appear almost interchangeable. Yet, devoid of any condescension, a looming Mrs. Kent appeared always with an innate regal dignity. She was an amateur in the positive sense that once characterized Olympic champions, and a civic activist in the same tradition as Jane Jacobs and Jacqueline Kennedy Onassis. For all her elite early-American ancestry, enhanced by a first-class education at Sarah Lawrence and Oxford, along with her cultivated patrician-sounding voice, so old-fashioned that it's a type seldom encountered today, not outside of the Broadway stage, Carolyn was, ironically, the very quintessence of nonconformity.
Certainly in New York, one could easily meet a dozen different preservation enthusiasts, people whom one also liked or admired highly. There is any number who share Carolyn's passion for passing on landmarks from the past as the most compelling gift the present can bestow upon the future. They, too, might be dedicated, stalwart, and indefatigable as she was. They might even share her winsome wit, or match her admirable scholarship. Would they combine her lavish sense of hospitality with caring frugality? Would they appreciate the perfect medium-rare hamburger with dark ale or Chicken-Cordon Bleu with a rare Sauterne, with equal gusto? One doubts it. But, not among a thousand, not among ten thousand individuals with these remarkable gifts, is one likely to find the felicitous combination of attributes that made knowing Carolyn such a joy and indeed, an honor.
An unlikely intergenerational team, one gay, one straight, one descended from slaves, the other from slave masters, our special relationship was sometimes a challenge, too. Occasionally, outsiders misunderstood our friendship, routinely punctuated by loudly contested disputes. Mutual friend George Goodwill once contended, amused, that we were like an old married couple. Carolyn, for her part said that, that was impossible, because, "since he knows I'm always right, Ed and I never disagree!"
However, George's observation showed true insight, inasmuch as, intellectually and by dint of purposeful action, Carolyn and I were wedded to the same issues and concerns, and to a depth and degree well beyond that of anyone else we knew. And it was this shared commitment, between a pair who cared so deeply, one respecting the opinion of the other, which made coming to a consensus so imperative, that raising one's voice became a concern of relative unimportance.
No less than innumerable strangers who end by becoming great lovers, our initial meeting was at best, inauspicious. We were introduced by local historian Lana Turner. Chief among Carolyn's exceptional qualities was her extreme thoroughness. As much as anyone, notwithstanding a tendency to be detailed in conversation myself, I am a product of our impatient era, where many people and all youth speak in monosyllabic sound-bites. Therefore, at first, I mistook Carolyn's penchant for preciseness and specificity, for mere lugubriousness. Founder of the Landmarks committee of Manhattan's Community Board Nine, which spans Morningside Heights and West Harlem, she beseeched me to join.
Thus began a titanic struggle of good versus evil, the generosity of efforts to empower ordinary people, versus the greed and ambition of the well-placed few. David-like, we took on Columbia University to try to save Thomas Lamb's ornately ornamented Audubon Ballroom and Theatre where Malcolm X was slain. Mammoth, the domed auditorium is now a parking lot. But where originally nothing was proposed to survive, sufficient fragments of the terracotta façade and memorable interior were retained through our opposition, to constitute a damning indictment of the university that boasts the nation's oldest historic preservation program.
Over intervening decades Columbia was, in fact, our most reliable opponent. On Broadway, Carolyn's doggedness helped to diminish the excessive bulk of a dormitory by Robert Stern, who commented afterward that, but for Carolyn, he 'might never have known of the history of the Sigma Chi House, would not have been convinced to maintain its façade and handsome original internal elements.' The School of Social Work similarly benefited from counsel, rendering a destructive and offensive building, unobjectionable. Preventing Columbia from building a tower on the Close of the imposing Cathedral of Saint John the Divine, with key help from then-City Council member Bill Perkins, was a more bittersweet exercise, as a luxury residential tower was built by others. Moreover, since the university retains an option to build immediately adjacent to the nave on the north, further desecrations loom in the offing.
Causing Carolyn great anxiety, even in recent weeks, these threats when compared to her despair over Columbia's proposed West Harlem expansion were all but trivial. "It's shameful, an out and out land-grab!" is how she characterized the proposed campus of identical glass towers, spread over seventeen acres, that will demolish every existing building except for two, one being, the distinguished Sheffield Dairy Stable, listed on the National Register of Historic Places. "What kind of mayor is Bloomberg, if we volunteer, year after year, to create a well-reasoned 197-A community plan that includes everyone and it's ignored to favor one special-interest?"
At times, working independently, we offered the other minimal help for pursuits that didn't grab us. If Carolyn joined me in the rain with Christabel Gough, to protest an inappropriate addition to the Harvard Club, it's true that our best endeavors were joint efforts of long-standing. Encompassing over twenty years, our battle to landmark Henri Fochaux's Saint Agnes Apartments at 41 Convent Avenue, is ongoing. Our effort to restore Alexander Hamilton's country house, the Grange, which also took a quarter century, was a bitter failure. "Who cares which way it faces?" asks Congressman Rangel's staff member and others throughout the city. Hamilton had cared; so did John Mc Comb, Jr. his brilliant architect. Waxing eloquently about the play of dappled afternoon light that had once filled her girlhood room, so did the remarkable, smiling and thoughtful Carolyn Cassady Kent.




Calling all HuffPost superfans!
Sign up for membership to become a founding member and help shape HuffPost's next chapter