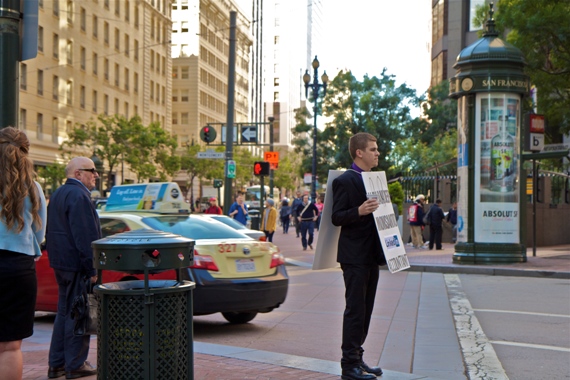 Photo: Tajah Jones/Youth Radio

Alexander Monsanto wearing his "Hire Me" sandwich board in San Francisco.
Alexander Monsanto has achieved a lot of firsts. He's a first generation American, the first in his family to graduate high school, and the first to get a college degree. All eyes are on him to succeed, but it's been ten months since he got his accounting degree from Florida Atlantic University, and still no job.
"There are times where I would question what I was doing," said Monsanto, "I studied accounting for four years. If it's going to be this difficult to get a job, is this really the field I want to be in?"
The jobless rate in the San Francisco Bay Area is above the national average, and unemployment is especially high for recent college grads. Month after month, Alexander Monsanto emailed resumes and wrote cover letters with little success. One morning he says he responded to every Craigslist ad in the San Francisco Bay Area that mentioned accounting, and didn't receive a single response.
"It turns into this viscous cycle where it's not helping to stay home to look for a job. You kind of have to just get out of the house and go and network and put yourself out there. I needed to find something different," said Monsanto. And that is exactly what he did.
The lanky 25 year-old is a regular commuter on a 7:45 AM bus from Berkeley to San Francisco, but unlike most on the bus, Monsanto is hunting for a job instead of heading to one. When he arrives in San Francisco, Monsanto pulls two straps over his shoulders and begins walking the streets of the financial district wearing a sandwich board with the words "Hire Me" spelled out on the front with big black sticky letters. The sign beats against his chest with every step.
It's a moment that he says fills him with embarrassment every time, but the need for a job eclipses any insecurities. "Whatever it takes, that what I keep telling myself," said Monsanto, "I mean a lot of people probably think I'm crazy but I'm not."
There's no arguing with his results. Monsanto estimates that he gets three to four interviews per week using his sandwich board, almost double his tally when searching Craigslist. And even if he's not necessarily getting jobs, he sure is getting attention.
Kim Tobias did a double take as Monsanto walked past one recent morning. "I think it's a little wacky, but I think it would work," said Tobias about Monsanto's sandwich board. "Shows me that he's really interested in finding a job, he's got initiative. That's even better than LinkedIn." Tobias, a corporate recruiter, asked for a resume before running off to a meeting.
A few blocks later Janet Myers calls out, "Hey you in the sandwich board." The University of California employee has a tip about accounting positions. But before she can finish giving Monsanto the information, she's interrupted by Eric Shroeder, a Senior VP at insurance giant Aeon, who snaps a picture with his phone, promising to post it on Linkedin.
One of Monsanto's favorite stories is about the day he met his potentially perfect match. Representatives from the solar company SunRun were on the same street corner as him in downtown San Francisco, wearing T-shirts with the advertisement "We're Hiring." Monsanto followed up with a resume and even landed an interview, but no job.
"I think what happened was that the opportunities we had listed weren't really a fit for his background," says Susan Wise, PR manager at SunRun. "But I think it's a good example of how with seeking employees and employees seeking jobs, the concept of a mutual fit is tremendously important."
But with so many midcareer job seekers competing for the same positions, it's hard for newcomers like Monsanto to be that "perfect fit" employers are looking for. So forced to face the reality of paying bills, Alexander Monsanto has put his dream of a full time accounting job on hold. Instead he's willing to accept a part-time or even temporary job as an accountant. And in the meantime he keeps beating the streets in his sandwich board.
Originally published on Turnstylenews.com, a digital information service surfacing emerging stories in news, entertainment, art and culture; powered by award-winning journalists.
Calling all HuffPost superfans!
Sign up for membership to become a founding member and help shape HuffPost's next chapter