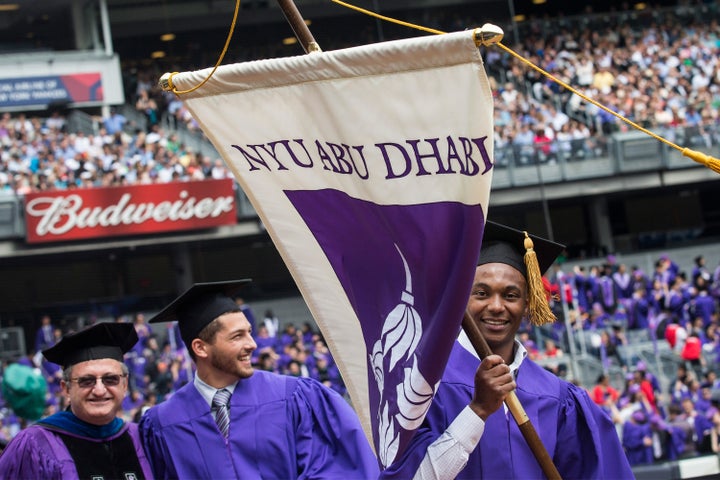 A New York University graduate accused the school on Thursday of doing too little to address human rights abuses at its Abu Dhabi campus. The charges add fuel to ongoing doubts about NYU's ability to reconcile its liberal mission with its financial ties to the United Arab Emirates.
Writing in Quartz, NYU alumna Kristina Bogos attacked the school for "human rights abuses," based on her firsthand encounter with the migrant workers building the new NYU Abu Dhabi campus in 2014. Bogos took the time to visit Al Dar, a camp housing many of the migrant workers building the new premises, while spending a semester abroad at NYU Abu Dhabi. At the time, the satellite campus was still under construction.
"What I witnessed there shocked me," Bogos writes.
In January 2014, I looked up Al Dar, the name of a migrant labor camp on the outskirts of Abu Dhabi housing workers for NYU and other projects. These labor camps are known as "Hospitality Villages." I printed out a Google map with directions to the camp and hailed a taxi. The camp was a quick, 10 minute drive from "Ferrari World," and included six operational villages warehousing workers in brutal heat.

At Al Dar, I spoke to workers and a pharmacist who claimed that wages peak at $137 a month, and workers can be "punished" if they fail to complete projects on [time]. Roughly a third of the 30,000 who built our campus were excluded from labor protections. time. The pharmacist had treated workers suffering from pain and heat, who were, he said "sometimes very, very weak."
Bogos' observations are not new: Her characterization of the conditions of migrant workers building NYU Abu Dhabi has been corroborated by journalists and human rights groups alike. As Bogos notes, a report commissioned by NYU and its UAE partner in response to claims of abuse, confirmed that roughly one-third of the migrant workers -- 10,000 people -- were exempted from NYU's professed labor standards.
Bogos is also not the first person to criticize NYU's efforts to redress these migrant workers' grievances as inadequate. Her criticism echoes that of Andrew Ross, an NYU faculty member and labor expert, who was barred from entering the UAE in March. (Ross recently spoke to The Huffington Post at length about his experience and the surrounding controversy about NYU's response.)
NYU disputes their claims, noting that it has hired a consulting firm to identify and reimburse wronged migrant workers in a process it expects will take 18 months.
But Bogos adds an alumna's voice to the fray -- and on a widely read digital news site, no less. Her account is unique in the way it highlights the peculiar contradictions of a lavish Western university campus situated smack in the middle of an oil-rich autocracy that thrives on migrant labor. The ease with which Bogos was able to bear witness to these contradictions indicates that the challenges facing NYU and other Western universities building liberal oases in the Gulf states are greater than those institutions may think.
Popular in the Community